In our pilot podcast episode we explore the Internet of (Strange) Things, discuss data breaches and look at the future of cloud technology.
[easy-tweet tweet="CTC explores the Internet of (Strange) Things, discusses data breaches and cloud technology" user="mrandrewmclean"]
Since recording it would appear that a wealth of strange and unusual Internet of Things Wearable (are there are any other sort?) bras are available. In Japan, a country where the marriage rate has fallen considerably in recent years – and not always through choice, the Konkatsu Bra can soon be the prize possession of any hopeful bride. You may expect to see such a device advertised in a 1950's magazine when times were less enlightened and men wore suits on every occasion – even a trip to the dentist.
The bra not only includes a holder for an engagement ring but a LED timer which counts down towards the big day playing "The Wedding March" when it hits zero. Other handy attachments can also be added such as a pen holder to sign your marriage nuptials. It is unclear whether this garment is to be worn on a daily basis – simple hygiene would suggest that several would be required and quite how you wash electronic underwear without risking a timer malfunction, spinning out of control at a hastened rate like a failed bomb wire cutting scene from a b-movie, is suspiciously missing from the press release.
The true love bra sends a message direct to your smartphone when your heart rate flutters in that special way to tell you you've found 'the one'. Even stranger is that it comes with an electronic lock which only opens when the bra reads the right level or arousal.
But even more implausible is the clap-off bra which, and I really can't believe I'm going to write this, solves the problem of keen lovers straining with clasps by simply clapping their hands for the bra to undo. I imagine such a device would be rendered utterly useless at public events, like say the theatre – but perhaps that's part of the thrill.
Perhaps a little more practical, if not slightly bewildering, is the Solar Bikini – the perfect
way to charge your phone when out in the sun. The bikini top and bottom both have solar panels connected allowing the wearer to plug their phone directly into their crotch. Whether the problem of a dead phone justifies the sight of wearing two reflective glitterballs and electrically charged underpants is one of personal taste – fashion has never been my strongest point.
On a more serious note, Cyrcadia Health is developing a bra that could alert women to the early signs of breast cancer. – Click here to read more about this potentially life saving garment.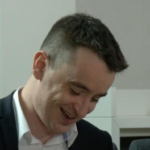 Andrew McLean is the Studio Director at Disruptive Live, a Compare the Cloud brand. He is an experienced leader in the technology industry, with a background in delivering innovative & engaging live events. Andrew has a wealth of experience in producing engaging content, from live shows and webinars to roundtables and panel discussions. He has a passion for helping businesses understand the latest trends and technologies, and how they can be applied to drive growth and innovation.