Dell Technologies Tech World 2021 has been and gone. It showcased Dell's latest technologies for the next generation of computing, data analytics and artificial intelligence. If you're a tech enthusiast or want to learn about what the future has in store, this event is perfect. Even though it was online and virtual did not take away from the atmosphere. It was boosted by the performance by Chris Martin which was stunning. I'm so grateful to have been part of it. In this post I want to detail some of my favourite sessions and what I, myself have learnt. I can't possibly cover it all but I'll try.
How do you empower your remote workforce?
The first and most important way according to Dell is to Deploy laptops and desktops direct from our factories to your end-users. This is the best way to ensure your users are productive from day one.
Also, Dell has a very interesting program called 'Dell on Demand'. It's an all-inclusive service that provides end-to-end workforce solutions and includes everything you need to get started with IT or refresh your existing organization: hardware, software licensing, deployment infrastructure setup. They have got it covered!
Then you must Secure valuable data with built-in protection, and deploy Dell Data Protection.
Monitor your organization's environment with Insight and gain new insights from the data you have, to make better decisions on how to optimize the performance of mission-critical workloads. Then manage and support devices with minimal IT intervention with Dell Services.
The best way to improve performance at home is a virtual desktop infrastructure. It's the answer to providing employees with the high-end performance to run compute-hungry applications and providing you with peace of mind knowing your data is secure.
What are the problems with brick and mortar shops?
The main problems that brick and mortar shops have are that they are in a physical location. This limits the opportunity for customers to visit, purchase products or services, or return them if necessary.
It's become more difficult than ever before just to get into one because of how crowded cities are becoming nowadays. In addition to this, many consumers rely on online shopping instead of going out based on the surprising 2020 we have had. There is a solution, however.
M3T, in collaboration with Intel, has developed an ingenious solution that solves the problems of traditional retail shopping by combining an onsite experience with the convenience of online shopping. With the M3T solution, customers can experience the next wave of retail with a system of in-store kiosks that quickly find the right product and provides a convenient and secure purchase process. Amazing! Just what we needed. That' just the stuff I came to Tech World for.
What is imposter syndrome?
My favourite part of Dell Tech World came when Adam Grant was joined by Jenn Saavedra. Their piece on Imposter Syndrome was inspiring. Imposter Syndrome is a feeling of fraudulence and inadequacy. It is the secret ingredient to success for many people because it makes them work harder than anybody else. You believe you do not belong where you are. It may be common, however, almost everyone comes across Impostert thoughts at least a few times in their life. It doesn't come without its benefits.
One positive of Imposter syndrome is that it can propel you to work harder than anyone else. You push yourself because you feel that your success is not going to be sustainable if people find out the truth about who you are and what you know.
Another positive is that it can lead you to 'fail fast' as it were. The important part is that many people give up on what they are doing, this is wrong, your first step should be giving up the way you are doing it, your method. People afflicted with Imposter syndrome tend to rethink earlier meaning the desired outcome is achieved sooner. Incredible, I would never have looked at it that way!
Wrapping up
The Dell Technology World 2021 event was incredible and there were many great points. My favourite by far was the pice on Imposter Syndrome, which I've always thought had negative connotations but in this context, it's a positive thing! This conference has made me think about how we should use our strengths to be successful at work or life instead of being afraid that they're not good enough. This is something I wasn't expecting to come out with but I'm glad I gained. The pieces on smart offices and how Dell EMC Storage Services for Multi-cloud help you get the most from cloud providers for block and file data improved my understanding. I can't wait for the next Technology World and hope I can attend in person!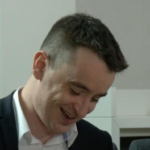 Andrew McLean is the Studio Director at Disruptive Live, a Compare the Cloud brand. He is an experienced leader in the technology industry, with a background in delivering innovative & engaging live events. Andrew has a wealth of experience in producing engaging content, from live shows and webinars to roundtables and panel discussions. He has a passion for helping businesses understand the latest trends and technologies, and how they can be applied to drive growth and innovation.