Medical Clouds – Hype vs. Reality & The Internet of Egos.
Neil has finally broken Andrew and a trip to the hospital is required. If the marketing is to be believed – Doctors with Google Glasses roam the futuristic corridors holding tablets which diagnose your every condition, analyse your records and tests and suggest the best cure for your ailment. Unfortunately the old school peeing in a cup and pushing bits of paper around are still the norm.
Meanwhile Neil addresses the Internet of Egos – an ego filled rant against the bold claims pushed out into the technology market.
We have also added SoundCloud for our listeners.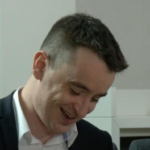 Andrew McLean is the Studio Director at Disruptive Live, a Compare the Cloud brand. He is an experienced leader in the technology industry, with a background in delivering innovative & engaging live events. Andrew has a wealth of experience in producing engaging content, from live shows and webinars to roundtables and panel discussions. He has a passion for helping businesses understand the latest trends and technologies, and how they can be applied to drive growth and innovation.