In this rant of a podcast we discuss whether automation has been good for the human race and unleash a tirade on the impact of cloud, mobiles, IoT & technology on the wellbeing of people.
The original quote on people "skimming research"
It is clear that users are not reading online in the traditional sense; indeed there are signs that new forms of "reading" are emerging as users "power browse" horizontally through titles, contents pages and abstracts going for quick wins. It almost seems that they go online to avoid reading in the traditional sense.
Sources: http://www.theatlantic.com/magazine/archive/2008/07/is-google-making-us-stupid/306868/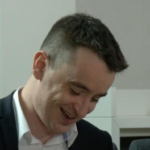 Andrew McLean is the Studio Director at Disruptive Live, a Compare the Cloud brand. He is an experienced leader in the technology industry, with a background in delivering innovative & engaging live events. Andrew has a wealth of experience in producing engaging content, from live shows and webinars to roundtables and panel discussions. He has a passion for helping businesses understand the latest trends and technologies, and how they can be applied to drive growth and innovation.