There is hot competition for market share and leadership in the marketing automation sector. So Compare the Cloud has completed an analysis of the market looking at all the other rankings and adding one of our own.
Rankings vary of course depending on what you're looking at and how you measure it. We start with our own rankings, which are based on influence ranking across news media, blogs and social media. If you'd like to understand more about how we analyse influence, there is an article available here.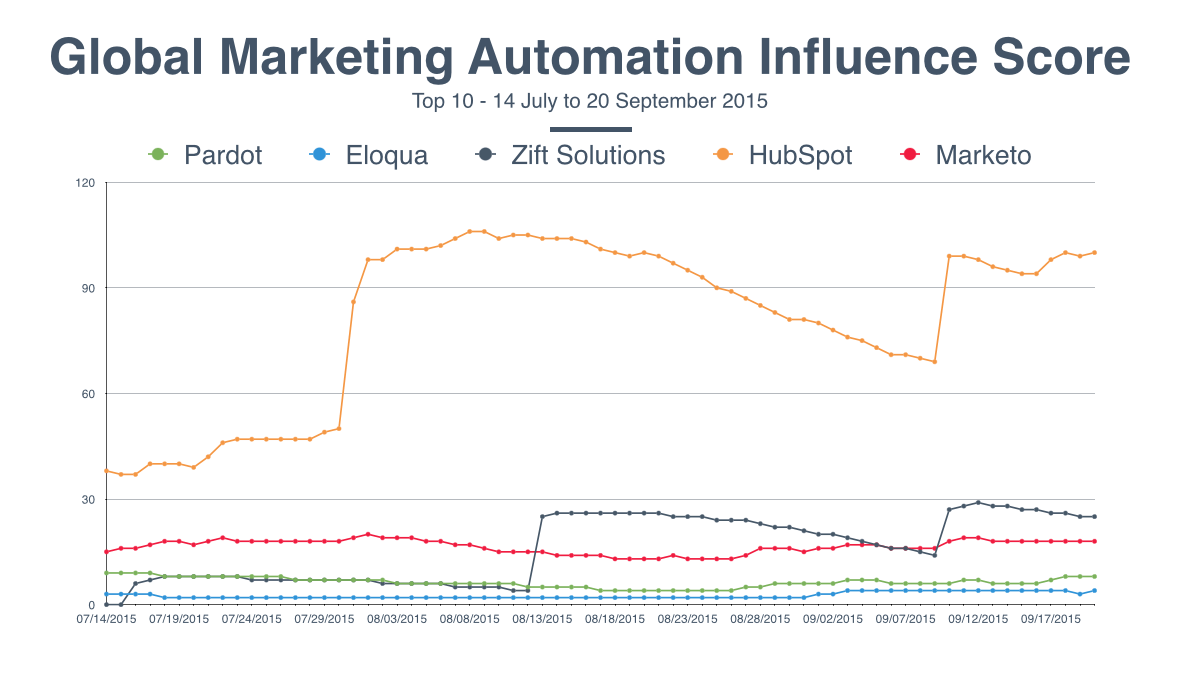 Hubspot has a clear lead over the others with a far higher profile. This profile was recently boosted by the announcement various extensions to its marketing platform: recently a great overview of these additions and their implications was given by analysts TBR, you can view it here.
Marketo emerges as clear favourite for big firms with Hubspot the SMB champion
Some distance behind Hubspot, battling for second place are Marketo, Oracle's Eloqua and SalesForce's Pardot. In addition there is one other outlier that has made a recent impact in the media – Zift Solutions. Recently announcing that it was to acquire the SharedVue division of The Channel Company, Zift is aiming to dominate the niche for automated marketing solutions focused on the channel.
[easy-tweet tweet="#MarketingAutomation is a big trend for 2015, @BillMew analyses the industry leaders" user="comparethecloud" usehashtags="no"]
Of course influence score is but one metric so we have compared our ranking with others that we think are of value to try to provide the full picture overall.
---
Datanyse tracks key technology categories and publishes a wealth of market share and migration data for free. Datanyze searches for web technology signatures on millions of the highest ranking websites to determine which web technologies are being used. It allows you to view country specific results as well as results for subsets such as the top 100 sites, top million sites or indeed its entire data set.
For marketing automation it has Marketo in the lead followed by Oracle's Eloqua, SalesForce's Pardot, BounceExchange, Hubspot and then IBM's Unica.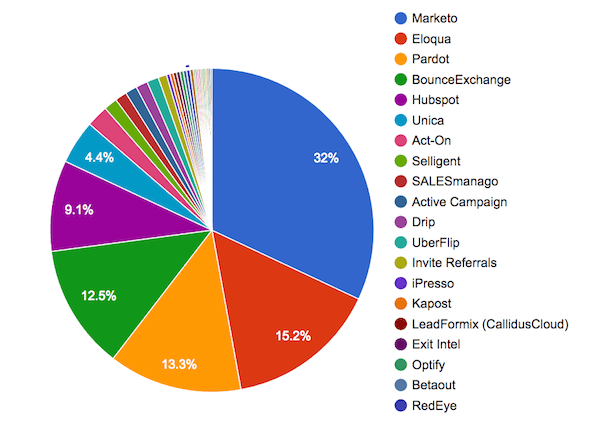 ---
G2 Crowd has a different persective. For its G2 Grid, it rates products based on a combination of the Marketing Automation product's customer satisfaction and market presence.
Its G2 score has Hubspot in first place followed by SalesForce's Pardot, Marketo Act-On and then Oracle's Eloqua. For market presence however it has Hubspot again in the lead, but with Oracle's Eloqua, IBM's Silverpop, SalesForce's Pardot and Marketo as runners up.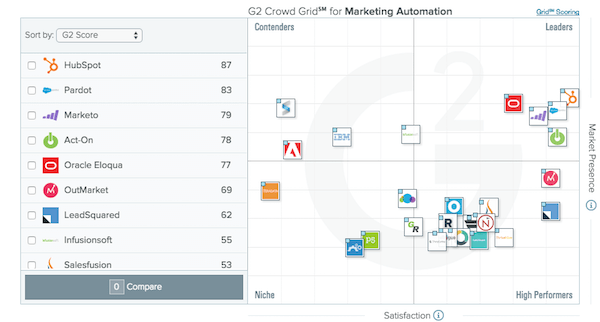 ---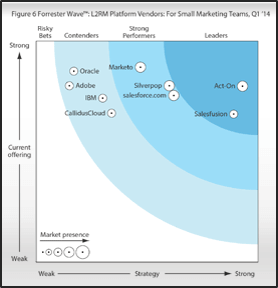 Forrester earlier this year named the nine most significant lead-to-revenue management (L2RM) marketing automation platform vendors.
In 2014 Forrester Research published The Forrester Wave™ Lead-To-Revenue Management Platform Vendors" which evaluated the use of marketing automation by small marketing teams and large enterprises. Act-On was a leader in both categories, followed by Adobe, CallidusCloud, IBM, Marketo, Oracle-Eloqua, Salesforce-Pardot, Salesfusion and Silverpop. This was of course before IBM acquired Silverpop.
---
Gartner's 2015 Magic Quadrant for CRM Lead Management, tabbed Oracle and Marketo as the leaders, followed by Salesforce-Pardot, IBM Silverpop, Hubspot and Adobe.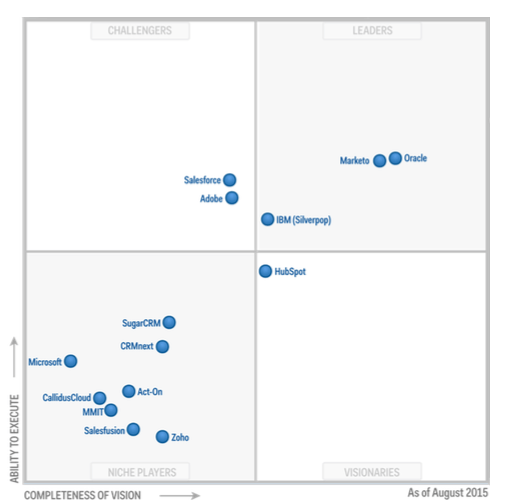 ---
For features and functionality Gleanster Research had Oracle Eloqua, Silverpop, HubSpot, Marketo and Act-On in the lead, but for overall value HubSpot, Marketo and Act-On.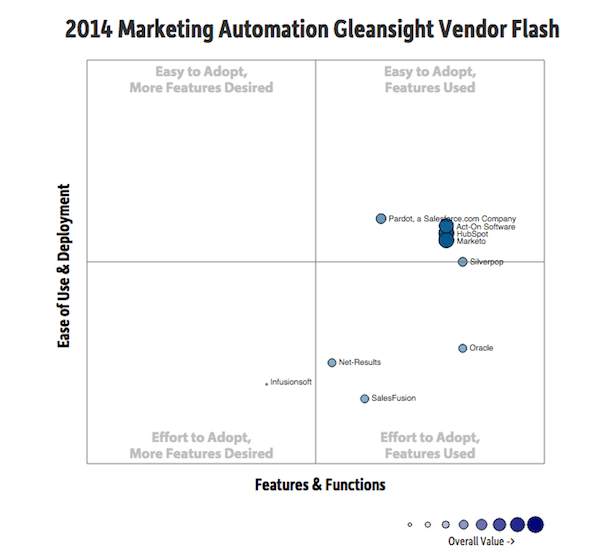 ---
TrustRadius also has a ranking for marketing automation vendors which is divided into segments by company size: for large firms its top rated firms were Maketo, Oracle-Eloqua and Act-On, for mid-sized business it had HubSpot, Marketo and Act-On and for small businesses it had HubSpot and Lead-Squared. Its overall ranking however showed a clear lead for Hubspot.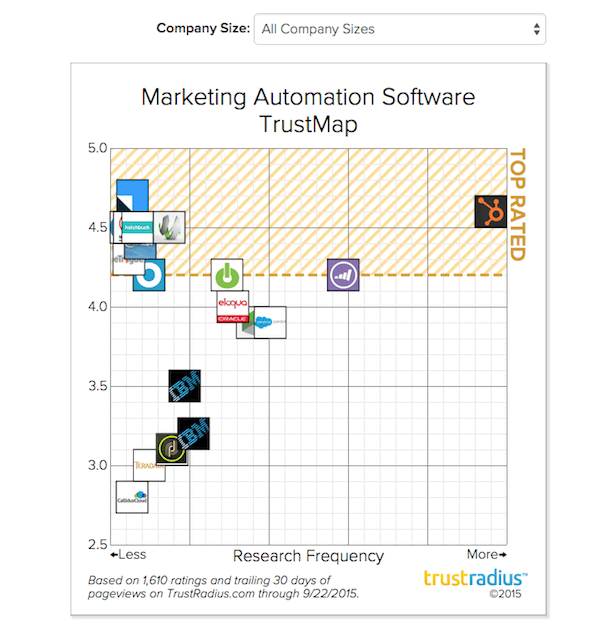 ---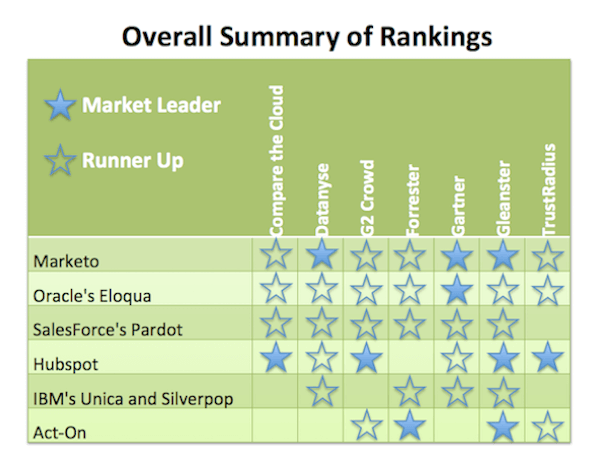 Obviously there is only limited agreement or alignment between all these various rankings. This is because each is seeking to measure a slightly different aspect or variable. This varies from pure marketing automation to lead generation and from the needs of large firms to those of SMBs. However reading between the lines, two main winners start to emerge. For SMB firms Hubspot has long been popular choice and the continued buzz around its ever expanding portfolio appear to be strengthening its position at this end of the market.
[easy-tweet tweet="SMB's most popular choice for #MarketingAutomation is @Hubspot" user="billmew" usehashtags="no"]
Meanwhile at the enterprise end of the market a number of major players are seeking to gain a lead and we have seen firms like Oracle and IBM seek to do so via acquisition and expect further acquisition and consolidation ahead. However the firm emerging strongest at present is Marketo, and while both Marketo and Eloqua were seen by Gartner as market leaders, it was the extent to which Marketo holds a lead in market share (as shown clearly by Datanyse) that puts it in the strongest position.