Enterprise 2.0 Summit London
There are plenty of conferences about enterprise social networks, using social media in business and social business. Most of them focus on external use of social media for communications. Some of them talk social collaboration and employee engagement. Our conference is the one that goes further. We take digital and social technology to the heart of the business process and focus on real returns – generating more revenue and/or reducing real costs. We talk less of the theory and more about putting it in to practice – where do you start, what works, what doesn't, and what's next? Book now – November 26 for the Enterprise 2.0 Summit London.
We are talking Digital Transformation – what is that?
The business landscape is changing. It's driven by significant changes in infrastructure, economics, and the 3 big technology shifts (Cloud, Social and Mobile) that are happening simultaneously. On top of that there are emerging technologies like the Internet of Things, Big Data & Analytics, Artificial Intelligence and 3D Printing that have the potential for an even more profound effect on the World economy and the way business works. Today's marketplace has more demanding customers, faster changing technology and more competition.
Whatever business you are in your business model is under threat by a smarter, nimbler competitor who will be using technology to skip past you in to a new field of play. By using the term digital we are highlighting that you need to think further than just adding social and mobile technologies. You have to harness your existing technology and make it work better. You have to think of using technology to help you go to market faster with new offerings and to reach your customers in new ways. You have to re-evaluate your business and your value proposition and stop thinking business as usual. You have to start thinking digitally for your business and an entire new generation of technologies. Smart companies can evolve a digital strategy. Business as usual will get left behind. If you are behind the curve like a Kodak or Blockbuster or even a Phones 4U, you have to think in terms of a more significant digital transformation
Sounds quite interesting, but why bother?
If this still sounds nice to have as an add-on rather than vital, the most important thing is that it works! Take a look at these survey results from Capemini Consulting and MIT Sloan Management from their report "How digital leaders outperform their peers in every industry". They split the organisations in to 4 categories; with the most digitally savvy being called the "Digirati". Companies in that most advanced category generate 9% more revenue, create 26% more profit and have 12% higher market valuation than the rest. Going Digital makes a direct contribution to the bottom line. How do you do that?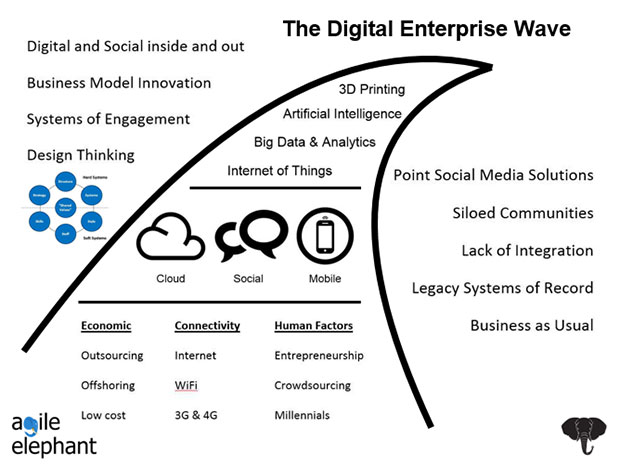 Come to the Enterprise 2.0 Summit London
Our conference on November 26 at the British Academy in London directly addresses these issues. We've assembled case studies and speakers from companies who have embraced digital technology like Barclays, CEMEX, Deutsche Bank, and Sanofi Pasteur. We have well known industry experts like Euan Semple, Lee Bryant and our very own Agile Elephant team. There will be keynote sessions, panel discussions, 3 workshop options and ample time for networking with other delegates and the experts. The emphasis of the content is practical rather than theoretical. We'll make the business case, show you where the returns and efficiencies can be made, then give you a roadmap for making it work in your company.
The main one-day conference is on November 26th, with an optional and more detailed pre-conference workshop day on the 25th. There will also be an unconference day on the 27th, aimed at consultants and practitioners who want to share ideas, best practice and discuss how this topic will develop in the future.
The event is co-produced by Kongress Media, who run similar events in France, Germany and Switzerland, and Agile Elephant, the UK digital transformation consultancy. All of the details are on the conference website. You can book a place here
Special offer for Compare the Cloud readers
We are delighted to offer Compare the Cloud readers readers a special discount. Email us and we will send you a code to use when you sign-up.
We believe this will be the most comprehensive event in the UK this year for riding the digital enterprise wave rather than getting swamped by it. We hope to see you there.