Apps World Europe reveals keynote line-up that includes Google Glass pioneer.
Apps World Europe has announced the first of its keynote speakers for the show with a line-up that includes Babak Parviz, Google Glass Pioneer and now Vice President of Amazon. Parviz is one of a number of experts who will present keynote speeches at Apps World Europe, which will move for the first time to London's ExCeL in November. The keynote speakers make up more than 200 speakers who will be presenting at the show which is due to attract more than 12,000 attendees for 2014.
Other keynotes include As Seen on TV founder, entrepreneur and investor and now Shark Tank judge (the US equivalent of Dragon's Den) Kevin Harrington ‐ the man also credited with creating the infomercial in 1984. Another famous TV face includes Jason Bradbury, presenter of The Gadget Show UK & US whose television career spans nearly 20 years.
Other keynotes include Peter Molyneux, founder of Lionhead Studios and one of the most recognised faces in the video games industry; Sir Nigel Shadbolt, Co-Founder & Chairman, ODI – Open Data Institute whose 33 year career saw him being knighted in 2013; Gerard Grech, CEO, Tech City UK whose international experience has taken him now to new heights building Tech City UK; Takeshi Idezawa, Chief Operating Officer of LINE and Bill Liao, European Venture Partner of venture capital business SOSVentures.
Ian Johnson, founder of Apps World, said: "Apps World has grown hugely as a brand over the last five years and will this year attract more than 12,000 attendees to our European show in London. Our success is based on the strength of the keynotes we attract to speak at the show – a list that is constantly being added to. Apps World Europe 2014 promises to be the best show yet."

Apps World Europe will be held in London's Excel from 12-13 November. For more information about our speakers visit www.apps-world.net/europe/agenda/keynote-speakers. For more general information visit www.apps-world.net/europe.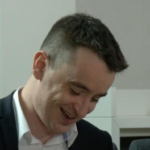 Andrew McLean is the Studio Director at Disruptive Live, a Compare the Cloud brand. He is an experienced leader in the technology industry, with a background in delivering innovative & engaging live events. Andrew has a wealth of experience in producing engaging content, from live shows and webinars to roundtables and panel discussions. He has a passion for helping businesses understand the latest trends and technologies, and how they can be applied to drive growth and innovation.