The monthly #CloudInfluence ranking for organisations is usually a tussle between the main players for share of voice, with the same names appearing near the top each month, albeit in a different order. The monthly ranking for individuals however, tends to see far greater change month to month with few executives appearing on a consistent basis.
In doing so it reflects the news agenda each month with different executives capturing the limelight depending on what they have to announce and how much influence their opinions carry. Indeed none of March's top five individuals appeared in February's rankings at all.
Aziz Benmalek, general manager of Microsoft's Hosting Service Provider unit, took top spot in the individual rankings this month. He was quoted widely in regard to a Microsoft-sponsored study from 451 Research which focused on how enterprises are turning to cloud providers that offer more than hosting infrastructure services. The research found the cloud computing market has evolved, offering more opportunities for vendors that venture beyond providing the essentials of getting business clouds off the ground. The survey of 1,700 hosting and cloud customers worldwide revealed that in terms of IT spend, 70 percent of the opportunity for cloud providers now revolves around application hosting, managed data services like backup and disaster recovery, and security. Aziz commented on how the results show that IT organizations are seeking cloud solutions that go "way beyond [their] infrastructure needs".
In 2nd place was Josh Petersen, director of Amazon Cloud Drive, as the firm announced two new plans for customers that want an affordable, secure solution to store unlimited amounts of photos, videos, movies, music, and files in one convenient place, thereby taking on the unlimited storage plans from rivals Google and Dropbox.
Then came Gary Pearsons, VP and GM at Rockwell Automation who was quoted in a Microsoft IOT announcement which focused on how Microsoft Azure IoT services, Windows 10 IoT for devices and Power BI are empowering firms to make better use of their data.
In 4th was Michelle Bailey, Senior VP at 451 Research who had been behind the Microsoft-sponsored study mentioned earlier and in fifth was Mark Hurd, CEO at Oracle. Hurd delivered the opening keynote address at the Oracle Industry Connect conference on how the turmoil caused by cloud represents an opportunity for those who seize it.
Only when we get past the top 5 do we start seeing some familiar faces from last month's rankings. In 6th place is Solgenia Group's Founder and CEO Ermanno Bonifazi [5], followed by Coudian CMO Paul Turner [3] in 7th and last month's leader Marc Rogers [1], CloudFlare's principal security researcher comes in at 8th with a 7 place drop.
In 9th is Chinese Republic Premier, Li Keqiang as his government produced an "Internet Plus" action plan to propel the integration of the country's modern manufacturing with the mobile Internet, cloud computing, big data, and the Internet of Things.
Completing the top 10 is Don Butler, executive director of connected vehicle and services at Ford, earning his rank by talking about the vehicle data that Ford acquires wirelessly through the cloud and how it can be used to remotely diagnose mechanical problems or alert owners and dealers on scheduled maintenance.
[table id=13 /]
Further down the rankings industry heavyweights Marc Benioff [16] CEO of Salesforce.com came in at 15th moving up one place since February, Brian Krzanich, CEO of Intel made 16th, and Larry Ellison, Founder and CTO of Oracle at 20th all appear commenting on the cloud strategies of their respective firms.
A celebrity of a different kind appears in 19th. Joe Montana is best known as the former Quarterback of the San Francisco 49ers, but he is also an astute investor – he's invested in Pinterest three times, Dropbox twice, and other large startups like CoreOS in the past.
Kentucky senator and potential 2016 presidential candidate Rand Paul in 40th used a town-hall meeting with employees of Dynamic Network Services, a cloud computing company, not only to talk about the importance of technology leadership, but also to promote his other political views.
A few familiar faces also appear, with Daniel Ives [14] an analyst at FBR Capital Markets, in 13th commenting widely in the investment press on the tech market and Simon Porter [25], European VP at IBM, as active as ever on social media appearing in 41st.
If you feature in the March #CloudInfluence top 50 and would like to put a badge on your site,  please use the following, or contact [email protected] for other formats.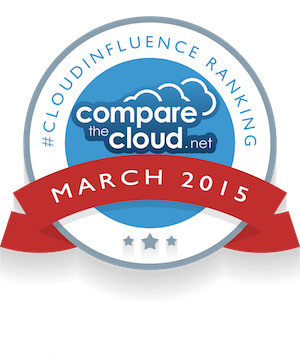 NOTE: the Compare the Cloud #CloudInfluence league tables, are based on a broad big data analysis of all major global news, blogs, forums, and social media interaction over the past 90 days. The league tables provide a snapshot taken at a particular point of time of the respective influence of both organisations and individuals over the last quarter. Companies that were particularly active in the given period will feature more prominently.