Each month in our top 50 ranking for individuals we feature a host of influential executives who are the greatest movers and shakers on the global stage, but we also find it interesting to focus on the main cloud bursters – those appearing from nowhere to make an impact each month – and we also like to look at the top players closer to home – here in the UK.
March 2015 #CloudInfluence Cloud Bursters
The top cloud burster this month was Salesforce.com CEO Marc Benioff. This month Benioff revealed that the company intends to further grow their cloud computing software and Salesforce ANT migration products to enable organizations to manage their customer service, sales, online marketing and even human resources.
Also making a splash was Joe Montana who appears in 19th in the overall rankings. While he's best known as the former Quarterback of the San Francisco 49ers, it is his track record as an astute investor with investments in Pinterest, Dropbox and other start-ups that was the focus of coverage this month. Wouldn't we all like to have earned what he did as a player, but to have invested as well!
John Kavanagh, Senior Director of Identity Management at Synacor rose to prominence this month commenting on Synacor's Cloud ID SDK launch as the firm seeks to simplify mobile app development and subscriber login experience.
Encouraging users to think beyond familiar phrases when creating passwords, as well as encouraging firms to prompt them to do so, was researcher professor Mohammad Mannan.
Then asserting that technology played a defining role in shaping India's economy, Oracle India managing director Shailendra Kumar commented this month that the company was looking for bright people eager to lead cloud transformation across the country.
[table id=15 /]
March 2015 #CloudInfluence UK Individuals
Yet again the leader of this months #CloudInfluence rankings for the UK is IBM's Simon Porter – one of the most active execs that we know on social media. He is followed by analyst Nitesh Patel, the Senior Analyst for the Wireless Media Strategies at Strategy Analytics. In a recent report he argued that mobile operators should use mobile cloud storage services not only to help drive loyalty and traffic, but also to reduce churn, rather than relying on cloud as a premium service and source of direct revenue.
Next came Iomart CEO Angus MacSween after Iomart was not only accredited for UK Government G-Cloud 6, but the firm was also identified as one of the "London Stock Exchange's 1000 Companies to Inspire Britain" for the second year in a row – a report that celebrates the UK's fastest-growing and most dynamic small and medium sized businesses.
Next commenting on the usage of private cloud and ASP-type services within the financial services industry and its slow adoption of pure public cloud-based services, was Richard Edwards, Principal Analyst at Ovum.
Finally with further comment promoting a report that found that the UK tech sector outperformed the wider UK economy in Q4 2014, was Tudor Aw [3], Technology Sector Head at KPMG Europe.
[table id=14 /]
If you feature in the March #CloudInfluence top 50 and would like to put a badge on your site,  please use the following, or contact [email protected] for other formats.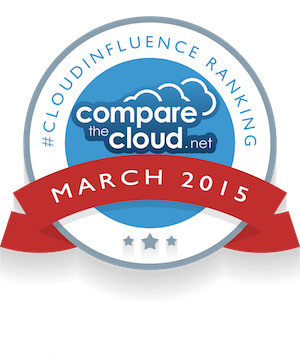 NOTE: the Compare the Cloud #CloudInfluence league tables, are based on a broad big data analysis of all major global news, blogs, forums, and social media interaction over the past 90 days. The league tables provide a snapshot taken at a particular point of time of the respective influence of both organisations and individuals over the last quarter. Companies that were particularly active in the given period will feature more prominently.