Competition in the cloud market is intensifying, but differentiating between the winners and losers in as difficult as ever. With Amazon yet to break out separate financials for AWS and other vendors including a host of different kinds of software and services in their disclosed cloud revenue figures, it remains hard to make direct market share comparisons on the basis of revenue.
Added to this are the market distorting impact of widespread discounting as well as the use of credits to attract clients to a vendor's cloud platform. Even numbers relating to client cloud usage are hard to get hold of or to compare. This month however some light was shed in this area when an article from Business Insider disclosed usage figures from Microsoft that showed a significant rise in usage – albeit from a concerning low historic level.
Our March #CloudInfluence rankings provide a clear comparative perspective in terms of mind share and market influence, February's rankings are shown in square brackets when applicable. Microsoft [1] topped the table for a third consecutive month, just ahead of rival Amazon [4] which moved up to 2nd ahead of Apple and Oracle. After a burst of activity in February around its PWLC and Impact events, IBM [2] fell back to 5th in the rankings for March.
AWS may currently be bigger than Microsoft in cloud revenue terms, but Microsoft is now growing its cloud revenue significantly faster, and at the current rate will catch AWS in the next few years. Microsoft have also previously shown low cloud usage rates, but these are now rising rapidly as well. In terms of share of voice and #CloudInfluence, Microsoft is a cut above its main rivals. Though you wouldn't want to write off any of the main players: AWS's lead is significant; Google's technology is incredible; and IBM's ability to come back against competitors has been proven time and time again over the last 100 years. However, in a market in its early growth phase, as cloud is, it is often mind share that has the greatest influence. And as the big data analytics behind the Compare the Cloud #CloudInfluence rankings shows, it is Microsoft that currently appears most likely the heir apparent to the cloud throne.
The Amazon model has been to reduce prices in order to drive growth, even though according to Citi's estimates it has done so at a loss, even with minimal marketing spend. By contrast rivals like Microsoft and IBM have invested heavily in cloud marketing, leading February's #CloudInfluence rankings as a result. March's rankings show IBM [2] has failed to sustain the momentum from its PWLC and Impact events and subsequently has fallen to 5th. The #CloudInfluence rankings analytics found that Microsoft's influence has continued to increase – significantly outpacing that of all its rivals.
By the time we publish next April's rankings at the beginning of May, Amazon is due to have disclosed its AWS financials and we will know for sure how profitable the business is and whether it has the cash flow and reserves to take on deep-pocketed rivals like Microsoft and Google, or to fund and sustain a long marketing battle.
[table id=12 /]
And the rest?
Boosted by a Synergy Research Group report that showed it had retained its lead the cloud infrastructure equipment market, as well as by its CeBIT announcement with Deutsche Telekom of a number of newly developed Intercloud-based services, Cisco [16] jumped to 6th overall this month.
Next came new entrant Adobe Systems in 7th, which despite negative coverage of its financial results, received much more positive coverage for the Acrobat Document Cloud, the latest of its professional cloud services, which includes Adobe Creative Cloud and Marketing Cloud. Also in a classic co-opetition arrangement, despite head to head competition between Adobe Experience Manager (AEM) and IBM Web Content Manager in the WCM space (as well as in analytics), Adobe Systems announced a deal with IBM's digital agency, IBM Interactive Experience, to build enterprise consulting capabilities for Adobe Marketing Cloud.
In 8th we have Amazon's cloud operation AWS [5], followed by Amazon's main eCommerce rival Alibaba and one of its main cloud rivals Google [7] dropping three places to 10th.
Users took to Twitter this month to vent their frustration at being unable to access Apple's iTunes and App stores which suffered an unusually long outage – one that the company blamed on an internal technical error.
After the Apple Store came SAP [10] dropping two places to 12th, followed by Red Hat Inc, which reported a 16 percent jump in quarterly revenue from increasing adoption of open-source software and its cloud-based products.
Analyst firms IDC [23] in 20th and Gartner [11] in 23rd appeared alongside Deutsche Telekom and Yahoo! News [15], with rival analyst firm Forrester in 28th. Also in the top 30 were vendors Sony, Ericsson [19], Dell, Avaya, EMC and Nvidia [37].
Other notable entrants to the rankings were the China Securities Regulatory Commission and the People's Republic of China itself following the Regulatory Commission's announcement that Meng Kai, the former chairman and biggest shareholder in Cloud Live Technology Group Co., should fulfil his promise and return to resolve the firm's repayment problems.
In 40th was The Pirate Bay (TPB), which overcame a move by Swedish police to take the site down late last year, by simply reappearing the following month. Also thanks to a new distribution partner CloudFlare which provides a service that manages the dialogue between users and website hosting servers, TPB has succeeded not only in reducing bandwidth burdens and protecting itself against DDoS attacks and other threats, but has also succeeded in hiding information from ISPs, making it much more difficult for them to block access to its main portal (thepiratebay.se). Therefore many of the existing ISP-level blocks no longer work, making TPB even easier to find than it already was.
Check back tomorrow for the Top 50 Global #CloudInfluence Individuals for March, and on Friday for the UK #CloudInfluence and Cloud Bursters tables.
If you feature in the March #CloudInfluence top 50 and would like to put a badge on your site,  please use the following, or contact [email protected] for other formats.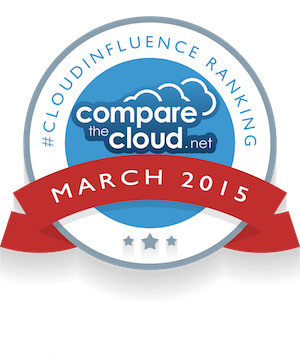 NOTE: the Compare the Cloud #CloudInfluence league tables, are based on a broad big data analysis of all major global news, blogs, forums, and social media interaction over the past 90 days. The league tables provide a snapshot taken at a particular point of time of the respective influence of both organisations and individuals over the last quarter. Companies that were particularly active in the given period will feature more prominently.