Menlo Ventures, Columbus Nova Technology Partners and Citi Ventures Contribute Funds to Accelerate Development of Disruptive Technology, Scale To Meet Global Demand
vArmour, a stealth security company designed to protect the new data defined perimeter for enterprises, today announced it has raised $36 million in funding, including a Series B round closed in December 2013 ($15 million) led by Menlo Ventures and a Series C round closed in August 2014 ($21 million) led by Columbus Nova Technology Partners (CNTP), Citi Ventures and Work-Bench Ventures, bringing total company funding to $42 million.
vArmour will use the capital to scale development and sales teams to help the enterprise protect their new data defined perimeter in today's reality of pervasive virtualization, constant threats and advanced security breaches.
vArmour has the escape velocity to completely disrupt the security industry," said Mohsen Moazami, Founder and Managing Director, CNTP. "We went all in on vArmour as I'm confident that vArmour's continued growth will deliver a solution for the enterprise that can visualize, manage and ultimately protect the data center in a way we've never seen before."
Our investment in vArmour is a testament to the potential for its technology to shape the future of enterprise security for the data center," said Arvind Purushotham, Managing Director at Citi Ventures. "As an organization that supports billions of secure transactions per day, Citi is dedicated to consumer trust and vArmour's management team shares our vision for the importance of enterprise security."
Three-fourths of organizations have active command-and-control communications, indicating that attackers have control of breached systems and are possibly already receiving data from them. As massive, growing amounts of data continue to be distributed on a global scale, security controls need to move deep into the data center and be as dynamic as the applications and data they protect. There, at the data defined perimeter, vArmour provides the needed protection dynamically and securely by giving enterprises instant visibility and control of their East/West traffic flows for both old and new data centers architectures.
"Advanced targeted attacks are easily bypassing traditional firewalls and signature-based prevention mechanisms. All organizations should now assume that they are in a state of continuous compromise. However, organizations have deluded themselves into believing that 100 percent prevention is possible, and they have become overly reliant on blocking-based and signature-based mechanisms for protection. As a result, most enterprises have limited capabilities to detect and respond to breaches when they inevitably occur, resulting in longer 'dwell times' and increased damage," wrote Neil MacDonald and Peter Firstbrook of Gartner.
"In reality, going forward, improved prevention, detection, response and prediction capabilities are all needed to deal with all types of attacks, 'advanced' or not. Furthermore, these should not be viewed as siloed capabilities; rather, they should work intelligently together as an integrated, adaptive system to constitute a complete protection process for advanced threats."
As part of the investments, Pravin Vazirani, general partner at Menlo Ventures and Mohsen Moazami, CNTP, will both join the vArmour Board of Directors. Recently, Lane Bess and Dave Stevens, both previous CEOs of Palo Alto Networks, were also announced as investors and vArmour board members, offering their combined 60 years of experience leading and growing security, data center and tech start-ups, including current roles at Brocade and Zscaler. The company, which has been in stealth-mode since its founding in January 2011, previously announced a $6 million Series A led by Highland Capital in January 2013 and is now prepared to launch later in 2014.
"Our investors saw first-hand vArmour's large scale deployments of advanced data center security technology on a global basis and they realized that we have created something extremely valuable that solves a strategic issue for the enterprise," said Tim Eades, vArmour CEO. "Today, our board represents some of the best minds in security with Lane and Dave from Palo Alto Networks, now joined by Mohsen from CNTP and Pravin from Menlo. With our all-star team throughout the US, EMEA and APAC, we're in the best position to bring this technology to market and forever change the rules for security in the data center."
Those interested in learning more about the newly defined data perimeter and East/West traffic flows are invited to attend an upcoming webinar on August 20. For more information on the webinar, presented by vArmour, distinguished ESG analyst Jon Oltsik and Demetrios "Laz" Lazarikos, Blue Lava Consulting IT Security Strategist and former CISO for Sears Online, visit vArmour.com.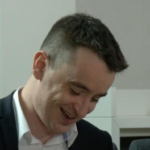 Andrew McLean is the Studio Director at Disruptive Live, a Compare the Cloud brand. He is an experienced leader in the technology industry, with a background in delivering innovative & engaging live events. Andrew has a wealth of experience in producing engaging content, from live shows and webinars to roundtables and panel discussions. He has a passion for helping businesses understand the latest trends and technologies, and how they can be applied to drive growth and innovation.