With two announcements Seagate is pushing ahead with its new cloud strategy.
First up is a career move which demonstrates how important High Performance Computing (HPC) is becoming in the marketplace. Seagate has announced that it has hired Sri Hosakote, former Head of Engineering for Cisco, as its Executive Vice President of Systems for the Cloud Systems and Solutions (CSS) group.
Hosakote, whose previous roles also include time as a software engineer for Sprint Communications, is expected to lead the creation and delivery of HPC solutions and custom, modularised systems for OEMs with an emphasis on converged infrastructure.
"Sri's leadership will be an important driver as we extend Seagate's market position as a trusted partner in storing, protecting and sharing data by going beyond our leading disk drive business to deliver cloud systems and solutions for OEMs and 'do-it-yourself' organisations," said Jamie Lerner, President of CSS for Seagate.
Hosakote's appointment follows the unveiling of Seagate's new Kinetic hard disk drive (HDD). Seagate has been making efforts to boost its enterprise-class PCIe flash range. They have also managed to pick gains in the surveillance and video analytics market, as well as with its cloud-based applications. With the introduction of the Seagate Kinetic Open Storage platform in 2013 another storage product was always going to be likely.
The Kinetic HDD is designed to replace legacy systems through the combination of open source object storage protocol with Ethernet connectivity. This streamlined approach allows storage applications to talk directly to Kinetic object storage HDDs through direct IP addressing. Seagate hopes to eliminate the overhead of an entire storage server tier, which they claim will reduce costs by 50%.
Based on the Seagate Kinetic Open Storage platform, Kinetic HDD dramatically reduces total cost of ownership (TCO) by simplifying cloud storage architectures and eliminating multiple layers of legacy software and hardware infrastructure. AOL and HP are both working with Seagate, exploring Ethernet connected drives in an effort to drive big data solutions.
"The addition of Kinetic devices to the storage environment creates architectural flexibility when deploying systems. Kinetic storage also improves TCO when storing the enormous data sets required by applications, while simplifying management and reducing the effort required to operate reliable data storage systems," said Dan Pollack, Chief Architect, Storage Operations for AOL.
"Over the past decade, the unprecedented explosion of data has been driven by social media, smartphones, tablets, and the rapid growth of every sort of Internet-connected device," said Scott Horn, Seagate Vice President of Marketing. "Cloud service providers are increasingly looking for solutions that will simplify infrastructure, improve scalability and reduce costs."
"Seagate is building on its legacy, extending innovation from the device into the information infrastructure, both on-site and in the cloud," said Jamie Lerner.
There are many tech companies trying to solve to the information infrastructure stack. The management layer is increasingly as important as the file system and data centre hardware. With the new Kinetic HDD Seagate believe they have the cost effective answer to the storage needs of our ever-expanding data storage. And, with the appointment of Hosakote, Seagate is showing the willingness to invest more in cloud solutions.
Seagate is demonstrating the Kinetic Open Storage platform at OpenStack Summit Paris 2014 this week.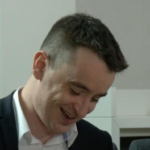 Andrew McLean is the Studio Director at Disruptive Live, a Compare the Cloud brand. He is an experienced leader in the technology industry, with a background in delivering innovative & engaging live events. Andrew has a wealth of experience in producing engaging content, from live shows and webinars to roundtables and panel discussions. He has a passion for helping businesses understand the latest trends and technologies, and how they can be applied to drive growth and innovation.