IBM has announced it has built the industry's first intelligent security portfolio for protecting people, data and applications in the cloud – IBM Dynamic Cloud Security.
Built on IBM's investments in cloud, security and analytics software and services, the portfolio is designed to protect a business's most vital data and applications using advanced analytics across their enterprise, public and private clouds as well as mobile devices.
Security is increasingly a concern that is often cited as the reason for delaying cloud adoption. Businesses are struggling to safeguard their existing IT systems against attackers who are becoming increasingly sophisticated and more difficult to detect. 75% of security breaches take days, weeks or even months to be discovered, significantly increasing the damage inflicted.
"Customers are now moving critical workloads to the cloud and they expect enterprise grade security to move with it," said Brendan Hannigan, General Manager, IBM Security Systems. "We have pivoted our entire security portfolio to the cloud to help customers lock down user access, control data and maintain visibility. With the right visibility into threats, enterprises can more securely connect their people, data and processes to the cloud."
Using analytics IBM's cloud security tools give companies a "single-pane-of-glass" view of their entire business. From private data centres, to the cloud and even to an individual employee's mobile device, the security the security status is comprehensively reported and shows exactly who is using the cloud, what data individuals are accessing and from where they are accessing it.
The IBM Dynamic Cloud Security portfolio addresses the security gaps that can exist between on-premise, cloud, SaaS and mobile applications. The portfolio is focused on authenticating access, controlling data, improving visibility and optimising security operations for the cloud.
According to a new IBM study of nearly 150 Chief Information Security Information Officers (CISOs) almost half expect a major cloud provider to experience a security breach. 85% of the CISOs polled say their organisations are now moving to cloud, putting security clearly in focus. Despite these concerns, critical workloads processing customer and sensitive data are still moving to the cloud.
IT analyst firm Gartner reports that nearly half of large enterprises will deploy hybrid clouds by the end of 2017. As cloud adoption increases security will become ever more important.
For more information visit: ibm.com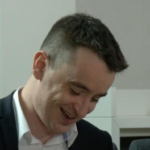 Andrew McLean is the Studio Director at Disruptive Live, a Compare the Cloud brand. He is an experienced leader in the technology industry, with a background in delivering innovative & engaging live events. Andrew has a wealth of experience in producing engaging content, from live shows and webinars to roundtables and panel discussions. He has a passion for helping businesses understand the latest trends and technologies, and how they can be applied to drive growth and innovation.