Mobile developers come together for innovative Hackfest at this year's Apps World Europe.
The Hackfest returns to Apps World Europe on November 12-13 in the ExCeL, London to challenge teams of mobile developers and designers to collaborate, innovate and create using the latest tools and technologies on a variety of cutting edge platforms for the opportunity to win an ultra-thin Razer Blade gaming laptop, a Parisian experience and over £1,000 in Amazon vouchers.
Partnering with Razer, participants will be challenged to create a new app in the Razer Nabu Hackfest that harnesses the social capabilities of the new Razer Nabu; a revolutionary wearable technology that delivers notifications from a smartphone right to a user's wrist and tracks selected personal information.
Based on an open development platform, the Razer Nabu can collect personal, physical and geographical opt-in data as well as pre-configured capabilities and gestures. This allows first- and third-party developers to update existing apps or build new ones.
"We are very excited to partner up with Apps World Europe for their popular Hackfest," says Min-Liang Tan, Razer co-founder and CEO. "The Razer Nabu is the first smart band ever that brings it all together: Fitness tracking, mobile notifications and social functions. We are looking forward to working directly together with the most creative app developers out there to harness the huge potential the Nabu offers."
Ian Johnson founder of Apps World shares "We are delighted that Razer have chosen the Hackfest at Apps World Europe as the premiere Razer Nabu hackathon event. The Nabu is an innovative device which has the potential to transform the world of gaming and fitness app-based wearables and I'm really excited to see what pioneering ideas our developer community showcase during the event."
Co-hosted with the Razer Nabu Hackfest, the Apps World Hackfest will ask developers to push the boundaries of originality whilst providing cutting edge solutions to challenges supplied by sponsors MasterCard, IBM, Calldorado and Progress.
The Hackfest will be commencing from 9am at Apps World Europe in the ExCeL, London from 12-13 November.
For more information visit: www.the-hackfest.com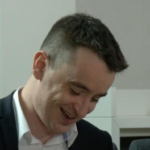 Andrew McLean is the Studio Director at Disruptive Live, a Compare the Cloud brand. He is an experienced leader in the technology industry, with a background in delivering innovative & engaging live events. Andrew has a wealth of experience in producing engaging content, from live shows and webinars to roundtables and panel discussions. He has a passion for helping businesses understand the latest trends and technologies, and how they can be applied to drive growth and innovation.