Survey of IT decision makers demonstrates the cloud is increasingly seen as standard practice for IT provisioning. A majority of businesses expect to have fully cloud-based IT infrastructure in next five years.
Attendees at Cloud Clarity, an educational event hosted by Node4 to help businesses better understand cloud services last week, confirmed that they expect to have moved to a fully cloud-based IT infrastructure within the next five years. A survey of the IT decision makers present found that 53% agreed that it would be very likely, although there is still a significant minority of 27% that thought it would be unlikely for their business.
The survey found that managing email is a key driver for cloud adoption with 47% of attendees agreeing that it would benefit their business to host mail applications in the cloud. Data storage and file sharing were also cited by over a quarter of attendees as key applications that would benefit from being moved to the cloud. Telephony and voice communications was the other critical business application that the decision makers would like to see in the cloud.
"More and more businesses are evaluating cloud services as a tool for reducing costs, limiting risk and providing the flexibility they need to run their businesses in a fast paced, technology driven workplace. Rather than a risk, cloud services are now mostly viewed as an IT solution that gives organisations of all sizes access to the latest and most up to date technology, enabling businesses to gain competitive advantage," commented Steve Denby, Head of Sales South, Node4.
"However, unless you have exactly the right solution for your business' individual needs then it is unlikely you will get the full benefits that the cloud can deliver. This means going beyond the accepted limitations of private, public or hybrid solutions and entering a new era of truly customised cloud solutions. The onus is on vendors to provide these capabilities and businesses need to ensure that they are working with the right suppliers to ensure their business is getting real value from any cloud infrastructure."
Cloud Clarity, held at The Gherkin, 30 St Mary Axe, London, focused on providing an overview of cloud technology as well as compliance in the cloud for businesses not currently engaged with, or contemplating making use of, cloud services. The event also featured talks from guest speakers Simon Hazlitt, author of Running on Air, and Neil Cattermull, Director of Cloud Practice at Compare the Cloud.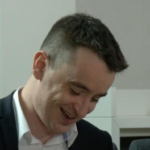 Andrew McLean is the Studio Director at Disruptive Live, a Compare the Cloud brand. He is an experienced leader in the technology industry, with a background in delivering innovative & engaging live events. Andrew has a wealth of experience in producing engaging content, from live shows and webinars to roundtables and panel discussions. He has a passion for helping businesses understand the latest trends and technologies, and how they can be applied to drive growth and innovation.