Enabling cloud and digital services
Ahead of Cloud Asia, we speak to Rocky Scopelliti, Group General Manager, Industry Centre of Excellence, Telstra, Australia in order to determine some of the winning steps companies should be taking when approaching data analytics.
When thinking about those companies that are successful in terms of their data analytics, there are inevitably some common characteristics in terms of their approach to them, and the company-wide policy with regard to them. Rocky is in agreement with this, stating that for these companies "their analytics support a strategic, distinctive capability, while the approach to, and management of, analytics is enterprise-wide". What's more, "Senior management are committed to the use of analytics; and the company makes a significant strategic bet on analytics-based competition."
It's not just the responsibility of the enterprise, however; ICT organisations have a vital role in enabling more competitive and effective data analytics, by creating an environment for them to succeed. Looking at a specific vertical – Financial Services – this is something that Telstra refer to as a Smart Connected Financial Services World. This, according to Rocky "will enable data analytics to benefit financial institutions; it will be used to respond to the changing competitive environment, and how the design of experiences will be valued by consumers, delivering growth.
Demand for 'trading at the speed of light' and the need for shaving nanoseconds of latency has seen organisations like Telstra make significant investments in cable systems linking global markets and exchanges". Trading at the speed of light is paramount, where a fraction of a second can cost millions. As global technology infrastructure develops even further, consumers across all verticals will inevitably become more demanding – what will be next, retailing at the speed of light? Data mining at the speed of light?
Looking specifically at what Telstra can offer to enable a Smart Connected Financial Services World, they have a wide range of cloud and leading edge digital services to enable institutions to reduce risk, improve productivity and create growth. When discussing this, Rocky makes the point that "Our research demonstrates that there is very strong customer demand for the personalisation and convenience that relationship managers typically provide. Unfortunately, direct relationship management is relatively expensive and is typically restricted to very high value customers."
However, there are several options: "Contact.Me brings together the best of a virtual IPA and a real, but remote, relationship manager in a single, engaging interface. Also we have Branch.Me, which is all about personalising the customer's experience while they are visiting the branch – should they opt in for this level of service. In terms of a personalised customer experience, we have Digital.Me, it isn't just about using analytics to help the customer manage their finances more easily and effectively, it's also about creating a platform that will allow providers to offer new services that customers will value".
Finally, talk turns to this November's Cloud Asia event, where Telstra are the exclusive Enterprise Cloud Partner. Rocky's reasons for Telstra's participation at this important industry meeting place are that "Cloud Asia brings together new insights from leaders breaking new ground. I look forward to contributing my thought leadership on how Cloud can create new business models to compete in an increasingly data-fused environment."
We look forward to it too. You can join Rocky, and all our event participants, by registering for Cloud Asia 2014. With a free-to-attend expo, and complimentary conference passes for enterprise, make sure you're part of the conversation.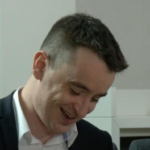 Andrew McLean is the Studio Director at Disruptive Live, a Compare the Cloud brand. He is an experienced leader in the technology industry, with a background in delivering innovative & engaging live events. Andrew has a wealth of experience in producing engaging content, from live shows and webinars to roundtables and panel discussions. He has a passion for helping businesses understand the latest trends and technologies, and how they can be applied to drive growth and innovation.