Let's start 2015 with a look to the future and the Asia Pacific region. It is fast becoming a centre for cloud technology, and as a rising arena of play it has bodies falling into place to keep it in check.
This is looking to be a big year for the Asia Cloud Computing Association (ACCA) which was formed in 2010. We spoke to Lim May-Ann the Executive Director of the ACCA to see what 2015, and the greater future, holds for cloud in Asia.
Firstly, let's get some background knowledge on the ACCA – in 2009 the cloud industry Asia was just fledging, so a group of committed senior executives from the various cloud and technology companies put together the ACCA as a vendor-neutral organisation to educate the industry. Since its inception the organisation has grown from strength to strength and has a strong focus on public advocacy for cloud interests such as clear policies surrounding data regulations, data sovereignty and cloud certification.
The ACCA is open to membership for all who have vested interest in the Asia Pacific arena – for more specific membership enquiries please visit the ACCA website.
The flagship report that the ACCA produces is the Cloud Readiness Index (CRI), a report on the cloud readiness of economies in Asia Pacific. Using publicly available information, it is a conglomeration report of ten factors that the ACCA believes comprises cloud readiness: privacy, international connectivity, data sovereignty, broadband quality, government regulatory environment and usage, power grid and green policy, IP protection, business sophistication, data centre risk, and freedom of information.
Lim May-Ann said the significance of the report is that if data, data management, and the capacity to manage data, are going to be the currencies of the future, they are going to be skill sets that economies need to have measured, and then developed in order to succeed in the 21st century – and beyond.
"Essentially that is what the CRI measures – the ability and the availability of resources to take up cloud computing. So if you study economics you know that demand is both the need for, and the willingness to purchase something – what we are really measuring is the ability of the countries to take up cloud computing – whether or not the countries actually do take up cloud computing, that's another matter altogether."
The CRI measures the capacity and the ability of cloud industries across 14 countries in the region and ranks them according to the report's findings.
The 2015 report is yet to be released, though we can look back at the report from 2014 – let us know in the comments your opinion on the results.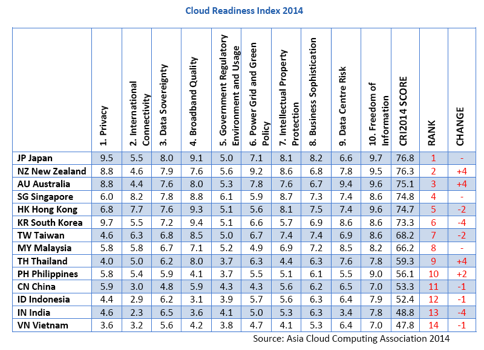 View the entire 2014 CRI.
The ACCA is working to accelerate cloud computing in Asia Pacific, and is supporting the creation of a safe and stable regulatory environment so that cloud can be adopted. On top of this they are also trying to educate an entire region on the benefits of cloud computing and increase business understanding of cloud products.
Presently there is a focus on the financial services industry and its take up of cloud computing. The ACCA has strong established bases in both Hong Kong and Singapore which are financial centres for the region.
Lim May-Ann said there is a lot of discussion around financial services industry's use of cloud and that unfortunately, there is a lack of clarity when it comes to looking at the regulations and whether or not the regulations actually allow for financial industries to use cloud services.
"There was a lot of desire for us to educate and engage with the various public agencies to clarify whether or not cloud computing could be used if you were a financial services industry – for the banks and the insurance agencies for example, there were questions around what kind of data can you store here, and what can you store elsewhere [sic]; sharing of credit information; whether an individual is credit worthy or not, and other similar information."
The example Lim May-Ann used to illustrate her point was my own situation, as I had moved from the Asia Pacific region, Australia, to London, can my bank share my credit information with a bank here, or do I have to start from scratch? (Spoiler alert, I had to start from scratch, lots of paperwork.)
"There are lots of questions around (data privacy), I'm proud to see that we've actually got quite a lot of traction around that from the government agencies as well, but it is not just the ACCA working on this, there are multiple organisations asking for clarification from the financial and government agencies."
"The Monetary Authority of Singapore (MAS) has just come up with updated guidelines on how to outsource technologies, for example. While it's not a specifically tailored to cloud computing – it doesn't explicitly specify that financial companies can use cloud computing – he updated guidelines strengthened and clarified their language around what sort of technologies could be outsourced to, for example to IaaS, PaaS, and SaaS."
Cloud computing in the Asia Pacific is interesting, because despite a high take up of SaaS products such as Dropbox and OneDrive there is still apprehension around the whole concept of cloud, particularly problems arise around cloud costing schemes.
For the Asia Pacific region one size does not fit all. If a service is $5USD per month per user that is affordable for a company in Australia, but not necessarily for one based in Myanmar or Indonesia.
Lim May-Ann sees the future of the Asia Pacific region's cloud in the expansion into regions outside of Hong Kong and Singapore.
"I would say I think that a lot of the cloud uptake will continue to remain as potential, a lot of the countries are facing very basic infrastructural questions around power supply and internet connectivity.
"I think where we're going to see more possibilities are in economies where mobile services are the highest. Indonesia and Myanmar are two countries which could have very successful cloud marketing strategies when the marketing hits that segment of the population which is currently having their first computing experience in mobile form rather than as desktop or a laptop."
So we can see 2015 as the year for the Asia Pacific to rise up, for mobile services to reign supreme, and for the mobile generation to be taken seriously. The desktop computer is fading out in the Asia Pacific, in order for cloud services to be considered seriously they must be mobile-ready.
The up and coming regions of the world are developing faster than they ever have before, cloud is slowly but surely penetrating into their markets, and developing economies are inviting it in – but not without asking the important questions.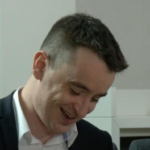 Andrew McLean is the Studio Director at Disruptive Live, a Compare the Cloud brand. He is an experienced leader in the technology industry, with a background in delivering innovative & engaging live events. Andrew has a wealth of experience in producing engaging content, from live shows and webinars to roundtables and panel discussions. He has a passion for helping businesses understand the latest trends and technologies, and how they can be applied to drive growth and innovation.