Technology commentator Rick Delgado takes a look at cloud computing and finds it has benefits for education as well as businesses.
When people talk about cloud computing, they usually approach it from the angle of how it can help businesses. While the technology certainly can provide a boost to companies both large and small, there are other sectors that could benefit from the cloud. Perhaps the most promising of those sectors is education.
As the economy continues to struggle and governments tighten budgets, education is usually one of the areas hit the hardest. That's why cloud computing is becoming such an integral part of every school district's outlook. Some experts even predict 35% of schools' IT budgets will be devoted to cloud computing by the year 2017. As the demand for cloud computing grows education looks set to change.
Tweet This: Experts predict 35% of schools' IT budget will be devoted to #cloud computing by 2017. #education
Cost Savings
So how can cloud computing help educational institutions? In basic terms, cloud computing moves the IT infrastructure out of the school building. With this move many of the costs associated with supporting servers, applications and data are reduced.
Service providers can manage server maintenance, system and application upgrades and even storage costs more effectively and at lower cost. Better still, software and infrastructure can be paid for as needed and actually used (a pay-per-use model). These cost savings benefit any organisation. For educational institutions there are greater rewards in the cloud than just reducing support costs.
Paperless Schools
The cloud really benefits education by transforming the classroom. Most schoolwork can be completed on online. As this happens classrooms are slowly going paperless. Assignments can be completed on the cloud, eliminating the need to turn in papers for grading purposes. Essential documents, classroom rules and project guidelines can also be accessed on the cloud, a change that not only helps the environment by saving on paper, but also lessens the workload on teachers needing to copy materials.
Backup & Storage
The cloud also allows students and teachers to back-up their assignments easily. As long as students and teachers are connected to the Internet, they can work with their files. This cloud back-up also serves as an emergency storage system for school districts. Educational organisations have a lot of student data. Losing this data can be a major headache to say the least. That's why having a cloud back-up can prove to be invaluable in the event of disaster.
Classroom Collaboration
The change in the classroom has also introduced wireless devices with students bringing their own laptops and tablets to school. Bring your own device (BYOD) is becoming a vital element of school life. With the convenience of these wireless devices the cloud enables students and teachers to collaborate on their assignments. Students can work together simultaneously on projects, in turn learning how to cooperate and get the most from their skills. Teachers also benefit by sharing lesson plans with other teachers. The result is a greater willingness to share and more engagement.
A Growing Market
According to a recent report, the cloud computing in education market was worth more than $5 billion in 2014. It is expected to grow dramatically and could be worth more than $12 billion by 2019. Other reports show that nearly half of all higher education institutions have prioritised moving to the cloud. Saving costs on IT expenses is an important incentive but so are the other benefits. In short, cloud computing in education is growing, and that doesn't appear to be letting up anytime soon.
As education embraces the cloud, institutions will see students become more engaged in the learning process while teachers become more productive. Concerns over privacy and security will need to be addressed and school districts will need to decide whether a public or private cloud best serves their needs, but the benefits are clear. Cloud computing is changing education for the better.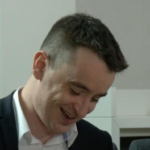 Andrew McLean is the Studio Director at Disruptive Live, a Compare the Cloud brand. He is an experienced leader in the technology industry, with a background in delivering innovative & engaging live events. Andrew has a wealth of experience in producing engaging content, from live shows and webinars to roundtables and panel discussions. He has a passion for helping businesses understand the latest trends and technologies, and how they can be applied to drive growth and innovation.