The three-property portfolio totals approximately 761,000 square feet
San Francisco, CA – July 16, 2012 – Digital Realty Trust, Inc. (NYSE: DLR), a leading global provider of data center solutions, announced today the completion of the acquisition of a three-property data center portfolio located in the greater London area, referred to as the Sentrum Portfolio.  The Sentrum Portfolio comprises approximately 761,000 square feet across three data centers located in Woking, Watford and Croydon.  The purchase price was £715.9 million (equivalent to $1.1 billion based on the July 11, 2012 exchange rate of £1.00 to $1.55) (subject to adjustment in limited circumstances and to additional earn-out payments based on a multiple of the net operating income from the lease-up of currently vacant space in the portfolio in the next three years).
"The addition of these high-quality, mission critical facilities to our London portfolio strengthens our position as a leading data center solutions provider in this highly strategic, global market," said Michael F. Foust, CEO of Digital Realty.  "We now have eight data center facilities located across the greater London metropolitan area, which represent over 50 percent of our European portfolio.  In addition, the properties include additional inventory for future development that will enable us to meet local and international U.K. customers' long term requirements."
"The portfolio is approximately 80% leased to a diverse roster of high quality companies that we are now pleased to call our customers," said Scott Peterson, Chief Acquisitions Officer for Digital Realty. "In addition, the opportunity to lease the balance of the portfolio's available space is a great opportunity to enhance the return on this investment for our shareholders."
"The completion of this acquisition combined with the success of our recent equity offering represent important strategic accomplishments for Digital Realty," said A. William Stein, CFO and Chief Investment Officer of Digital Realty. "We significantly increased our presence in an important global market, enabling us to better serve our growing customer base, while providing our shareholders with a transaction that we expect to be accretive to our 2012 Core FFO on a diluted per share and unit basis (excluding one-time acquisition and financing costs).  As previously stated, we plan to provide updated guidance for the year in our second quarter 2012 earnings announcement."
The Company estimated the total square feet available for lease in the Sentrum Portfolio based on a number of factors in addition to contractually leased square feet, including available power, required support space and common area. The Company's estimate of the percentage of occupied rentable square feet in the Sentrum Portfolio may change based on the Company's experience operating the properties following the closing of the acquisition.
About Digital Realty
Digital Realty Trust, Inc. focuses on delivering customer driven data center solutions by providing secure, reliable and cost effective facilities that meet each customer's unique data center needs. Digital Realty's customers include domestic and international companies across multiple industry verticals ranging from information technology and Internet enterprises, to manufacturing and financial services. Digital Realty's 108 properties, excluding three properties held as investments in unconsolidated joint ventures, comprise approximately 20.8 million square feet as of July 16, 2012, including 2.3 million square feet of space held for redevelopment. Digital Realty's portfolio is located in 32 markets throughout Europe, North America, Australia and Asia. Additional information about Digital Realty is included in the Company Overview, which is available on the Investors page of Digital Realty's website at http://www.digitalrealty.com.
Core FFO is funds from operations, calculated in accordance with the standards established by the National Association of Real Estate Investment Trusts, adjusted to exclude items that do not reflect ongoing revenue or expense streams, including transaction expenses.  Other REITs may not calculate Core FFO in a consistent manner. Accordingly, Digital Realty's Core FFO may not be comparable to other REITs' Core FFO.  Core FFO should be considered only as a supplement to net income computed in accordance with GAAP as a measure of performance.
Safe Harbor Statement
This press release contains forward-looking statements which are based on current expectations, forecasts and assumptions that involve risks and uncertainties that could cause actual outcomes and results to differ materially, including statements related to the acquisition of the Sentrum Portfolio, the expected return on investment and the impact of the Sentrum Portfolio on 2012 Core FFO and 2012 guidance. These risks and uncertainties include, among others, the following: the impact of the recent deterioration in global economic, credit and market conditions, including the downgrade of the U.S. government's credit rating; current local economic conditions in our geographic markets; decreases in information technology spending, including as a result of economic slowdowns or recession; adverse economic or real estate developments in our industry or the industry sectors that we sell to (including risks relating to decreasing real estate valuations and impairment charges); our dependence upon significant tenants; bankruptcy or insolvency of a major tenant or a significant number of smaller tenants; defaults on or non-renewal of leases by tenants; our failure to obtain necessary debt and equity financing; increased interest rates and operating costs; risks associated with using debt to fund our business activities, including re-financing and interest rate risks, our failure to repay debt when due, adverse changes in our credit ratings or our breach of covenants or other terms contained in our loan facilities and agreements; financial market fluctuations; changes in foreign currency exchange rates; our inability to manage our growth effectively; difficulty acquiring or operating properties in foreign jurisdictions; our failure to successfully integrate and operate acquired or redeveloped properties or businesses; risks related to joint venture investments, including as a result of our lack of control of such investments; delays or unexpected costs in development or redevelopment of properties; decreased rental rates or increased vacancy rates; increased competition or available supply of data center space; our inability to successfully develop and lease new properties and space held for redevelopment; difficulties in identifying properties to acquire and completing acquisitions; our inability to acquire off-market properties; our inability to comply with the rules and regulations applicable to reporting companies; our failure to maintain our status as a REIT; possible adverse changes to tax laws; restrictions on our ability to engage in certain business activities; environmental uncertainties and risks related to natural disasters; losses in excess of our insurance coverage; changes in foreign laws and regulations, including those related to taxation and real estate ownership and operation; and changes in local, state and federal regulatory requirements, including changes in real estate and zoning laws and increases in real property tax rates.  For a further list and description of such risks and uncertainties, see the reports and other filings by the Company with the U.S. Securities and Exchange Commission, including the Company's Annual Report on Form 10-K for the year ended December 31, 2011 and Quarterly Report on Form 10-Q for the quarter ended March 31, 2012.  The Company disclaims any intention or obligation to update or revise any forward-looking statements, whether as a result of new information, future events or otherwise.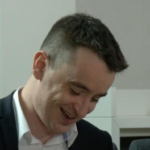 Andrew McLean is the Studio Director at Disruptive Live, a Compare the Cloud brand. He is an experienced leader in the technology industry, with a background in delivering innovative & engaging live events. Andrew has a wealth of experience in producing engaging content, from live shows and webinars to roundtables and panel discussions. He has a passion for helping businesses understand the latest trends and technologies, and how they can be applied to drive growth and innovation.