Disruptive, an offshoot of Compare the Cloud, is launching on April 12th, 2016; and will be broadcasting live from Cloud Expo in London.
Cloud Expo encompasses four events in 2016, Cloud Expo Europe, Cloud Security Expo, Data Centre World and Smart IoT London. Disruptive will launch across the four events, and stream live coverage of interviews with technology experts and speakers across the two days. Exclusive interviews with industry leading experts will be featured across the two days of broadcast.
Disruptive is an alternative approach to the everyday technology that is ingrained in our lives. Focussing on the IoT, analytics and truly digital and disruptive technology, Disruptive aims to get people interested in the tech behind technology again.
Disruptive is a global technology channel which has been in development for the past six months in anticipation of the launch at Cloud Expo.
Andrew McLean comments: "DisruptiveTech.tv is designed to change the way we look at technology, and the way we cover events in the technology sector. It's about bringing an exciting new approach to live coverage of technology, and pointing a spotlight at the truly disruptive technologies that are being developed by the biggest, and smallest, players in the industry."
Compare the Cloud will be filming short one-on-one interviews with cloud experts and industry leaders across the two day event.
To follow DisruptiveTech.tv's live launch at Cloud Expo 2016, follow @disruptivelive on twitter, check out the hashtag #disruptive, or visit the website at www.disruptive.live.
You can watch the event at:
www.comparethecloud.net/live or https://www.disruptive.live
You can discover more about the events on our events page:
https://www.comparethecloud.net/events/
——————-
About Cloud Expo Europe
Cloud Expo Europe, is the UK's largest technology event and the world's largest independent cloud event, featuring a major exhibition with a record 400+ cutting-edge suppliers plus a compelling conference of 300 global expert speakers – and thousands of visitors.
——————-
About Compare the Cloud
Compare the Cloud is an industry leading cloud commentator, aiming to educate the public on the latest IT and Cloud trends. Compare the Cloud champions the adoption and value of cloud computing; helps companies select services and providers best suited to their needs, and acts as a central hub, information resource and community for all cloud-related issues.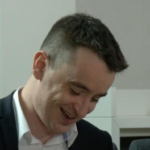 Andrew McLean is the Studio Director at Disruptive Live, a Compare the Cloud brand. He is an experienced leader in the technology industry, with a background in delivering innovative & engaging live events. Andrew has a wealth of experience in producing engaging content, from live shows and webinars to roundtables and panel discussions. He has a passion for helping businesses understand the latest trends and technologies, and how they can be applied to drive growth and innovation.