Simon Talbot, Chief Technical Officer of leading cloud services provider Net Solutions Europe (NSE), has recently returned from a gruelling eleven months at sea, skippering the Team GREAT Britain yacht in the Clipper Round the World Yacht Race. The race gives paying amateur sailors the opportunity to hone their sailing skills, whilst taking part in legs of this esteemed event. Skippering this crew is not an easy task, and Simon was delighted to be given the opportunity to prove he was up to the challenge. He has sailed since he was a boy and has been doing so professionally for the past ten years.
Taking eleven months off from any job is not easy, and Simon explains how he managed it without NSE suffering from his absence, "My business ethos has always been 'self-elimination'. I believe it is important to empower your staff to ensure that your business can run flawlessly without you. This enabled me, not only to take advantage of this coveted opportunity to skipper a yacht in this prestigious race, but also to take a more visionary, developmental role on my return."
"The cloud offers incredible benefits and capabilities to businesses, but it can seem quite complex,"says Simon. "The recent issues regarding access to data held in non UK data centres, or by non-European companies, particularly the ruling by US District Judge Loretta Preska demanding technology giant Microsoft hands over information, including customer's private emails, stored in a data centre in Ireland to the US government, has highlighted the need for companies to receive accurate and up-to-date advice on the best storage solutions appropriate to the data they hold. Understanding the complete picture and having strategies in place for any eventuality are key to business success, and I applied this philosophy to my preparations for the Clipper Race."
Simon knew he had been selected for the role of GREAT Britain's skipper in plenty of time to devise strategies in both his business interests and his private life to ensure his absence did not have a negative effect on either. "As a professional sailor I have been away for a month or so annually for the last 8-10 years. To enable me to do this, I have ensured that my position within the company is such that my team can continue to operate at the same high level in my absence. Preparing my family was understandably more difficult. I made sure strategies were in place for every eventuality, and my wife had access to all the information she possibly could need to resolve any issues. My children expressed mixed emotions at my going; they were excited to know that they would be flying out to exotic places to visit Daddy, but they would obviously miss me."
Although Simon's crew aboard the yacht had received training before the race, he was the only professional on board and needed to match people's abilities to allocated jobs when he set up his core team. In his position as skipper he found crew members' over- enthusiasm to be one the worst problems.
"I like to give individuals ownership of what they are doing. In a dangerous occupation like sailing, it is important to find a compromise between respecting the chain of command, and pushing yourself to try new things. The crew should be running the boat, and the skipper should not be in charge of the day to day tasks. The more minutiae you involve yourself in, the less you empower your crew. Mistakes are made in the early days, but everyone learns from mistakes. It was my job as skipper to make sure the errors were managed and did not endanger safety. My job evolved as the race progressed, and the crew owned their race. It worked well, and the success was tangible. The skippers who micro-managed their crews did not fare as well overall."
Sailing 40,000 miles and competing in 16 gruelling races, Simon, and his crew took second place overall in the competition. Securing a victory in the final race, Team GREAT Britain became the most decorated boat in the fleet, awarded to the team with the most race wins. "I am so proud of the team's achievement," says Simon" I found the whole experience fantastically rewarding on so many levels."
At first glance, taking a long sabbatical to tick being a Round the World Yacht Race Skipper off your bucket list seems poles apart from running a globally successful cloud service company, but when you analyse Simon Talbot's approach to both, it is clearly not.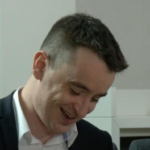 Andrew McLean is the Studio Director at Disruptive Live, a Compare the Cloud brand. He is an experienced leader in the technology industry, with a background in delivering innovative & engaging live events. Andrew has a wealth of experience in producing engaging content, from live shows and webinars to roundtables and panel discussions. He has a passion for helping businesses understand the latest trends and technologies, and how they can be applied to drive growth and innovation.