Dell is not known for putting on big events in the UK, in fact I can't remember the last time it did, but a few weeks ago we were asked to pop along to the Dell Service Provider day at Mercedes Benz World in Weybridge. We never refuse an invite to a good party so off we went – though we did bring our own sense of style. Yes we had a stand, and yes, we were dressed to provoke, and to get tongues wagging, but we wouldn't be Compare the Cloud if we didn't!
Our aim for the day was to get the low-down on what Dell wanted to say, as well as get the attendees' opinions on what they thought of the hardware seller!
The perception in the market in the past has been that Dell is nothing more than a PC vendor – that may have been accurate once upon a time, but not any more. The announcements we heard at Weybridge certainly squashed any remaining 'just a PC vendor' murmurs. In the images below you can see how it all began for Dell in in 1984 when the company had just started (yes that's Michael Dell) – conversely, today things have moved on considerably and they now sell to consumers, SME, mid to large cap and to public sectors. Including systems, storage, networking, software and Cloud solutions – only 10 % of their business is now end consumers!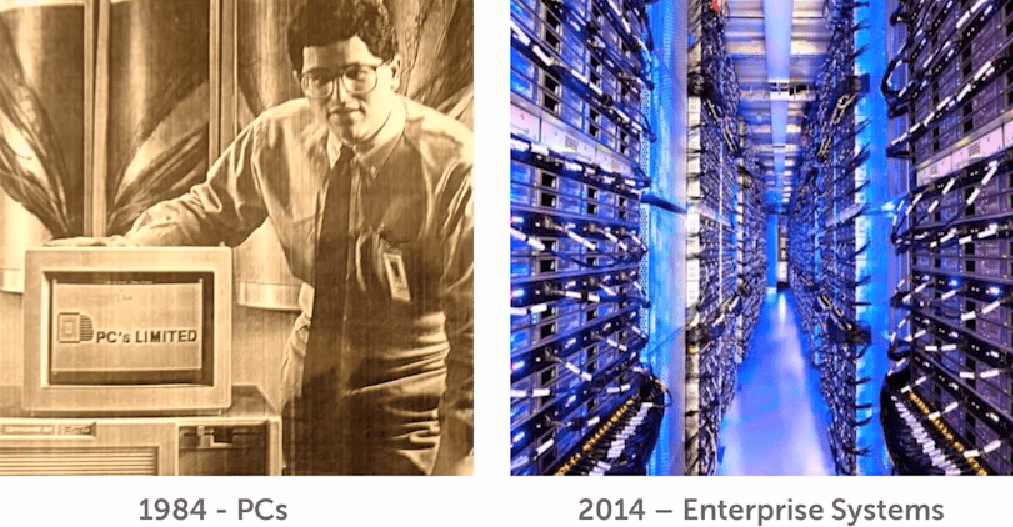 So to back up these statements of massive change, it is appropriate that we use some hard stats that speak for themselves!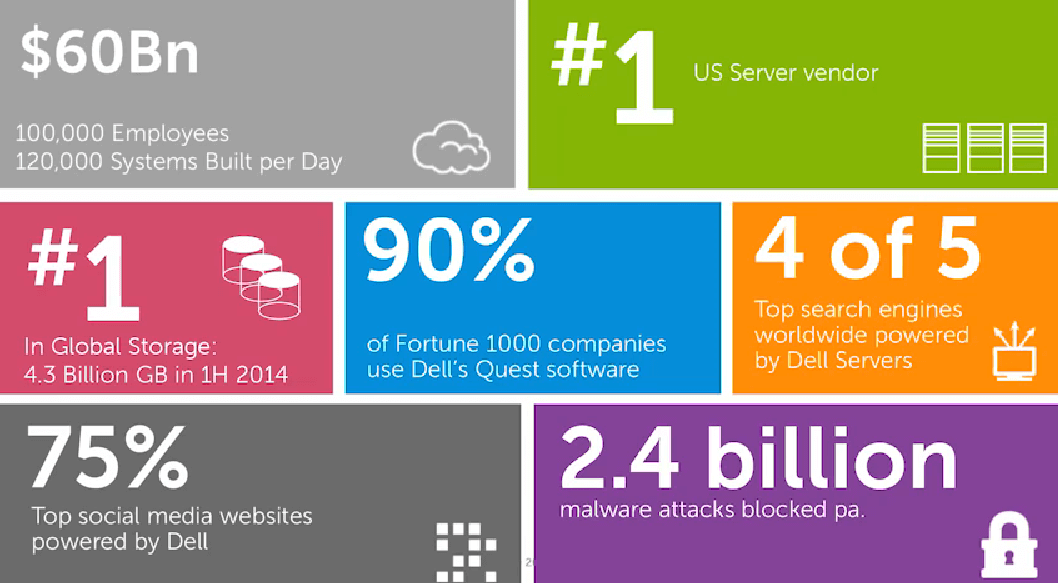 Throughout the Dell event at the Mercedes Benz World location there were many speakers that evangelised Dell, and many that couldn't say enough "good things" about their partner of choice, Dell. Now this isn't uncommon at a vendor event as attendees are generally the organisers' clients and partners. A good turnout is expected, especially with the promise of driving a Mercedes Benz AMG around the race track at the end of the event (thank you Dell, I enjoyed the laps). However Dell is not known to the industry for boasting about themselves, or for spending masses amount of money on salubrious events to court their partners – in fact, Dell is not known for running events of this type at all. We were on hand to interview many of the attendees to see if they indeed did think so highly of Dell. I could go into all of the comments that were made from the interviewees but it's easier for us to summarise, and save ourselves all a little time.
Every single interviewee, and others that were camera shy, sang Dell's praises! Not one company/individual said anything else to the contrary and more than that, didn't just come along for the potential driving experience but to attend, listen and be educated on what Dell's strategy for the future is! We were impressed.
Nutanix, Red Hat, VMware, Nexenta were but a few vendors that boasted that not only the products were pinnacle to their respective businesses, but that Dell were a pleasure to work with! Now, I know what you're thinking, I would say this as we too were courted with the option of tearing up the racetrack at 120 mph in a new AMG (although I did and then was asked to exit the vehicle). No, we really enjoyed listening to the responses, announcements and also had a lot of laughs with the guys at Dell and the attendees. Our experience proved that perceptions need to change. Dell is not just a PC supplier and haven't been for a very long time.
[easy-tweet tweet="Dell is not just a PC supplier and haven't been for a very long time" user="NeilCattermull"]
It may have been seen this way by the industry for a very long time due, in my opinion, to the lack of public announcements, the lack of events such as this one, and the also the lack of companies such as us sharing the word. In this very over crowed market we call 'Cloud' many vendors large and small are trying to buy, boast, evangelise and even overstep the truth to become players within the industry (heaven knows we have spoken to most of them). It is refreshing to see one of the most unlikeliest perceived vendors finally getting their act together and simply announcing what they have done and intend to do. I think Dell have organically grown into this space without the pomp and circumstance fanfares that others have done, which in my book is absolutely fantastic to hear and see.
Dell is the number 1 provider of Server in the U.S, and the number 2 in Europe
I'll leave you one last quote that was announced recently – Dell is the number 1 provider of Server in the U.S, and the number 2 in Europe. Didn't know that? Neither did I! What Dell has been working on in the software defined space is very impressive, it has been keeping quiet but building momentum over the last few years and its partners think of them of very highly. Keep it up Dell, and if you get any more opportunities to drive new AMG around a track can we come?
To see more about the announcements and Dell's current services watch the youtube video below and spend some time to absorb what they are doing, it's impressive!