The year of 2015 began with something big. The IBM z13 launch. I want to take a moment to reminisce about IBM – 100 years of technology and a mainframe which has been through several iterations in the past 50 years or so. A company with an incredible past, and now with the z13, an exciting future. The circa $1bn reimagining of their zSystems computing juggernaut, the z13, has taken us on quite the journey, so humour me as I indulge my nostalgia.
Over the past 12 months we have had the privilege of seeing behind the scenes of this latest release – from visiting the labs in Poughkeepsie, to the final unveiling in New York early 2015. Having met those behind the Mainframe the dedication to creating something relevant and exceptional is unquestionable; but for a generation looking to fully embrace the cloud and all its facets, has IBM hit the mark? The answer is a resounding yes. In a world of inane cloud marketing IBM have something to actually say about the cloud. And they're saying it loudly with z13. In this author's humble opinion, IBM are shouting loud – this is cloud for grown ups. A serious investment for a serious cloud offering.
This is a big deal for IBM – not just an upgraded product, but rather a reimagining of their mainframe services for the new generation. The generation of enterprise, with the consumer focussing on mobile, analytics and big data. The specifications of their system are eye-wateringly impressive – boasting security, capacity, speed and resiliency all from a single box. The power of this system has shifted to not only include the enterprise, but also the managed service providers who are embracing zSystems technology for their own customer bases. More detailed information on the z13 can be found here: http://www-03.ibm.com/systems/z/hardware/z13.html
As part of their global launch IBM held an event on the 27th Jan 2015 at the Mayfair Hotel, London, to launch their new generation of zSystems; z13. See below for our 60 second video of the event.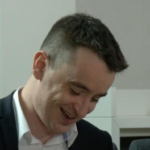 Andrew McLean is the Studio Director at Disruptive Live, a Compare the Cloud brand. He is an experienced leader in the technology industry, with a background in delivering innovative & engaging live events. Andrew has a wealth of experience in producing engaging content, from live shows and webinars to roundtables and panel discussions. He has a passion for helping businesses understand the latest trends and technologies, and how they can be applied to drive growth and innovation.