ABOUT
For the second year Compare the Cloud's event coverage platform Disruptive Tech TV have partnered with Cloud Expo Europe 2017 to bring the mother of all live shows direct to the event. CloudExpo.TV will broadcast live across the two days from the ExCeL from a specially built studio covering the announcements, interviewing attendees, exhibitors and speakers on the latest tech trends. You can watch the broadcast live at the expo, online or on demand after each day.
SCHEDULE
Cloud Expo Europe Live
Show 1: Wednesday 15th March 3.00pm – 4.30pm
Show 2: Thursday 16th March 10.30am – 12.00pm
Show 3: Thursday 16th March 2.00pm – 3.30pm
Behind the Expo Live
Show 1: Wednesday 15th March 1.30pm – 2.30pm
Show 2: Thursday 16th March 12.30pm – 1.30pm
MORE INFO
For more info about guests and shows visit our official site for the Expo at www.cloudexpo.tv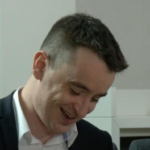 Andrew McLean is the Studio Director at Disruptive Live, a Compare the Cloud brand. He is an experienced leader in the technology industry, with a background in delivering innovative & engaging live events. Andrew has a wealth of experience in producing engaging content, from live shows and webinars to roundtables and panel discussions. He has a passion for helping businesses understand the latest trends and technologies, and how they can be applied to drive growth and innovation.