Comms Business is working with Disruptive Tech TV (a 24/7 online streaming channel run by Compare the Cloud) to bring you live streams on current Channel trends.
The next stream is on Monday 26th June at 3:30pm and will focus on Digital Transformation and how you can guide your customers through it. Speakers include; Dan Cunliffe – Pangea, David Dungay – Comms Business, Carl Churchill – Netpay, Nathan Marke – Daisy Group.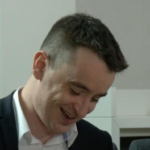 Andrew McLean is the Studio Director at Disruptive Live, a Compare the Cloud brand. He is an experienced leader in the technology industry, with a background in delivering innovative & engaging live events. Andrew has a wealth of experience in producing engaging content, from live shows and webinars to roundtables and panel discussions. He has a passion for helping businesses understand the latest trends and technologies, and how they can be applied to drive growth and innovation.