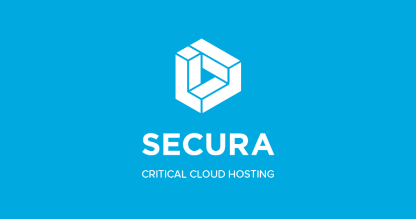 Secura are pleased to announce the addition of two highly experienced cloud hosting professionals who will use their knowledge and expertise to support the continued growth of the business.
Karl Robinson joins Secura as Sales Director and Anthony Doncaster will become Head of Pre-Sales. Both Karl and Anthony have an enviable track record of achieving success and growth within the cloud industry at StratoGen, and their already strong working relationship will mean they will make an immediate impact for Secura.
Karl has over 16 years of sales and management experience and a deep understanding of the cloud hosting services sector. As Chief Commercial officer at StratoGen, Karl was responsible for the business' global sales, both pre and post-acquisition by Access Group.
Anthony has over 10 years' experience working within managed services and hosting and worked closely alongside Karl for four years as Solutions Architect at StratoGen. Anthony has a fantastic reputation within both the VMware hosting community and wider industry for his technical knowledge and for delivering outstanding service and value for customers.
Secura CEO, Ollie Beaton, commented:
"Karl and Anthony are both fantastic additions to our team at Secura. They will bring years of combined industry experience, outstanding technical knowledge and reputations for achieving success and it's a real testament to Secura's development over the last few years that we are now attracting talent of their calibre. It's an exciting time for everyone in the business and I look forward to working with Karl and Anthony as we continue to accelerate Secura's growth."
Secura Sales Director, Karl Robinson, commented:
"Secura are a dynamic cloud business with great technology, expertise and service that's really tailored towards the needs of the rapidly growing sector of tech-focused, 'always online' businesses in the UK. I think there is a huge opportunity for a provider with the right infrastructure and, importantly, the dedicated service and support that these businesses want to underpin their applications and revenue. It's an exciting new chapter in my career and I look forward to working with the team to support this new phase of growth." 
Secura Head of Pre-Sales, Anthony Doncaster, commented:
"I'm thrilled to be joining a business with such a strong commitment to using cloud technology to really make a difference to customer businesses. The Virtual Private Cloud is an exciting platform to be working with – I'm looking forward to contributing to its continued development and working alongside such a passionate and knowledgeable team."