Intermedia bucks industry trend by upping Advisor commissions by 33%.
In an era of shrinking margins for the IT channel, Intermedia continues to make the cloud much more profitable for MSPs and VARs in the EMEA region.
Intermedia is the world's largest one-stop shop for cloud IT services and business applications, including hosted Exchange, Lync, Sharepoint, Email Archiving and other services. Its industry leading Partner Programme allows MSPs and VARs choose on a customer-by-customer basis between Intermedia's Private Label model (in which the partner manages pricing, bundling billing, branding and every other aspect of the customer relationship) and its Advisor model (in which the partner or agent offloads support and billing to Intermedia).
As of 12th March, Intermedia Advisors can earn 33 per cent more monthly recurring revenue from every new customer account. Intermedia's revised Advisor commission schedule for new customer accounts has increased from 6 per cent to 8 per cent commission on monthly recurring revenue for data services such as Exchange, Lync and SharePoint.
In addition, unlike many other providers, Intermedia's Partner Programme guarantees commissions for the life of the account.
"We are committed to the success of our partners and our programme offers flexibility in the way partners can engage with us," says Ed Macnair, managing director EMEA at Intermedia. "By offering industry-leading cloud services and by increasing the commissions for our advisor partners we are giving our partners a real edge in the market, which further underlines our commitment to expanding our EMEA business."
While Intermedia's Advisor programme provides partners or agents with very attractive commissions, its Private Label programme offers larger margins by allowing partners to own and manage more elements of their customer relationships. Private Label partners have the potential to achieve higher revenue and profit as Intermedia partners because they can:
Sell under their own brand
Build custom bundles that seamlessly cross-sell and upsell their other services
Integrate with their existing Salesforce and ConnectWise systems
Streamline their internal processes by managing multiple customers and services via Intermedia's Partner Portal
Rely on Intermedia for marketing support, sales enablement, onboarding and migration, and 24/7 phone and chat support
To find out more about the Intermedia EMEA Partner Programme, click here.
About Intermedia
Intermedia is the world's largest one-stop shop for cloud IT services and business applications. Its Office in the Cloud™ delivers the essential services that SMBs need to do business – including hosted Exchange, Lync, Sharepoint, Email Archiving, security, mobility and more.
All of Intermedia's services are pre-integrated for a seamless user experience. They are all managed via Intermedia's HostPilot® control panel, with just one login, one password, one bill and one source of support – creating tremendous cross-service efficiencies for both users and IT administrators. In addition, they all offer enterprise-grade security, 99.999% availability and 24/7 customer care to assure a worry-free experience.
Intermedia was the first company to offer hosted Microsoft Exchange and, with 100,000 customers and more than 1,000,000 users, is today the world's largest independent provider of hosted Exchange.
Intermedia also enables channel partners – including VARs, MSPs, telcos and cable companies – to sell cloud services under their own brand, with full control over billing, pricing and every other element of their customer relationships.
Intermedia's 600 employees in 3 countries manage 10 data centres to power its Office in the Cloud – and to assure its famous worry-free experience. Learn more at Intermedia.co.uk.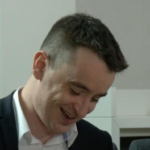 Andrew McLean is the Studio Director at Disruptive Live, a Compare the Cloud brand. He is an experienced leader in the technology industry, with a background in delivering innovative & engaging live events. Andrew has a wealth of experience in producing engaging content, from live shows and webinars to roundtables and panel discussions. He has a passion for helping businesses understand the latest trends and technologies, and how they can be applied to drive growth and innovation.