Gartner, Inc.'s "Hype Cycle for Emerging Technologies, 2015," focusses on the movement towards digital business. New to the Hype Cycle this year is the emergence of technologies that support what Gartner defines as digital humanism — the notion that people are the central focus in the manifestation of digital businesses and workplaces. 
[quote_box_center]
"The Hype Cycle for Emerging Technologies is the broadest aggregate Gartner Hype Cycle, featuring technologies that are the focus of attention because of particularly high levels of interest, and those that Gartner believes have the potential for significant impact," said Betsy Burton, vice president and distinguished analyst at Gartner.
"This year, we encourage CIOs and other IT leaders to dedicate time and energy focused on innovation, rather than just incremental business advancement, while also gaining inspiration by scanning beyond the bounds of their industry."
"As enterprises continue the journey to becoming digital businesses, identifying and employing the right technologies at the right time will be critical," said Ms. Burton. "As we have set out on the Gartner roadmap to digital business, there are six progressive business era models that enterprises can identify with today and to which they can aspire in the future. However, since the Hype Cycle for Emerging Technologies is purposely focused on more emerging technologies, it mostly supports the last three of these stages: Digital Marketing, Digital Business and Autonomous."
[/quote_box_center]
Major changes in the 2015 Hype Cycle for Emerging Technologies (see Figure 1) includes autonomous vehicles moving to the peak of the Hype Cycle. While autonomous vehicles are still in early stages of development and certainly won't be storming the roads next week, their peak status represents a significant advancement. All major automotive companies are putting autonomous vehicles on their near-term roadmaps. Similarly, connected homes have moved to the pre-peak stage, with the introduction of entirely new solutions and platforms being enabled by new technology providers and existing manufacturers.
Figure 1. Hype Cycle for Emerging Technologies, 2015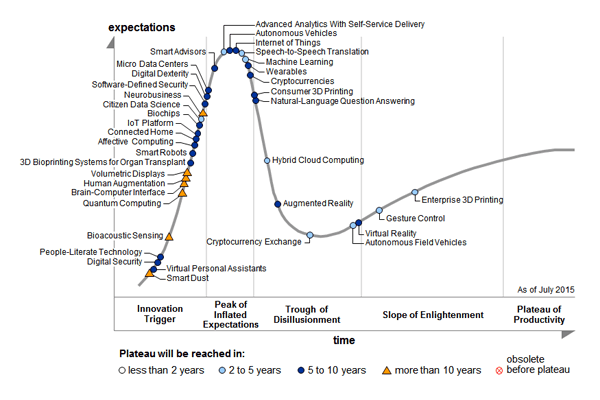 hybrid cloud is still five years away from hitting a plateau of productivity
Andy Soanes, CTO of Bell Integration said, "Gartner is right to say hybrid cloud is still five years away from hitting a plateau of productivity: businesses are still finding the hybrid cloud sweet spot. Concerns about loss of control mean organisations are unlikely to jump in with both feet and follow Netflix's recent move to placing almost all IT services on public cloud servers.
"Finding the sweet spot – where the business is gaining the maximum benefit from a perfect balance of on-premise IT, private cloud and public cloud services, can be extremely difficult. A business must be able to identify its 'crown jewels': those applications where failure, or losing control of data, would have catastrophic consequences. On the other hand, IT should be wary of excessive caution; keeping applications in-house when it no longer benefits the business to do so. Losing control of an application, or putting the organisation at risk or failing compliance, is an understandable worry. 
"An IT department that knows the services it has, the services it needs, and the changes it has to make to get there, will be able to identify its perfect cloud sweet spot: where the crown jewels are kept in the business, but the IT department's energy is not spent performing housekeeping for low-risk, low-value applications. This will be where IT services are providing the maximum value to the business, regardless of where they actually reside." 
For a the full press release on Gartner's 2015 Hype Cycle for Emerging Technologies visit the newsroom.