1st April 2015 – A new mobile-connected cloud application, Brain2U, has been released on public beta. The app, developed by BrainSucka Labs, uses a pioneering new technology to upload a users mind into the cloud and download it into a friends head. The technology uses a specially designed headset transmitter which connects to a smart phone via bluetooth. Both users require a headset to be active for the transfer to take place.
This technology is not without controversy. In October last year early previews were withdrawn after one user attempted to swap brains with his cat. Although successful the user had to be later rescued from a tree by fire fighters.
"Safety is now our top concern. No more incidents with beloved pets and wild squirrels. The advent of Brain-As-A-Service (BAAS) is quick, reliable and a lot of fun. Only last night I swapped brains with my twin brother – people literally couldn't tell the difference!" said CEO of BrainSucka Labs, Marko Smallbottom.
Have you tried the new Brain4U app? Headsets retail for £99 and the app can be downloaded from smartphone stores. Let us know your experiences below.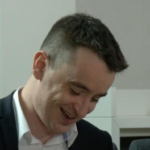 Andrew McLean is the Studio Director at Disruptive Live, a Compare the Cloud brand. He is an experienced leader in the technology industry, with a background in delivering innovative & engaging live events. Andrew has a wealth of experience in producing engaging content, from live shows and webinars to roundtables and panel discussions. He has a passion for helping businesses understand the latest trends and technologies, and how they can be applied to drive growth and innovation.