With Amazon's disclosure of its AWS financials, we thought we'd run a special preview to this month's #CloudInfluence Rankings to put them into context.
You'd have thought that this month's disclosure by Amazon of its eagerly awaited Amazon Web Services financials might fill in a big piece of the cloud financial picture and clarify its market leadership, but Microsoft and IBM were quick to claim leadership as well – albeit by a very different metric. So which company is right? Which one is the real market leader? And which one is best placed to outpace its rivals in the future?
Amazon Web Services announced an annual run rate of $6.26 billion, with an operating income of $265 million. Microsoft said that its commercial cloud business is on a $6.3 billion run rate. And IBM claimed that its 12-month rolling revenue is now on a more than $7.7 billion run rate.
The catch? Amazon's financials only include IaaS whereas Microsoft includes things like CRM Online, Office 365 and Azure and IBM's big cloud number includes everything from services to gear to managed services. While there is merit to the way that Microsoft and IBM come up with their numbers – it is after all a hybrid cloud world – if you strip IBM's numbers down to just "as a service revenue" you get a $3.8 billion run rate. And that as-a-service figure includes software as a service as well as platform and infrastructure.
Thankfully soon after Amazon's AWS disclosure, Synergy Research Group adjusted its market share figures for cloud infrastructure to provide some clarity between the different players.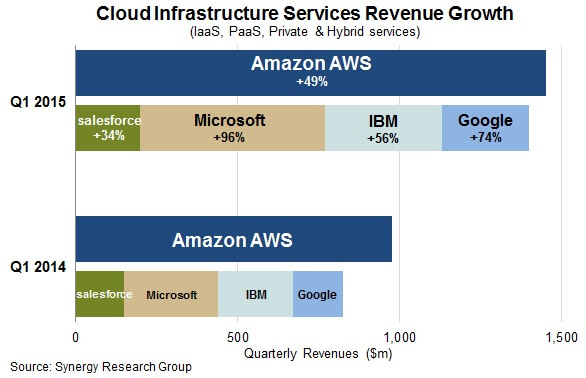 Synergy Research Group found that:
"Amazon Web Services (AWS) remains larger than its four main competitors combined in the cloud infrastructure service market. Microsoft can once again lay claim to having by far the highest revenue growth rate and IBM remains the king of the private & hybrid services segment, but AWS continues to grow faster than the market as a whole and its market share crept up to 29% in the quarter. Google is quietly gaining share though it remains just half the size of Microsoft in this market, while Salesforce, once the unquestioned leader in PaaS, rounds out the top five ranked companies."
That's clear then – Amazon is the winner. Well maybe not. As Camille Mendler, lead analyst at Ovum, explained in an interesting opening plenary at Telco Cloud London: "Cloud is as much about loyalty as it is about technology services". In other words players need to focus on generating loyalty within their client base and their channel ecosystem. As we have highlighted in our recent blogs on marketing, most vendors are focused on experience marketing to help drive both loyalty and advocacy.
Our monthly #CloudInfluence reports are an effective way of tracking how well the various players are doing: providing a comprehensive big data analysis across all major global news, blogs, forums, and social media interaction, the rankings show how much buzz there is within each firm's ecosystem as well as how effective their announcements and marketing machines are in grabbing attention.
Retaining its overall lead in the #CloudInfluence rankings this month is Microsoft with Amazon in second (albeit closer to Microsoft than any players has yet been in the rankings), followed by IBM and then Google, with Salesforce far down the rankings some distance behind. The most marked difference in performance between the major cloud players this month was in Amazon's score, which largely on the back to the excited comment and debate sparked by its financial disclosure almost doubled its #CloudInfluence. Indeed it is interesting to note the correlation between the #CloudInfluence score of each of the major players and their growth rate (see chart).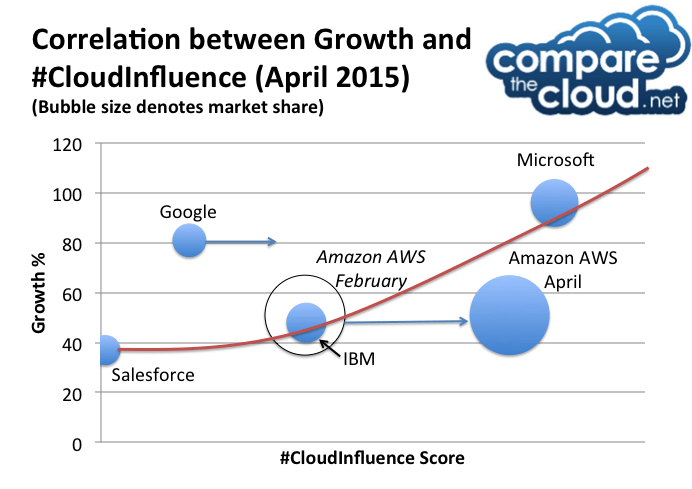 *Note: For this graph Amazon and AWS #CloudInfluence scores have been aggregated.
Salesforce, IBM and Miscrosoft are all aligned to the trendline given in the graph. And if you negate the brief boost that Amazon's disclosure gave to its #CloudInfluence score this month, by taking its February score instead, Amazon is also aligned to the trend line. The exception is Google, which is the only major player not to break out any financials for its cloud infrastructure business. However, given the reception that Amazon's disclosure had, pressure is building on Google to do the same and we may yet see it do so and in doing so increase its #CloudInfluence score at the same time.
So what does this tell us?
The full April 2015 Compare the Cloud #CloudInfluence rankings will be published tomorrow, but here is a brief preview of how these top firms fare:
Microsoft – No 1 in April 2015 Compare the Cloud #CloudInfluence rankings
Microsoft's large existing ecosystem and powerful marketing machine are helping to drive its share of voice and therefore its #CloudInfluence. It also has the financial reserves to invest whatever it takes to maintain its impressive growth rate and succeed in cloud. It will need to keep growing rapidly though if it is to have any chance of catching Amazon.

Microsoft can make it easy for enterprises to keep their legacy investments in Windows-oriented data centers, even as it helps them migrate to its Azure cloud. Microsoft has also built up decades of trust and goodwill with CIOs, making it a safe choice for the cloud. On top of this its marketing machine has built a level of brand recognition and awareness that extends its reach further into the non-tech SMB arena than almost any other player.
Amazon – No 2 in April 2015 Compare the Cloud #CloudInfluence rankings
Amazon's first mover advantage has created an impressive market share lead and with it a rapidly expanding cloud ecosystem. While it lacks the reserves of its rivals, it is at least turning a decent profit and needs to do more to boost its marketing in order to maintain a decent level of #CloudInfluence.

AWS's ultimate appeal isn't necessarily its cost (even with continually falling prices, it can still be quite expensive) or its ease of procurement as an elastic hosting provider. It's main appeal is its massive ecosystem of services and the ability to tap into them fairly quickly. As fast as AWS innovates, its ecosystem adds value faster than it could ever do so itself. If its rivals ever grow their ecosystems to match AWS's then it could be trumped.
IBM – No 3 in April 2015 Compare the Cloud #CloudInfluence rankings
IBM not only has a significant marketing machine to drive its #CloudInfluence, but also has an army technology and business consultants that is trusted by big corporate CIOs to maintain their most critical systems and manage their most challenging integrations and transformations.

IBM would challenge any perceptions that it has been left out of what might be a two-horse race, but it isn't really playing in the public cloud arena and is instead focused on hybrid cloud where it claims to be: "successfully targeting that high value Cloud space." To do so it needs to maintain a competitive advantage with added value offerings such as Watson, even as Azure Machine Learning service and Amazon Machine Learning service seek to leapfrog the Google Prediction API and challenge Watson itself.
Google  – No 4 in April 2015 Compare the Cloud #CloudInfluence rankings
Google has some great technology and is quietly gaining share, but it's lack of a sizable ecosystem to rival those of AWS, Microsoft or even IBM may prevent it from catching the others, while its lack of financial disclosure has prevented it from maximizing its potential #CloudInfluence.

An added distraction for Google is the anti-trust case from the European commission that focus on accusations that it has unfairly used its products to oust competitors. It may be too early to right them off, but Google has a number of challenges on its hands if it is to catch up.
Salesforce  – Way behind in April 2015 Compare the Cloud #CloudInfluence rankings
Has Salesforce been left behind already? Once the undisputed PaaS leader, Salesforce lags far behind the others in terms of scale or growth and almost fails to register at all in terms of #CloudInfluence.

Interestingly though, while hostile to Microsoft under Steve Ballmer, Salesforce has changed tune since Satya Nadella's appointment last year. It has launched products that integrate with Microsoft Outlook, SharePoint, and Office 365, becoming one of Microsoft's biggest partners. Maybe this is an admission by Salesforce that: "If you can't beat them, join them."
At the end of the day,  it may be that the correlation between #CloudInfluence and growth may turn out to be more indicative and illustrative than direct. However, here at Compare the Cloud, we believe that the winners in this market will be those with the healthiest ecosystem, and the most effective experience marketing. As summarised by David Andreasson from Teliasonera; "the winner in this business is the one who creates the most compelling offering based on services that others have innovated."
NOTE: the Compare the Cloud #CloudInfluence league tables, are based on a broad big data analysis of all major global news, blogs, forums, and social media interaction over the past 90 days. The league tables provide a snapshot taken at a particular point of time of the respective influence of both organisations and individuals over the last quarter. Companies that were particularly active in the given period will feature more prominently.