Maybe cloud is becoming a two horse race after all.
There is the pioneer and long time leader, Amazon Web Services with its impressive market share lead and its massive ecosystem of service providers, but with an incredibly lean PR and marketing operation. Then there is the old-era behemoth, Microsoft with its rapid growth in cloud, supported by its large ecosystem of existing partners, its dominant Office suite and its powerful marketing machine. This month's rankings show that they retain a clear lead over the pursuing pack, but what happened to all the other challengers?
Google was seen as one of the cloud leaders, but has recently made some worrying missteps. In previous bouts of cloud price combat Amazon has either instigated a price drop, or has done so in reaction to one of its rivals and the rest of the leading players have followed suite. Google recently dropped its prices, but its rivals didn't feel the need to respond. Does this mean that price is no longer a key factor or that Google is no longer seen as a threat? We believe that for some time now price has only been one of a number of key factors with ecosystems becoming of increasing importance – something that we will return to later. We don't dismiss the chance of further bouts of price competition ahead, but there are signs that Google may no longer be seen as such a threat by Amazon andMicrosoft.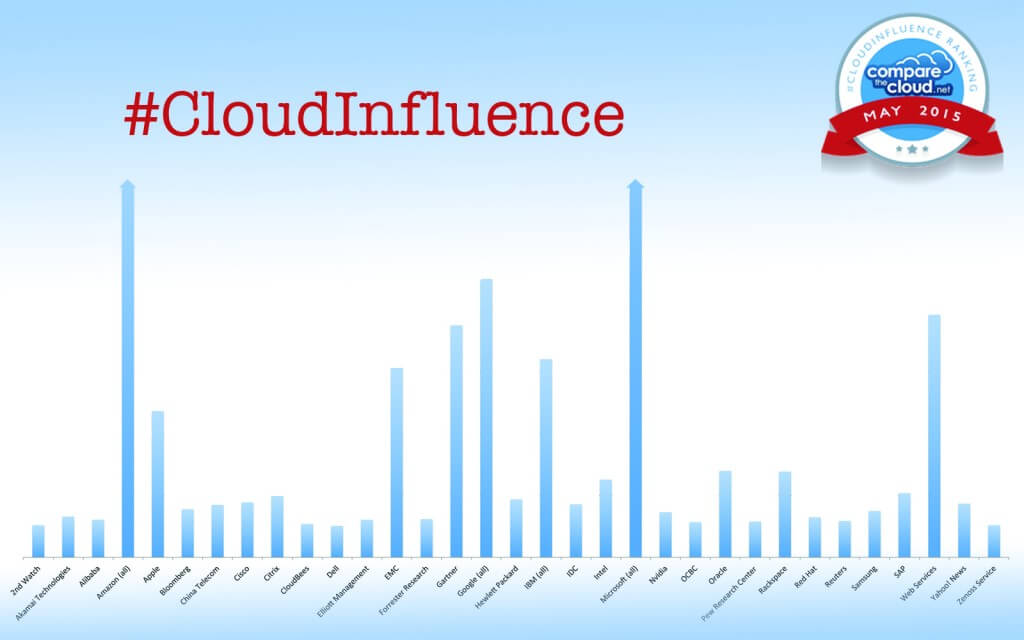 Amazon is still generally seen as having a lead in total features – partly down to its own innovation, but increasingly from its thriving ecosystem of service providers. To date Google has tried to differentiate its cloud offerings by focusing on developer-friendly services, with Microsoft using the dominance of its Office apps as a critical differentiator, along with the partner ecosystem. However the one with the weakest ecosystem of the three is Google and maybe the recent price play, rather than a sign of confidence, is one of weakness. Until it breaks out its cloud financials as AWS recently did, we won't know what its margins are, but the fact that Amazon and Microsoft haven't felt pressured to match the price cuts says a great deal.
Few among the rest of the field are in a position to make a serious challenge right now, unless they make a significant new move. IBM's acquisition of SoftLayer made it a player, but hasn't borne the fruit that had been expected, with the company refocusing on premium private or hybrid clouds. It has also made numerous recent partnerships with everyone from Microsoft to Twitter, but it still needs to make its SoftLayer expansion strategy work or make another big move. Right on cue IBM announces the acquisition of Blue Box, to expand its presence in OpenStack and extend its cloud reach. Whether this will be the big move the IBM needs to make, one of a number of smaller moves that will collectively make the difference or will be too little too late, remains to be seen.
EMC has just made a big move. It already partially owns VMware Corporation and Pivotal Software, giving it a unique relevance in the cloud market, and its CEO Joe Tucci is chairman of the board for both of these firms. In late May it also announced that it was to acquire Virtustream. Exactly how EMC plays its cards will determine its future in cloud. If its federated structure doesn't enable it to capitalize on these assets then it will come under renewed pressure to spin them off – especially VMware.
We saw HP at the recent OpenStack Summit in Vancouver, presiding regally over the community that it has done so much to support. Nobody would have thought that following a string of disastrous acquisitions and management blunders, it was in the midst of a corporate split, with almost every line of business struggling in its market. In cloud it has little to show from its relatively recent Eucalyptus acquisition and is struggling to make ground in private cloud, with almost no presence in public cloud.
HP's woes are reflected by other OpenStack players such as RedHat and RackSpace, as the open source cloud community struggles to make itself the defacto standard for private cloud, having all but ceded public cloud to AWS, Microsoft and Google.
All this is reflected in our May 2015 #CloudInfluence rankings: Microsoft's marketing machine keeps it firmly in the lead while Amazon's market share and ecosystem keep it in second.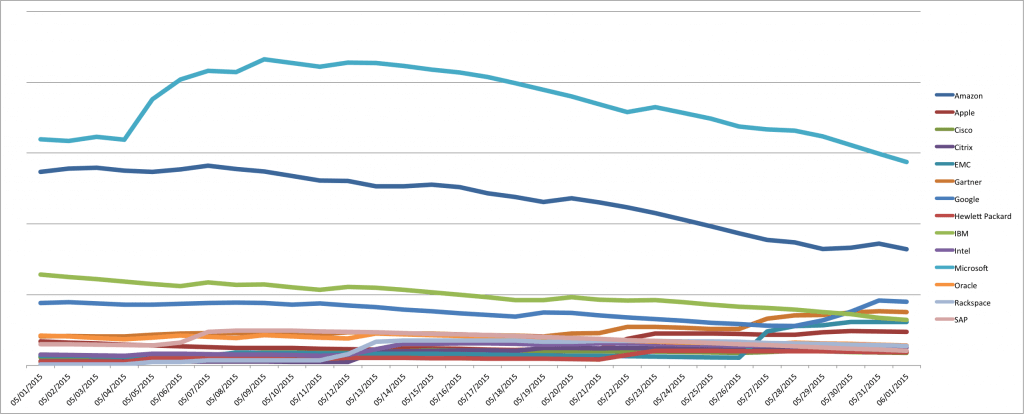 Of the rest, Google's price drop boosts it into third, but some distance behind the top two and Gartner manages to rise to prominence commenting on the others, while IBM leads the chasing pack with EMC gaining a boost from publicity around its recent Virtustream acquisition. Apple is in a unique position all its own – dominating its own consumer ecosystems. Then there is little to choose from the rest (including Cisco, Citrix, Hewlett Packard, Intel, Oracle, Rackspace and SAP).
Notable mentions from among the rest of the field: Alibaba [24] continues to gain momentum, as the Chinese giant becomes amore globally recognised brand. Another Chinese entrant was China Telecom [17] while Oversea-Chinese Banking Corp. (OCBC) [28] commented widely how long China will prop up bondholders to ensure a smooth clean up of its local debt mess, including troubled local cloud players. Elliot Management [25] rose to prominence agitating for EMC to spin off VMware. And Avnet [36] was our first distribution to make it into the top 50.
[table id=28 /]
NOTE: the Compare the Cloud #CloudInfluence league tables, are based on a broad big data analysis of all major global news, blogs, forums, and social media interaction over the past 90 days. The league tables provide a snapshot taken at a particular point of time of the respective influence of both organisations and individuals over the last quarter. Companies that were particularly active in the given period will feature more prominently.