Topping the July table, and our most consistent performer over recent months, was Satya Nadella, Microsoft's CEO. He has had a lot on his plate recently with the launch of Windows 10. While Microsoft is making great strides to reorient itself for the era of cloud, Windows 10 is far more of a mobile play. Another attempt to extend the reach of Windows beyond the PC domain that it dominates, and moving it to the mobile devices that are rapidly displacing PCs. 
[easy-tweet tweet="#1 spot for July #CloudInfluence goes to @SatyaNadella with Daniel Ives in #2″ user="comparethecloud"]
FBR Capital Markets Analyst Daniel Ives in 2nd is another regular in the rankings. Corporate results season gave him plenty of opportunity to comment on the strategies of the key players in the market.
Making his first appearance in the rankings in 3rd was Simon Hu. President of Aliyun, who rose to prominence after Chinese e-commerce giant Alibaba Group announced that it is investing $1 billion into Aliyun, its cloud computing arm. Furthermore Hu made the bold claim that Aliyun is aiming to overtake AWS in the next few years. 
[easy-tweet tweet="Bold claims from Simon Hu regarding Aliyun's future in the #Cloud landed him in the #CloudInfluence 3rd place"]
Nicole Herskowitz in 4th was quoted widely in a series of announcements by various Microsoft partners that were making services available on the Microsoft Azure marketplace – as was Phil Sorgen in 7th. Likewise Terry Wise in 5th was quoted in announcements by AWS partners that were making services available on the AWS Cloud – as the two cloud giants battle to establish the pre-eminent ecosystem. One of the AWS partner executives widely quoted was Drew Clarke, Vice President of Products, Qlik Cloud boosting him into the top ten this month as well.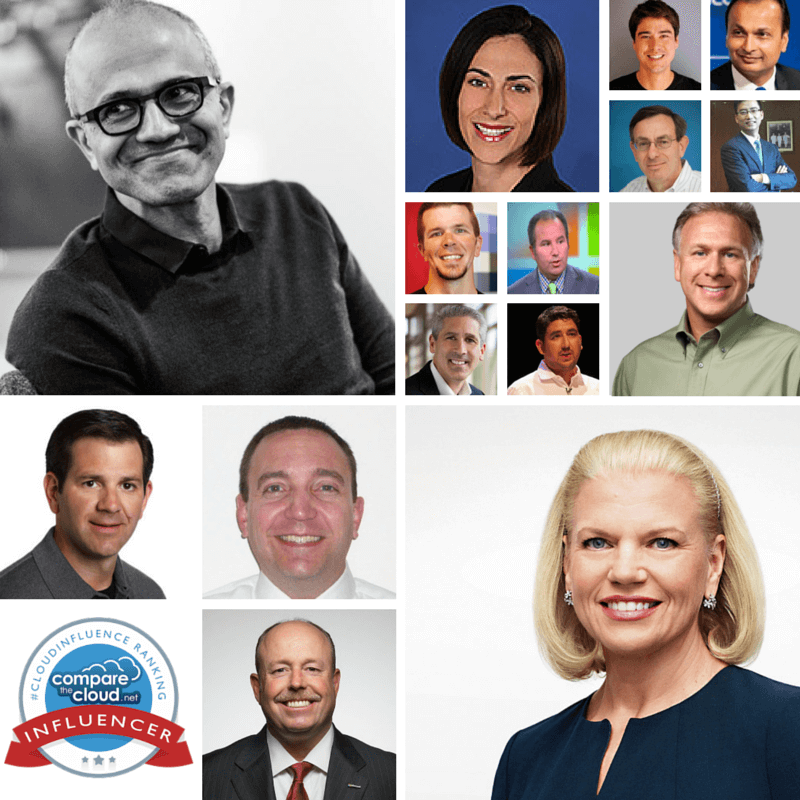 Anil Ambani, Reliance Group Chairman announced that the company would achieve full deployment of its next-generation content and cloud delivery network by the end of this year, with-what is claimed to be a first in India – five fully-operational Cloud Xchange points.
Looking ahead to the launch of the Apple iPhone 6s, Phil Schiller commented that users are using cloud storage more:
"The belief is more and more as we use iCloud services for documents and our photos and videos and music, that perhaps the most price-conscious customers are able to live in an environment where they don't need gobs of local storage because these services are lightening the load."
Apple's point of view is that 16GB should be fine for most folks who want to live off the cloud.
[easy-tweet tweet="The P's have it for July with @Phil_Sorgen @Pschiller and @PaulHamerman all making the #CloudInfluence ranking"]
Commenting widely on the recent Ashley Madison hack and the resulting blackmail risks, Chase Cunningham, threat intelligence chief at cloud-computing company FireHost, said: "You could really ruin someone's life." However he said that this hack only added to existing risks, given that many consumers have multiple devices that are connected to their bank accounts or contain sensitive personal data that also puts them at risk.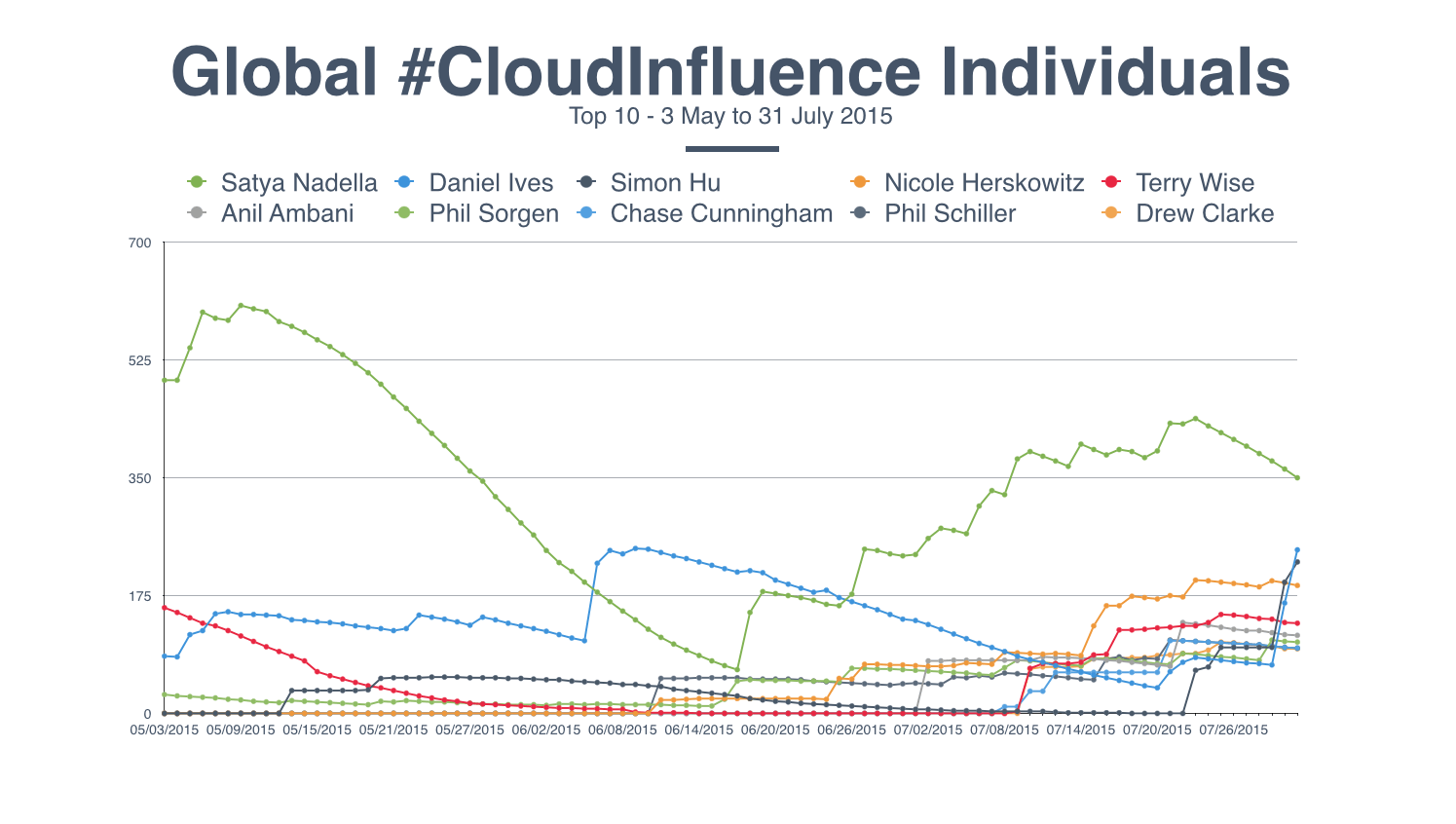 Beyond the top ten a few notable others included:
Ginni Rometty, IBM's CEO and Kevin Turner, Microsoft's COO both talking about their respective firm's recent results and bigging up their growth in cloud.
Analysts like John Madden at Ovum, Kuba Stolarski at IDC, Stephen Kleynhans at Gartner and Audrey William at Frost & Sullivan all pushing their firms' latest reports on aspects of the cloud market.
[table id=44 /]
NOTE: the Compare the Cloud #CloudInfluence league tables, are based on a broad big data analysis of all major global news, blogs, forums, and social media interaction over the past 90 days. The league tables provide a snapshot taken at a particular point of time of the respective influence of both organisations and individuals over the last quarter. Companies that were particularly active in the given period will feature more prominently.