January's leaders in Compare the Cloud's Global #CloudInfluence Rankings are the market share leaders Microsoft and Amazon. Both announced impressive cloud revenue growth this month, with their cloud computing operations – AWS and Azure – playing an increasingly vital role for each parent company.
[easy-tweet tweet="Check out the top global #CloudInfluence organisation charts for January 2016″ user="billmew"]
AWS revenues grew about 69% in the last year from $1.42 billion to $2.41 billion. It almost tripled its profits from $240 million to $687 million.
Microsoft lumps Azure into a larger segment called "Intelligent Cloud," which is a bunch of different enterprise products and services so its hard to make a direct comparison. It did state that revenue growth for Microsoft Azure was 127% with overall revenue from server products plus Azure of about $5.1 billion – this being the vast majority of the "Intelligent Cloud" segment's overall $6.34 billion (the rest comes from consulting and support).
While no direct comparison is possible, Azure is clearly growing sales faster than AWS meaning that the number two in the market is gaining on the market leader. In Compare the Cloud's Global #CloudInfluence Rankings Microsoft has had the highest share of attention for a few months now and is simply maintaining its overall lead.
Other players have a long way to go to catch them both, but while Google is taking time to revamp its cloud offering under new leadership, its parent company Alphabet posted strong results with profits of $4.9bn. The results announcement sent its share price up as much as 9% in after-hours trading, meaning that Alphabet was then worth around $568bn, surpassing Apple, which had a value of $535bn. This made Alphabet the most valuable company in the world.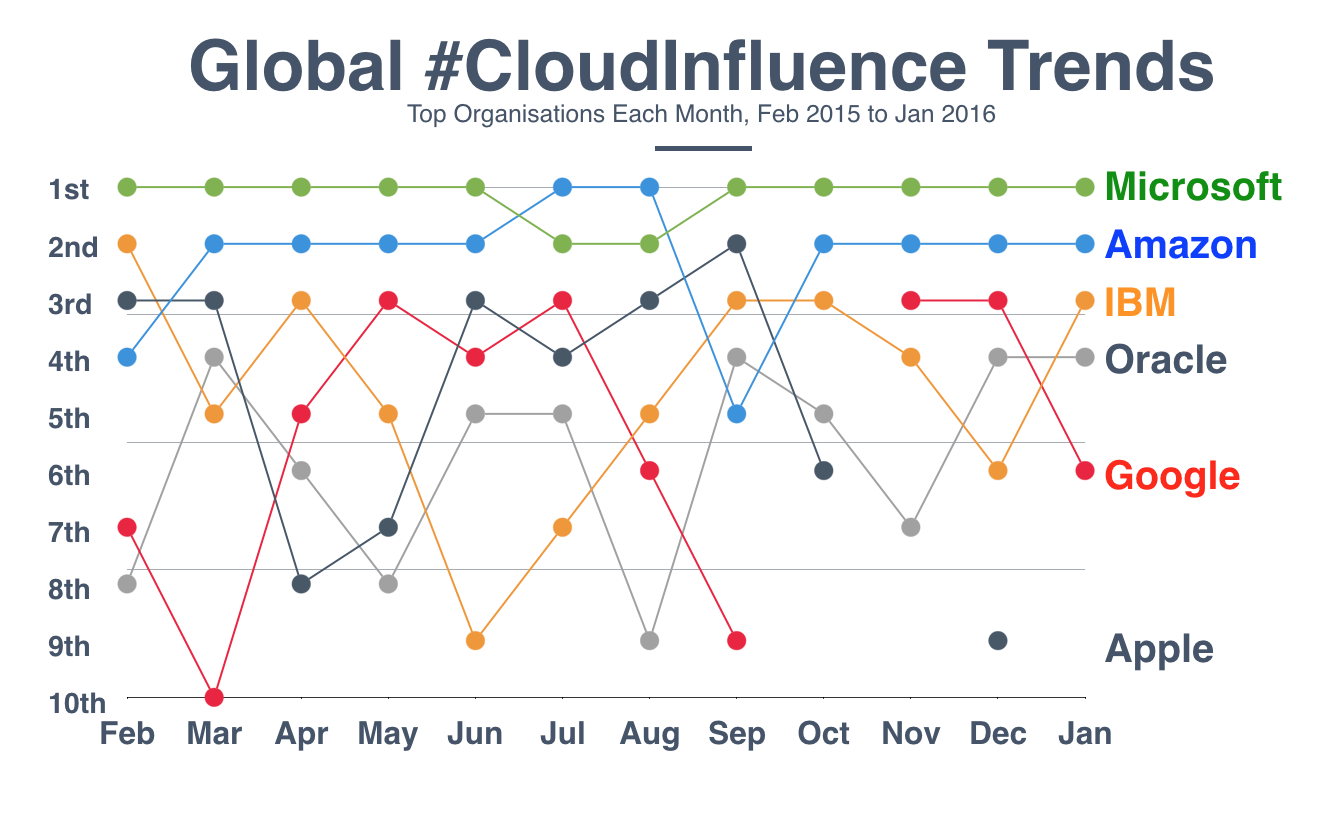 Microsoft, Amazon and Google are not only the world's three biggest public cloud operators, but they are now also among the largest server and storage manufacturers in the world. Much of the actual manufacturing may be subcontracted to OEMs or ODMs, but they control the specifications and act as both the manufacturer and customer.
Microsoft, Amazon and Google are not only the world's three biggest public cloud operators, but they are now also among the largest server and storage manufacturers in the world
The move to migrate workloads to the cloud – whether public, private or hybrid – is accelerating.  And while volume economics would indicate that workloads and data will eventually migrate to the largest and cheapest platforms possible – favouring public cloud, this is mitigated somewhat by security, provenance, and sovereignty concerns – favouring private or hybrid cloud.
A key announcement by Microsoft this month was its preview of the Azure Stack, a set of software that will allow enterprises and service providers to create a private cloud based on the Azure model that Microsoft operates at a hyper-scale level.
Not only will private clouds using this stack be able to operate like Azure, but application developers will be able to use a 'write once, deploy to Azure or Azure Stack' approach. This will be achieved by using APIs that are identical to Microsoft Azure, with the creation of applications based on open source or .NET technology able to run on either on-premise or public cloud.
In addition management and automation tools will give IT professionals oversight into the transformation of on-premise data centre resources into Azure IaaS/PaaS services, as they define and manage their hybrid environments in order to handle regulation, data sovereignty, customisation and latency issues.
[easy-tweet tweet="AWS and Google aren't showing much in the way of a #hybridcloud strategy" user="billmew"]
With neither AWS nor Google showing much in the way of a hybrid cloud strategy this represents a massive advantage for Microsoft and Azure; and a real threat to corporate cloud rivals such as IBM and Oracle (which were 3rd and 4th in this month's rankings).
In addition players like HPE, VMware and Red Hat all see the market heading in the direction of hybrid and Azure and have allied themselves with the Microsoft public cloud – VMware was in 8th in the current rankings with HPE and Red Hat fell outside the top 50.
[table id=60 /]
NOTE: the Compare the Cloud #CloudInfluence league tables, are based on a broad big data analysis of all major global news, blogs, forums, and social media interaction over the past 90 days. The league tables provide a snapshot taken at a particular point of time of the respective influence of both organisations and individuals over the last quarter. Companies that were particularly active in the given period will feature more prominently.