Putting consumer demands at the centre of product creation is a rapidly growing trend. One of the primary reasons individuals invest in technology is to make their lives easier, from unlocking smartphones with facial recognition to managing home temperatures from work. This is no different for corporations. In an increasingly competitive climate, business leaders are continuously looking for ways to enhance their IT software in order to better serve their customers.
Customer-centric design refers to the process of developing technology, products, services and solutions based on true consumers' requirements and challenges. A great quantity of data may be collected by placing the customer at the centre of software design and merging their demands with Customer Relationship Management (CRM). Obtaining particular information on customers and their behaviour creates a complete picture, allowing for improved customer experience design.
Customer First
Modern customer-centric design is essential in software development since it focuses on the end user's expectations. This strategy guarantees that the software being produced meets the needs of the consumers, leading to higher customer satisfaction and loyalty. Software may be adapted to the individual demands of the target audience by collecting user data during the development process, resulting in a more user-friendly and efficient final product. A customer-centric strategy also saves costs by avoiding the need for substantial post-launch adjustments and maintenance. Furthermore, a study by Forrester Research found that companies that have a customer-centric approach to software development can save up to 30% in development costs. Therefore, using a customer-first approach to software development can result in a more successful and lucrative product.
Use Case: Uber
Uber has come a very long way since it launched as Uber Cab in 2009. Uber went public in May 2019, ten years after its inception. Despite its difficulties, Uber remains a key player in the ride-hailing landscape. Uber reported 1.5 billion journeys on its platform in its most recent quarterly financial announcement for Q2 of 2021. 
Uber's disruptive approach allowed the company to build a service that satisfies the demands of its target audience and sets it apart from its rivals by concentrating on the needs of its consumers and consistently obtaining input, enabling them to remain a leader in the ride-hailing sector.
User-friendly App
Uber's app is designed to be user-friendly and easy to navigate. It allows users to quickly and easily request a ride, track the progress of their driver and rate their experience.
Personalisation
Uber allows users to save their preferred pickup and drop-off locations, making it easy for them to request a ride in the future. Additionally, the app remembers users' previous rides and automatically suggests similar options for future routes.
Safety
Uber places a strong emphasis on safety. The app includes features such as the ability to share trip details with friends and family, and a panic button to quickly contact emergency services.
Flexibility
Uber offers a variety of ride options to customers, such as UberX, UberSHARE and UberGREEN. This allows customers to choose the ride option that best suits their needs and budget.
Customer Service
Uber has a dedicated customer service team that is available 24/7 to assist customers with any issues or concerns. The company also has a rating system for drivers, which allows customers to rate their drivers and provide feedback on their experience.
Use Case: Amazon
In his 2017 Letter to Shareholders, Amazon's Jeff Bezos called out the underlying nature of customers' ever-increasing expectations. "One thing I love about customers," Jeff wrote, "is that they are divinely discontent. People have a voracious appetite for a better way, and yesterday's 'wow' quickly becomes today's 'ordinary.'"
Amazon focuses on its customers' long-term needs – not just the requirements they have today but those they will have in the future – enabling long-term, sustainable innovation.
Personalisation
Amazon's website and app are designed to provide a personalised shopping experience for each customer. The platform utilises customer data, browsing history, and purchase history to recommend products, making it easy for customers to find what they're looking for.
Search and Navigation
Amazon's search and navigation features are designed to allow customers to find the products they're looking for with ease. The site's search bar enables customers to quickly find products using keywords, while the navigation menu is organised by product category, making it simple to browse.
Easy Checkout
Amazon's checkout process is designed to be fast and easy. Customers can save their shipping and payment information, making it straightforward for future purchases. Additionally, Amazon offers a variety of payment options, including credit cards, debit cards, and Amazon Pay, making it easy for customers to pay for their purchases.
Fast and Reliable Shipping
Amazon offers a variety of shipping options, including free shipping, same-day delivery, and one-day delivery. This allows customers to choose the shipping option that best suits their needs and budget.
Strong Customer Service
Amazon has a dedicated customer service team that is available 24/7 to assist customers with any issues or concerns. The company also has a rating system for products and sellers, allowing customers to rate their experience and provide feedback.
A Future Workforce
As younger generations enter the workforce, customer-centric design is expected to continue to evolve and adapt to their wants and needs. Younger generations have grown up with technology and expect a seamless, personalised and convenient experience from brands and businesses. A customer-centric design approach focuses on offering individualised and personalised experiences. This may be accomplished by utilising artificial intelligence, machine learning, and big data analytics, which enable organisations to collect and analyse client data in order to better understand their preferences.
Additionally, younger generations place a high value on transparency and sustainability, so it is expected that customer-centric design will focus more on ethical and sustainable practices. This includes the use of sustainable materials, the implementation of fair labour practices and the reduction of waste and carbon footprint.
Maintaining focus on addressing customer requirements quickly becomes more challenging as additional business challenges emerge. However, understanding consumers' needs and demands, and quickly devising solutions to suit those requirements, is more important than ever for businesses wanting to remain innovative in an increasingly unforgiving business climate.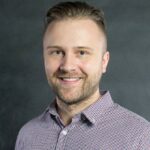 Lukasz Stolarski is a Lead UX Designer at Future Processing. He first joined the IT industry in 2009, and during this time, he has participated in over 120 different projects. This experience has allowed him to work on products in a variety of domains and industries, including automotive, healthcare, transportation and banking domain. At Future Processing, Lukasz has managed the process of continuous improvement of User Experience across the company's implemented solutions which has positively impacted both designers and front-end developers.