By Simon Porter
Going to the office used to be exciting, there was a fast internet connection, that brand new laptop you couldn't afford to have at home, and it didn't take a exuberant amount of time to load the next webpage.
The consumerisation of IT has been caused by the wide availability as well as the increasing affordability of high performance technology, in the form of smart phones, tablet and laptops, and connectivity in the form of 3G or 4G as well as broadband. It has not only had an impact on the way we play games or watch films in our spare time, but has also impacted the enterprise IT industry. For a very long time the office IT environment was miles ahead of what people could afford to have in their homes, but the commodification of the Internet changed that. As products became more widely available, the average consumer began to have a full office set up at home. The internet connection was also equally as good, if not better than the one available in the office.
As this shift occurred, suddenly businesses were being pressured by their employees to meet the standards of IT they were able to achieve outside of the office. As new technologies are now being developed in the consumer space, rather than solely the enterprise IT sector, businesses need to think about how they will be affected, and how they can take advantage of this new tech insurgence. 
The IDG Enterprise's study 'Consumerization of IT in the Enterprise' (CITE) found the rapid growth of personal devices being used for work has required 82% of organisations make changes.
Enterprises are outspending SMBs on mobile apps designed to increase customer retention
Policies on how corporate data can be shared are now commonplace, and businesses are starting to invest in mobile device management (MDM) solutions, as well as purchasing secure file sharing services.
The CITE study also found Enterprises with more than 1,000 employees are more likely to invest in mobile apps to increase customer and employee satisfaction than their SMB counterparts (46% versus 38%). Enterprises are also outspending SMBs on mobile apps designed to increase customer retention (38% versus 20%).  The following graphic shows the breakdown by benefit area, the SMB figures are shown in blue.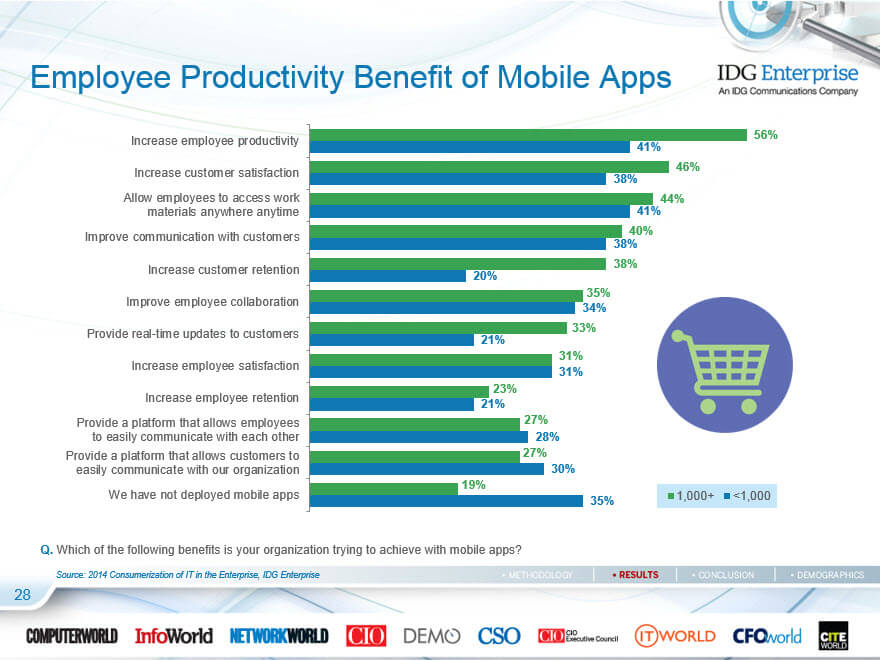 For SMBs, corporate and government organisations, the biggest challenge is the security risk caused when employees use unapproved technologies and devices at work. Even with corporate security policies in place that limit or prevent their use, there needs to be an awareness that personal devices will still be brought into the workplace and be used by employees.
90% of enterprises say that the use of consumer or individual services used for work is pervasive today including Dropbox, Google, Skype, LinkedIn, Facebook and other social networking sites.  49% of these sites are used with IT approval, and 41% are not.  79% report that file sharing and collaboration tools including Box, Egnyte, Google Apps, Microsoft, Office 365, GroupLogic, ShareFile and others are pervasively used today.  49% are with IT approval and 30% are not.  The following graphic provides a comparison.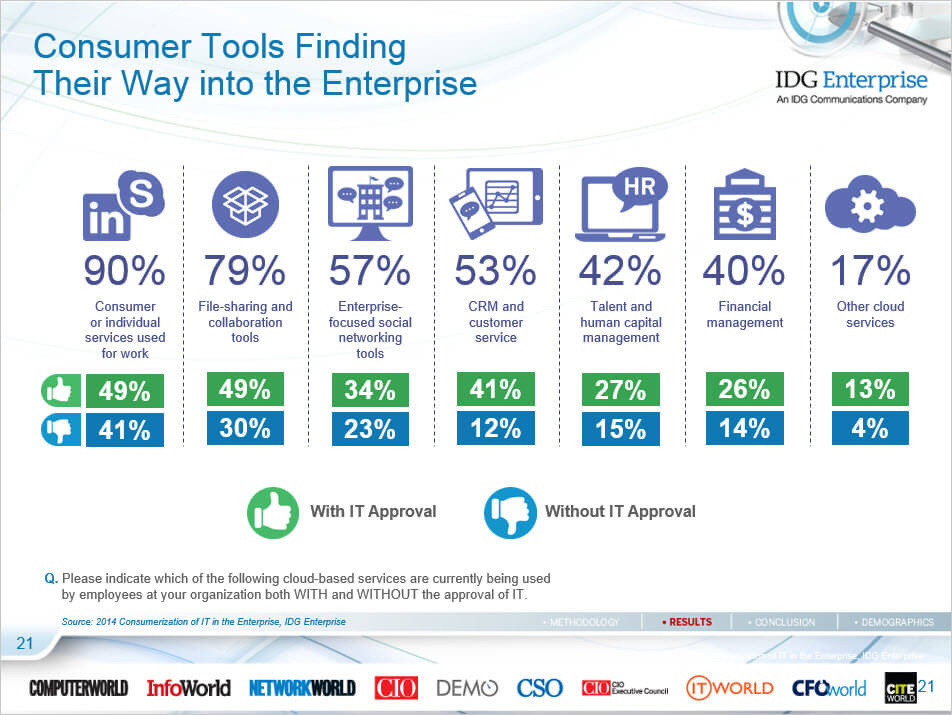 As IT becomes more and more consumer centric, both Enterprises and SMB's need to consider the ways in which adopting BYOD policies and outside tech can benefit their business. Allowing employees to work on a devices with which they are familiar and productive may outweigh the negatives as long as a proper security system is in place. We work with many SMB clients to help them take advantage of BYOD policies but in a secure way. Read here how a midsize UK sales agency generates revenue for their large clients whilst protecting corporate data
unapproved IT will find its way into the workplace, whether companies like it or not
The important take-away from the CITE study is that unapproved IT will find its way into the workplace, whether companies like it or not. Putting in place an effective management plan can allow for consumer developed IT to benefit the business space As more and more devices become tech embedded with the Internet of Things explosion, we need to look toward a future that will bring many more devices into the enterprise space.