It's no secret that organisations today are on the quest for the perfect Enterprise Resource Planning (ERP) solution that aligns with their specific needs and business objectives. There are four key categories that stand out as the most sought-after features in an ERP system: security, cloud-based architecture, scalability, and real-time functionality. But how do they all connect to ensure your business has the best solution available? Robert MacDonald, Innovation & Technology Manager at Absoft, discusses how adopting a cloud mindset can help companies navigate the change effectively, and how SAP's S/4HANA Cloud Edition stands out as a strong cloud ERP solution.
Identifying The Ideal ERP Solution
One of the most crucial aspects of any ERP system is its security, due to organisations recognising the importance of protecting its sensitive data and business processes from cyber threats like ransomware.
And, whilst in recent times, cloud-based ERP solutions have gained significant popularity, the appeal lies in the ability to store data in hyperscale data centres such as Amazon Web Services, Microsoft Azure, or Google Cloud, which provides an extra layer of security. The subscription-based model for SAP further streamlines accessibility through a user-friendly portal, eliminating the need for heavy installations and customisations. As a result, regular updates and bug fixes are delivered in the background, ensuring a smooth and secure user experience.
In addition to security, organisations seek ERP solutions that are flexible and scalable. The dynamic nature of modern businesses demands the ability to adjust user numbers, modules, and applications as required, without incurring unnecessary costs associated with licences or bespoke customisations. A cloud-based ERP with out-of-the-box applications reduces reliance on third-party relationships and streamlines the overall ERP solution, resulting in greater agility and adaptability.
Moreover, in today's fast-paced business landscape, real-time functionality is a game-changer when it comes to effective decision-making. To stay up-to-date and make informed decisions in a timely manner, organisations now require live analytics and embedded reporting. Using real-time data and smart analytics enables businesses to make data-driven decisions that drive growth and success and respond swiftly to changes in market conditions.
SAP S/HANA Cloud: Adopting a Cloud Mindset
In the pursuit of finding an ERP solution that ticks all the boxes, SAP's S/4HANA Cloud has emerged as a leading software vendor. This cloud-based ERP solution addresses the aforementioned requirements effectively, offering a secure and scalable platform with regular updates and bug fixes to ensure optimum performance. In addition to this, the focus on fit-to-standard practices enables faster implementations and reduces efforts in dealing with additional customisations, making it an attractive choice for organisations of all sizes.
However, implementing a cloud ERP solution successfully requires more than just choosing the right software. It demands a shift in mindset. Organisations need to adopt a cloud mindset which embraces the possibilities and benefits that come with this technology. Collaborative efforts between the organisation and its technology partner are crucial, particularly in navigating the complex change management processes involved in ERP implementation. By embracing a fit-to-standard approach, this ensures that the organisation's processes align with the best practices of the chosen cloud software, resulting in smoother transitions and streamlined operations.
Beyond the initial implementation phase, digital transformation becomes the key to unlocking the full potential of a cloud ERP solution. By leveraging various apps and digital processes, businesses can enhance efficiency and optimise their operations. Intelligently implementing extensions and integrations is vital to keep the core ERP system clean and easily upgradeable, helping to reduce complications in the future.
Innovation adoption becomes an ongoing process in the cloud ERP model. Regular updates to the software offer access to new functionalities that organisations should embrace to fully benefit from the cloud solution. Embracing a cloud mindset and adopting agile methodologies ensures that the ERP implementation remains flexible and successful, which enables maximum software capabilities, as well as business growth potential.
The Journey to Success
The significance of choosing the right ERP solution cannot be overstated in today's competitive business landscape. By prioritising security, scalability, real-time functionality, and embracing cloud-based architecture, organisations can position themselves for success. SAP's S/4HANA Cloud stands out as a strong example of a cloud ERP solution that effectively addresses these requirements. However, the journey to ERP implementation success requires a holistic approach, and one that includes a cloud mindset, collaboration with technology partners, and a commitment to continuous innovation and digital transformation. By understanding and embracing these principles, organisations can harness the full potential of a cloud ERP solution like S/4HANA Cloud and future-proof their business operations in an increasingly digital world.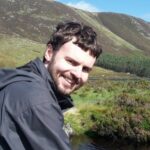 Robert MacDonald, Innovation & Technology Manager at Absoft, specialises in SAP and Microsoft Azure, with experience of delivering technical projects and support across a broad range of technology, as well as pre-sales and solution architecture.