There's a saying that 'sport is nothing without the fans' and over the last decade, fans' expectations have evolved hugely. In live sport, it's no longer enough to be present within the venue, the experience also must be enveloped through mobile devices and an ever increase array of media platforms. At the 2022 Football World Cup, for instance, fans consumed more than 800TB of data (the equivalent to 400,000 hours of movies) within stadiums as they pushed local mobile networks to the limits, watching live replays, sharing game footage and social posting en masse.   
This year, as the Rugby World Cup approaches, the organisers will face similar challenges to meet the needs and deliver exceptional experiences to more than 405 million fans worldwide. But not all of those will be able to attend the game in person, and there will be limits on who can access virtual streams reliably. Therefore, delivering consistent, rich media and content experiences, no matter where the fans are located, will be critical in delivering a World Cup to remember.
This surging demand will stress-test the tournament's ability to deliver connectivity at scale, far beyond what a traditional IT environment could support. So, what benefit could a multi-cloud strategy, which enables any app to be managed across any cloud to any device, bring to large scale sporting events such as the Rugby World Cup 2023?
Here are my top three use-cases:
1. Delivering unparalleled insights, on-demand:
The magic of sport is captured in the emotion and affinity that fans feel towards their favourite players and teams. Their desire to feel connected to game preparation, tactics, strategy, as well as the tribalism, that extraordinary emotional reaction that comes with fans wanting to be part of a united group, is almost unmatched.
Rugby fans may have previously settled for reading the match-day programme or tuning into the 'Ref Radio', a communications channel that fans use to hear referee commentary. But expectations have changed. Fans now want complete insight into the match-day lifecycle, from training and injury updates, through to build-up and post-game analysis. They also want to review the Television Match Official decision, otherwise known as a TMO, on their mobile device as they see it on the big screen. They want to interrogate the replay, review different angles, and settle debates with other fans.
It's here that a multi-cloud strategy can support this level of real-time connectivity, engagement, and sheer scale. Working seamlessly together, 5G, telco and edge clouds provide the necessary compute power, as well as the low-latent connectivity to scale multi-media content from within the stadium to end-user devices around the world. Stadiums will find they can deliver the right applications at the right moment, through a local connectivity point with telco edge and 5G, for the best possible content experience.
2. Building trust with fair play and accurate officiating
The future of the fan experience at large-scale tournaments, like the Rugby World Cup, will be largely supported by multi-cloud – as it underpins several different sporting technologies.
For instance, Rugby's TMO connects to multiple stadium cameras to deliver clarity and certainty on whether the ball was grounded for a try, if there was a foul or infringement in the build-up and whether points need to be rewarded or removed. It works in a similar way to VAR in football or hawk-eye in tennis and cricket. In doing so, it removes the 'debate' from the sport and ensures that victory is earned, not stolen. This enhances the fan experience as on-field decisions can be trusted, and losses can be begrudgingly accepted.
However, this trust can easily deteriorate if the technology fails under stress due to poor testing. If the TMO replay is limited to just one stadium screen or the feed becomes pixelated, slow, or simply stops entirely, then the integrity it brings to the game breaks down.
Through private 5G infrastructure and the compute support at the edge, the Rugby World Cup stadia can benefit from a containerised environment, so all stadium screens, camera equipment, local applications and storage software connect to the same local network services – delivering fast, low-latent rich multi-media content at scale. This means the TMO is never delayed, fans trust its output and the tournament maintains an exceptional experience.
3.       Seamless public infrastructure support When fans enter a stadium, often their mobile device will automatically connect to the public Wi-Fi network. This is often followed by a swift disconnection as the Wi-Fi proves painfully slow and untrustworthy. The use of private 5G networks transforms the connected fan experience and aid how large-scale tournaments like the Rugby World Cup interact with public services.  
For instance, if every fan connects to the same private 5G network as they enter the stadium, each seat becomes a de facto IoT device. This is because the connections provide a virtual picture of how many fans are in the stadium and where and especially, when they are sitting in their seats, supporting capacity planning, forecasting, and calculating floor space. But from a more practical point of view, this means the Rugby World Cup can also track how many fans have left a game and at what point, and when they are about to enter nearby roads or use public transport
Moreover, this innovation comes to life if public services, transport, or security. The ubiquitous connectivity provided between private and public 5G networks is all about data balance and federation. Suddenly, these services can get real-time insight into fan activity – supporting policing, logistics and emergency services as they leave the ground. At the same, it also means that should there be an emergency in the stand, there's no network congestion, so support can be attained faster with greater context between the digital and the physical characteristics or large-scale sporting events.
Foundational multi-cloud technology in sporting events isn't anything new. It's evolved naturally with the infrastructure requirements. But the consumer requirements are also evolving and will demand 5G connectivity to better deliver applications and rich companion experiences. As well as providing an unparalleled fan experience, multi-cloud systems support fair play and accurate officiating – using modern technology to bring the sport back to what it once was. Whilst it can take the 'combativeness' out of certain sports, with umpiring decisions being made on facts, the uplift in encouraging sportsmanship and mutual respect both on and off the pitch Is further affected positively, with technology as the enabler.
Events such as the Rugby World Cup are only set to grow in popularity in the future especially following events around the world such as pandemics. Smart multi-cloud roles are become ever more critical in connecting public services. Moreover, to ensure the fan experience is safe and turn-out is sustainable – it is rapidly becoming the role of the telco service providers, to provision 5G cloud services upon which fans and organisers rely, provisioning continuity.
These examples show where multi-cloud technology bridges seamlessly between public safety and security needs, whilst delivering transparent excitement and passion for sports fans.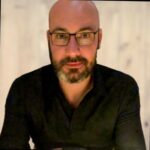 Richard Bennett is Head of Industry Solutions & Strategy, EMEA at VMware. VMware is a leading provider of multi-cloud services for all apps, enabling digital innovation with enterprise control. At the heart of VMware does lies the responsibility and the opportunity to build a sustainable, equitable and more secure future for all.​