Over the past ten years, the on-premise IT footprint of both large enterprises and small and medium enterprises (SMEs) has decreased dramatically. With the emergence of the cloud, even the smallest businesses are seeing the appeal of Software-as-a-Service (SaaS) applications versus server rooms, with reduced on-premise data centre costs and potential headaches.
As businesses begin to use more cloud-based applications, they are also realising the relative ease with which they can scale up and down their computing power to conserve costs, or to scale quickly to support new functionality and lines of business. It's a new era of IT and it suits the 'work from anywhere' model we've all now become accustomed to.
However, in many business environments, on-premise applications, which may be considered 'legacy,' are still in use, and for good reason. Many of these applications are still performing sufficiently. For the employees that have been using them for many years, it really may come down to the well-known saying – 'if it ain't broke, don't fix it.'
The issue with this approach is that it didn't always make the grade during the lockdown measures of the pandemic and also, is not one that consistently follows a future-proofed, operationally resilient business model. Beyond this, many legacy applications are so complex that if the employees with experience in running and maintaining them move or retire, businesses may find themselves without the expertise to make critical applications deliver.
Still, SMEs do have legitimate concerns when it comes to moving to the cloud. In the Cloud Industry Forum's recent research paper The Transformational Impact of Cloud, 93% of UK company respondents said that the cloud is important to their company's digital transformation strategy. However, of these, 35% of respondents said poor integration with legacy technology is holding their organisation back when it comes to faster cloud implementation. When asked why cloud migration projects fail in their organisations, the top reason cited among respondents was 'legacy technology wasn't compatible.' What can SMEs do to address this?
Consider Your Approach to the Cloud and Cloud Migration
If the process of re-architecting a legacy application so that it can be replicated and used identically in the cloud sounds difficult to you, you're not alone. The 'lift and shift' approach to migrating technology to the cloud is in decline and for good reason. It's difficult to manage successfully and cost-effectively.
In fact, in her 2021 article 6 Ways Cloud Migration Costs Go Off the Rails, Gartner contributor Meghan Rimol goes as far as to identify lift and shift as a mistake. She states, "The best move may be to rewrite and re-release an application in a cloud-native way, or even to replace it entirely with a SaaS-based alternative. Defaulting too quickly to a rehosting approach and deferring the cost to modernise or replace critical applications can result in higher cloud operating costs after migration."
In many instances, the best approach to staying on the path to digital transformation may be to transition from a legacy application to a more modern SaaS application, and export or import your existing data. In many instances, SaaS platforms and services may bundle up suites of functionality, offering more of a one-stop-shop of technology solutions from a single dashboard.
Consider Your Data Migration from Legacy to the Cloud
One of the foundational benefits of cloud applications is that everyone is up to date and everyone shares the same consistent view of the data, regardless of whether they are working remotely or in the office.
However, if you are moving from a legacy to a new SaaS-based solution in the cloud, the reality is that data fields and tables need to be mapped from your legacy database to your cloud database, either by your team, or your new cloud provider. If the time isn't dedicated to cleansing and mapping data, the reality could be that those data migrations may not run smoothly, particularly if you are migrating data from multiple systems.
The move from legacy to the cloud is also the ideal time to cleanse and remove unnecessary data. The importance of having good, clean data and good data governance practices cannot be underestimated. Poor data management in the move from legacy to the cloud can be the root cause of a failed migration, and getting data experts in to accompany a legacy-to-cloud migration may be a good investment.
Take the Time to Plan Your Journey from Legacy to the Cloud
In the Cloud Industry Forum's The Transformational Impact of Cloud research, when asked what the top priority in choosing a cloud provider was, over half of respondents selected 'price' as their top priority. Price will always be a significant factor, however, the reality is that if businesses choose cloud services and providers only on price, they are setting themselves up to fail. SMEs, in particular, may not have extensive in-house cloud IT management skills, so it is critically important that they choose a provider that specialises in providing services and solutions specific to their sector.
The research backs this up further when we look at the other reasons that cloud projects fail (beyond legacy software compatibility.) 'Resource and manpower,' budget, 'we didn't test it thoroughly enough,' 'we scaled up too quickly,' 'lack of planning,' 'we chose the wrong cloud platform,' – these are all reasons cited in the research as to why cloud projects have historically proved to be a challenge or have failed.
The reality is that moving from legacy applications to the cloud is a commonplace part of ongoing digital transformation efforts, and it can be managed with the right expertise to hand. While price will also be a consideration in moving to the cloud, it should not be the top differentiator in a business's ultimate cloud partner selection.
A Foundation to Increase Cloud Adoption
Digital transformation is clearly a mainstream strategy, and the cloud has certainly shown its value in recent times more than ever before. The move from legacy applications to the cloud may be a concern for many SMEs and we understand that. As a business, we've been on a transformational journey for the last 19 years. We are now a digital business and we are well on our way to becoming an expert solutions company, and we understand the challenges our customers face. However, if SMEs can approach the cloud with strategy forefront of mind, they will be well-aligned to increase cloud adoption over time to see continued benefits and return on investment.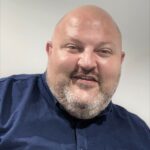 Neil Parsons is Managing Director at Wolters Kluwer Tax & Accounting UK, a leading provider of tax, accounting and audit solutions. Appointed in 2022, Neil is responsible for the strategic direction and operational excellence of the UK business. Neil has spent over 15 years in the tax and accounting solutions industry and is a leadership expert with a focus in strategic partnership management.