Digital transformation projects can often become complex with twists and turns, which can lead organisations to focus solely on the migration itself. This is a problem as attention is then detracted from the operating model, both in the planning phase, as well as on completion of the project or migration stage.
To avoid this result, businesses need to take to an approach that is built on delivering operational excellence for SAP on Cloud. And, this approach should be based upon four key pillars, which are: reducing costs, removing complexity, increasing flexibility, and improving security.
Automation lies at the heart of this approach, enabling teams to achieve operational excellence without suffering from the operational burden. For some organisations, this means handing over the keys to their service provider and placing greater emphasis on achieving the standards of the SLA (service level agreement). But for others, being involved in the automation strategy is an opportunity for change and agility, and therefore they want to be in the driver's seat.
Addressing the service catalogues
The IT team is responsible for executing a significant number of services, all of which should be defined in the service catalogue. Some of these include installing new SAP systems, extending and patching existing systems, etc. Altogether, these tasks classically require an enormous amount of manual effort from the SAP technical teams. In order to make a change, the IT team first raises a change request, then provide all the data needed to make the change, work out the impact on cost and security, and go through multiple levels of approval, before finally getting to the point where they can implement the change.
For the majority of customers with an on-premises model, this would be done using manual steps and hard-coded documents. However, things can be different when you're on the cloud – this is where automation comes into its own.
For example, if a business wishes to change their SAP HANA database from a 2TB to a 4TB size, automation can create a change request in your ITSM systems, and provide details on how the development would impact security and cost, saving the team huge amounts of time and with more accurate information. This extra detail becomes the basis for the technical change itself – the automation can assess and execute the change faster and with more accuracy, avoiding the risk of human error or having to invest more time and effort when mistakes are made.
Automation helps reduce the technical effort within the IT process, allowing teams to focus on more value-add activities. Everything within the service catalogue can be prioritised, starting with the most critical, or the most expensive, or the quick wins – whatever the focus is for the business.
A common example of when automation delivers true value, is when teams need to access old SAP systems in archive mode. Every so often, someone needs to log on to query old purchase orders or bank records, ideally without having to manually start and stop a system – which could take days to complete if requested and executed manually.
Instead, if the business uploads archived systems onto the Cloud, then with automation available through a start-stop button, they can start the system on-demand, conduct their query, and then shut it down at any given moment – saving costs, reducing wait times and eradicating unnecessary complexities.
Streamlining and improving SAP systems
Automation also streamlines the process of taking data from one system and transferring to another – known as system refresh. There are several steps in this process beyond the obvious back-up, restore and pre-copy stages – automation helps export user lists and other items, bringing data back in and reloading the system. This process is different for every business and has long been a challenge for SAP customers. Removing the manual steps with automation, which can facilitate custom changes to fit each environment, means no system is deemed unsuitable.
When used to refresh Test Environments, a test cycle will gain more up-to-date data, which will facilitate higher quality testing and help avoid potential defects. For a Prototyping use-case, being able to try out an idea on a copy of the production system in an isolated environment creates a real opportunity for innovation. With automation, teams can assess how projects are driving innovation and track the outcomes. It gives a structure to innovating around SAP without incurring huge costs (which has always been a challenge in the past) inspiring a culture of change across the team.
These are all great examples of how automation essentially brings innovation to life.
Changing your mindset when it comes to security
One of the realities of Cloud is that there is a greater number of moving parts than on-premises environments. This, combined with it being in the public domain, makes for a much more complex security environment.
While the tools offered by hyperscalers are equally as sophisticated as the challenges business face, the complexities often overwhelm teams when it comes to day-to-day management. On public Cloud, privilege access management is a mandatory rule, which means establishing fine-grain definitions across a broad number of security objects. The amount of work required to design, build, and maintain the security environment is much greater than on-premises, and teams often fail to realise the importance of automation when it comes to scaling operations post-migration.
Having security ingrained in your way of working is of paramount importance, it is a mindset that you need to adopt. Move your thinking away from the old 'moat and bridge' paradigm in data centres, because nowadays there is far more than one way in and out. In Cloud, everything is public until it gets locked down.
Putting the user first
It's easy to tell when an organisation has implemented automation in their operations post-migration by simply looking at user experience. If starting up an SAP system takes days from the request rather than hours, then they're not automated.
The Uber app is a perfect example of how automation revolutionises a service and prioritises efficiency and customer experience. The company analysed the process of ordering a taxi to get from A to B and removed all possible manual steps. Beforehand, a customer would have to research a taxi company, call them up, provide their location (as accurately as possible), confirm the destination address, be given a quote or started on a meter (so the cost isn't confirmed until the end of the journey), hand over the cash, and wait for the driver to write up a receipt. Uber has taken each of these steps and automated them through the app.
This is the result of automation being weaved into an operating model from start to finish, or what many people refer to as 'digitalisation'.
Driving innovation through Cloud operation
If we go back to the whole reason for most digital transformation projects, it is to effectively future-proof business operations and ensure they are resilient enough to withstand the challenges that may lie ahead. CIOs need to know that their operations are getting the best attention possible, and they need real-time access to dashboards, data and APIs so they can continue to innovate their systems effectively beyond simply operating them on hyperscale Cloud.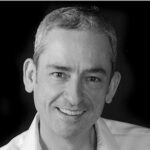 Eamonn O'Neill is the Chief Technology Officer at Lemongrass Consulting. Eamonn is a thought leader in the IT and software space, frequently voicing his expertise and opinions to those in the sector within influential and reputable publications. Eamonn has contributed to titles including Computing, IDG Connect, Cloud Computing Insider, ERP Today, and Networks Europe and has participated in podcasts with eweek, The Cloudcast and CloudSkills.fm.