Digital transformation is reshaping every aspect of the modern workplace. With hybrid working now the norm, the traditional workspace has had to radically change in response to employees' needs and wants. Gone are the days of rigid social and physical structures: companies are now experimenting with more innovative, adaptable designs centred on flexibility and teamwork. But what does this mean for the future of work – and for the workforce itself?
As a new generation of digital natives join the workforce in ever-growing numbers, they are bringing a new set of expectations about how people should connect, communicate, and collaborate. A recent study found that over a third of Millennials and Generation Z employees rank the ability to both focus and collaborate in their workspace as the top workplace attribute that enables them to do their best work.
The signs are increasingly pointing towards collaboration playing a critical role in the workplace of tomorrow. Therefore, organisations should consider the tools and technologies needed to stay ahead of the curve and successfully prepare for the collaborative future of work.
The case for collaboration
Collaborative teamwork has always been important. Even back in prehistoric times, when we faced a very perilous world, our ability to work well in teams elevated us over stronger, faster creatures. Humans have long understood the need to know their place in a team and their responsibility in keeping their group (or tribe) together, alive, and thriving.
But fast-forward thousands of years and collaboration has taken on a whole new dimension in the modern workplace. As organisations become ever-more global and complex, and the post-covid hybrid world continues to evolve, good communication amongst distributed teams has become a requisite for business success. In order to survive in an increasingly challenging and competitive world, organisations must have the flexibility to provide new, innovative ways for their employees to collaborate productively from any place, time, or device.
To do this successfully, they will need the right tools. Video conferencing software like Zoom and Teams have become part of everyday working life for many businesses, but a plethora of other collaboration tools are also coming to the fore to help employees thrive in their workplace ecosystem.
Preparing for the 'collaboration generation'
For the new generation entering the workforce, these innovations in collaborative tech cannot come soon enough. As digital natives who have grown up completely surrounded by computers, tablets, smartphones, and other digital devices, Gen Z in particular will expect any company they work for to incorporate emerging social and digital technologies into their operations.
The new generation does not value technology for technology's sake. Instead, it is a key enabler of two core workplace values: flexibility and collaboration. To have the best balance of their working and personal lives, Gen Z wants the option to determine exactly where, when, and how they want to work. Furthermore, younger employees are natural networkers and desire a variety of tools to help them both focus and collaborate with others. Having grown up using social media and instant messaging, Gen Z understands the value of collaborative tools and are now want them to be incorporated into the workplace.
Organisations therefore need to adapt and evolve their workplace practices to successfully recruit, retain, and engage a new generation of talent. So, how can they go about achieving this?
Bridging the hybrid gap with technology
Firstly, organisations must respond to the changed (but still highly important) role of the office. Despite early predictions of the office's demise post-pandemic, these spaces still play an essential role in workforce collaboration, connection, and camaraderie.
But it is not enough for employers to simply leave the office lights on. Careful consideration must be taken of how these offices essentially 'work'. Many employees are already finding that their homes are now smarter than their offices, with more intuitive and connected technology. This disparity can impact both their productivity and happiness, as well as hampering opportunities for collaborative working. As the hybrid model continues to take shape, more forward-thinking businesses are redefining their offices to meet evolving employee expectations, putting interactive technology in place to allow for more seamless transitions between physical and virtual settings.
Businesses now have the opportunity to redesign their office space for a more collaborative hybrid future. How the office looks will vary from organisation to organisation, but employers may opt to combine meeting rooms and working pods with breakout spaces to promote both scheduled and unscheduled teamwork. Most importantly, rooms should be fitted with technologies that allow for the right blend of physical and virtual participation.
For example, organisations can invest in a 'media suite', complete with microphones, cameras, and other multimedia devices to help ensure a high-quality audio-visual experience for those working remotely, essentially making them feel part of the office environment even if they are dialling in from miles away. In fact, there are many tools out there to support productivity and collaboration in hybrid working spaces. From interactive whiteboards, which blend engagement and participation between the physical and virtual spheres, to visual conferencing technology, businesses can begin today to bring these tools together to provide a truly collaborative 'smart' workplace to attract, engage, and inspire employees.
The right technology has the power to bridge the gap between office-based working and remote working, ensuring that everybody feels included in a shared environment. It is only when these barriers come down that the most creative and fruitful collaborative work will take shape.
Looking beyond the technology
However, it is not enough to simply implement the technology and wait for the magic to happen. The key to securing a collaborative hybrid workplace is to ensure that all digital tools are seamlessly working from day one to the end of their lifecycle. This encompasses remote monitoring and maintenance work – ongoing projects that overstretched IT teams may need additional support with. Essentially, the technology needs to be 'managed': it is this managed element that is just as important as – if not more than – the technology itself.
To ensure that employees consistently get the most out of the collaborative tools at their disposal, increasing numbers of organisations are looking towards trusted managed service providers (MSPs) for end-to-end integrated support. But regardless of whether a business outsources its managed tech or keeps it in-house, the link between technology and collaboration in the workplace is one that must be championed and nurtured from the C-suite down.
As hybrid work models continue to gain traction, businesses will need to start implementing collaborative tools and processes to meet the needs and expectations of the upcoming workforce, seamlessly integrating them into existing workflows to enhance productivity and performance. Innovations in technology, including AI and machine learning, mean that organisations are in a better position than ever to shape the collaborative future of work – and with the right support in place, they can ensure that these digital tools continue to bring out the best in their workforce for years to come.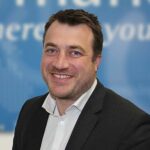 Julian has over 8 years of invaluable knowledge having joined Apogee in 2013 as a Pre-Sales Consultant, mirroring Apogee's own journey of growth, Julian has developed from this role to join the Apogee ELT in 2021. He has extensive experience working with organisations from all sectors, helping to identify opportunities for growth and innovation through digital transformation.