Whilst at the IBM Interconnect event this year the phrase "IT as a Service" or "ITaaS" was mentioned throughout each stream I was reporting on. Now you may think that this is a term that's been used many times in our technological past and you may be right. However, there are not many companies that deliver this in the correct context. Take an IT Support service, for example, this literately translates correctly to IT as a service but in reality is just IT Support.
[easy-tweet tweet="Everything in the changing tech landscape has an acronym now; PaaS, IaaS" hashtags="Saas, IBM"]
IBM has recently announced their version/vision of IT as a Service and I would like to explain this in more detail for several reasons. One, I was asked to, and two, I think I should put the description in context to the world of cloud and multi-cloud computing.
Everything in the changing tech landscape has an acronym these days. PaaS, IaaS, SaaS to mention a few require explaining in their right. So, if we stop looking at these business enablers singularly and work on Business outcomes enabled by technology, we get "IT as a Service".
"We innovate faster, create a single bill, unlock new levels of software-defined everything and ensure the tech is always available and on, allowing the CXO to sleep at night with IT as a Service."
This sounds great? Of course, it does but imagine if you can also predict changes, improvements, consolidation of infrastructure with new business models and outcomes. Well with IBM it's a reality and not just wishful thinking! And what's smart is that IBM has created IT as a Service mechanisms by industry. Whether you are working in the Retail, Banking, Manufacturing or any other industry, IBM has a defined service delivery platform of the products and services that take away the confusion of multiple choice.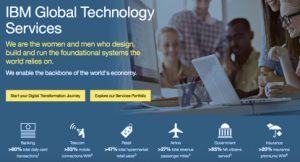 I know what you are thinking, this sounds too good to be true right? Well if we put this in the correct context (IBM Services) no it isn't. IBM has the cognitive set of services (Watson), the development platforms (Bluemix), the hardware and software services to complement the industry standard requirements for applications and business objectives and they have packaged these into market vertical services delivery that leverage cognitive thinking technology that can think and run for itself flawlessly. In a recent interview Mohammed Farooq, GM of IBM Cloud Brokerage Services at IBM GTS, explains what IT as a Service means to IBM in a cloud brokerage model. https://www.youtube.com/watch?v=K4_fORSIpEo&t=21s&list=PLenh213llmcZTJLJMAurMJkVnYBY4wLhw&index=22
Are we getting very close to automating IT? No, not yet as IBM insist that relationships are more valuable at a business level of any organisation to make the right choices as we still need that degree of control. However doesn't it make sense to take away the burden of the managing some of the technology and deciding what direction it needs to take to accommodate your company's needs instead of multiple choice? In any way you look at this argument automation, cognitive and proactive management with advice with a service organisation that has been doing this for decades has to be an IT as a Service that you can rely on. I like it IBM, and I want to know more and if you do too take a look here! http://www-935.ibm.com/services/us/en/it-services/gts-it-service-home-page-1.html