The AI revolution is underway, with more and more businesses starting to adopt new technologies – including within the procurement function.
A recent survey found high-performing Chief Procurement Officers are x18 times more likely to have fully deployed AI/cognitive capabilities. While 63 percent of procurement organisations have increased system automation using intelligent technology.
Procurement and supply chain management is one of (if not the) largest spending areas for business expenditure and therefore there is much to gain from utilising AI. It can simplify supplier selection, identify and minimise risks, highlight opportunities to reduce costs, and continuously improve performance.
Simplifying vendor discovery and selection
Historically, vendor selection has been a time-consuming and arduous process, with procurement teams often spending hours or even days sifting through the internet and internal databases in search of suitable suppliers to engage with.
But the whole process can be simplified using AI.
AI has the capacity to complete strategic sourcing in a fraction of the time needed to complete the process manually as it can analyse large volumes of data from multiple sources efficiently and accurately.
It allows businesses to search for suppliers based on set criteria including location, product and service specifications within minutes. Teams then have an accurate list of new suppliers to explore and shortlist that matches the scope of work.
From this point, procurement teams can invite potential vendors to bid on a request, replacing traditional methods and reducing the amount of risk introduced into the supply chain.
Some AI tools are continually learning, producing accurate results that are aligned to the latest market insights – allowing teams to strengthen their network and supply chain with more opportunities for cost savings, and better value for money.
Reducing risk and human error
Risk is unavoidable in the procurement sector – exposure exists with every action and decision that's made despite people's best intentions.
Any error can have wide-reaching consequences for a company, affecting its ability to achieve its objectives and impacting the bottom line.
To minimise levels of risk in procurement and supply chain management, businesses can lean on AI technologies to complete supplier risk assessments, conduct contract reviews, establish airtight agreements and use predictive analytics to forecast supplier performance and anticipate difficulties ahead of time.
A thorough analysis of a supplier can be completed using financial and historical data and other relevant factors to ascertain suitability and potential risk exposure. Vendors that have a poor financial or performance history are deemed a significant risk and should therefore be avoided. It can also identify evidence of fraudulent activity.
AI can collate this data at a much faster pace than humans, all the while eliminating error and misjudgement.
Once vendors have been selected, automated solutions can further protect a business by reviewing contracts to identify ambiguous language, compliance issues, and any negotiations which may expose the company to significant risk.
Contracts are only enforceable if they are clear and abide by applicable laws, so wording must be concise and carefully written to avoid leaving an organisation vulnerable to legal consequences.
Reducing costs and unlocking efficiencies
Manual completion of procurement tasks is time-consuming, mundane, and expensive as larger procurement teams are typically required to complete these tasks and they need to take their time doing so to avoid error.
According to a survey, 69 percent of procurement professionals consider cost reduction a strategic priority, and this can be achieved with AI.
Task automation can help to complete supplier spending reviews and implement continuous learning and tracking to identify cost-saving opportunities in the supply chain.
AI's ability to automate essential procurement processes is an excellent means of reducing labour costs by eliminating the need for manual tasks to be completed by humans, which cuts salary, training, and additional human resource costs. By reducing the margin for error, costly mistakes are also avoided.
Digitisation and the application of AI is key to future supply chain resilience and efficiency, putting real-time visibility and centralisation first.
AI can bring this much needed visibility, providing accurate, normalised, connected and timely data to deliver real-time insight and predictions about what's happening next across the chain. If an AI tool identifies a potential logistic disruption, businesses can act before it's too late.
Improving performance and agility
Continued uncertainty can cloud the supply chain sector, resulting in teams being forced to make extremely complex, and potentially costly, decisions without accurate or available information.
We have witnessed first-hand the risks that unpredictable events pose, so business agility and continuity are key.
Most information systems are built for 'steady-state environments'. But, in a more volatile world, these systems can easily come under pressure as they aren't built for the modern day.
This translates into stiff and uninformed decision making. It leads to more stressed supply chain teams who must continuously make trade-off decisions with little to go on, ultimately harming business performance, agility and the bottom line.
The main purpose of AI as a tool in procurement is to improve the performance of a business and increase profit, and 93 percent of organisations that have implemented AI solutions are satisfied with the ROI.
AI can power smarter, data-driven decision making, creating more agile supply chains that can react faster to volatility and protect business continuity.
Instead of teams collating information from disparate and non-interoperable systems and spreadsheets (a very time intensive process), AI can help procurement model different scenarios based on what's known.
The result? Reactive and dynamic decision making across the entire supply chain and less pressure on internal teams to deliver it.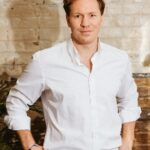 Jack started his career at UBS Investment Bank in London as an analyst in the Infrastructure Mergers & Acquisitions team before spending 8 years in Equity Capital Markets, Equity Derivatives and Structured Financing where he raised over USD 5bn in financing for public and private businesses.
He left UBS as a Director and Head of Strategic Equity Solutions LatAm to become the CEO of DeepStream Technologies in 2016, with a vision to transform the way in which global procurement businesses transacted with their suppliers.