AI is charting a new course for airport operations globally, enabling airports to optimise processes that drive efficiencies and improve the customer experience. This is a radical shift for a sector which, until now, has widely relied on manual reporting processes, like Microsoft Excel and PowerPoint, and where, as a result, many operations decisions could only be taken retrospectively, at the end of the end of the week or month depending on the reporting cadence.
But by leveraging AI in their operations management platforms, some airports are now seizing the ability to react to situations in real-time for faster and more effective responses, as well as glean predictions that will support longer-term improvements.
So, which applications have the potential to make the most significant impact on their operations and, in turn, the passenger experience?
Predictive maintenance
Airports process a huge number of passengers and airlines every day. For instance, more than 7 million passengers passed through Heathrow in September 2023 alone. This constant flow of passengers throughout airports means that even a slight disruption to airline and passenger-facing processes can create significant issues as the situation builds. It is therefore important to anticipate potential issues, wherever possible, and pre-emptively remediate them to minimise any potential disruption.
Take a baggage handling system, for example. If a conveyor belt or carousel were to break, it could negatively impact the passenger experience as delays in receiving luggage build up. This is one area where AI-powered predictive maintenance can leverage IoT sensor data to monitor performance and anticipate potential issues to streamline maintenance, which in turn minimises unnecessary expenses and reduces disruption for the airport and its passengers.
Flight management
Flight management systems are complex, but critical to airport operations. These dynamic solutions ensure the efficient processing of aircraft at the airport – which is no small job when you think that in August there were almost 27,000 total plane movements at PHL Philadelphia International Airport alone. There are also a number of external factors that can lead to flight disruption, from technical faults to extreme weather.
To improve their ability to optimally manage inbound and outbound flights, even in the face of unexpected events, many are leveraging AI to automate processes and for deeper situational awareness. Similarly, automating gate management is enabling many operations teams to stop manually manipulating data or updating spreadsheets, with gate usage dynamically planned based on real-time flight data.
Passenger flow management
To ensure a positive airport experience, passenger flow needs to be as seamless as possible, even during peak times. However, this has historically been hard to manage dynamically. For example, it's still not uncommon for security wait times to be monitored with a stopwatch and a clipboard.
Yet, the ability to anonymously track passengers from kerb to gate to get an end-to-end understanding of the passenger journey, as well as where potential crunch points are arising in real-time, is now becoming a reality for the very first time, enabled with AI-powered computer vision technology.
The insights enhance airport operations leaders' ability to make improvements, both to the immediate situation, for example by opening more security lanes or check-in desks as queues build, and long-term improvements, such as needing to increase the frequency of cleaning of bathrooms based on how often they are used. Airports can then better allocate resources and, in turn, streamline service delivery and improve the passenger experience, from check-in and security, through concessions areas, right up until they board their aircraft.
Passenger verification
Until now, airports have relied on manual boarding pass checks at gates, which can be a slow process and add friction to passenger journeys. This is now being improved with the use of facial biometrics at boarding, which utilises AI to authenticate passenger identities at a more accurate rate than manual checks. The AI scans the passenger's face and compares it to their previously scanned passport photos, so they don't need to continue displaying passports and boarding passes throughout their airport journey.
Biometric passenger verification may eliminate the need for passengers to show their passports entirely. Indeed, while most airports require facial biometrics and boarding pass scans before passing through security, some cutting-edge airports have begun to ask passengers to pre-register their biometric information prior to arriving at the airport. From there, their identity can be automatically verified at different points throughout the airport journey.
The future of airport operations
AI presents a clear and substantial opportunity to improve airport operations and support the processing of millions of passengers every month. Real-time insights and predictive capabilities put airports on the front foot to ensure they can deliver a seamless experience to both airlines and passengers.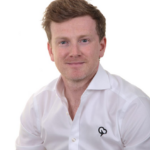 George Richardson is the CEO and co-founder of AeroCloud. He is a retired professional racing driver who has competed at the highest level for over ten years. His high-performance sports background and keen commercial acumen are instrumental in AeroCloud's drive to revolutionise airport operations.