Reflecting on the long game!
Every now and then it pays to step back and reflect on the broader trend rather than the monthly grind. We decided to reflect on how the major cloud players had fared so far this year.
All year Microsoft has topped the Compare the Cloud global #CloudInfluence rankings, but in July Amazon moved ahead. In August Amazon again held on to the top spot, demonstrating that there has been a possible shift in mind share in the cloud market.
[easy-tweet tweet="Amazon is maniacally focused on efficiency, spending no more than it needs on anything. " user="BillMew" hashtags="AWS"]
The monthly rankings tracks the level of "buzz" associated with each of the top organisations and individuals in the cloud sector– the level of opinion each is generating, the extent to which this is resonating and the influence it is having on others. There are two main drivers for this "buzz":
Marketing and PR, where firms seek to generate and promote the opinions of their firms and executives

The ecosystem, where a firm's partners, clients and other advocates help spread such opinions and enable them to go viral.
Microsoft and Amazon are very different beasts. Microsoft has a massive marketing machine – one that has served it well for decades as it has built and maintained one of the most influential brands in either the technology or business sphere. Amazon has a very different culture, brand and approach. It is maniacally focused on efficiency, spending no more than it needs on anything – including marketing. It runs a very lean marketing and PR structure, often appearing to journalists as aloof or inactive by comparison to its rivals. Instead it focuses on innovation and on rolling out a constant stream of new services to its growing ecosystem of partners, clients and advocates.
Until recently the Microsoft marketing machine held sway overall, with a consistent #CloudInfluence lead over Amazon each and every month – often by a considerable margin. However the Windows 10 launch has not only been a distraction for the firm, hogging much of its marketing focus of late, but it has also proven to be an unsettling period for its channel partners.
[easy-tweet tweet="Will @Microsoft regain the lead once the dust has settled from the Windows 10 launch?" user="BillMew" usehashtags="no"]
All the others appear to be jostling for third place with Apple, IBM, Google and Oracle appearing in the top ten every month and Cisco, Intel and Alibaba making several recent appearances.
The big question however is… has there been a major shift in mind share with Amazon stealing top slot, or will Microsoft regain the lead once the dust has settled from the Windows 10 launch and it refocuses on Azure?
We'd welcome your thoughts – tweet your opinions using #CloudInfluence – and come back next month to see which firm tops next month's rankings.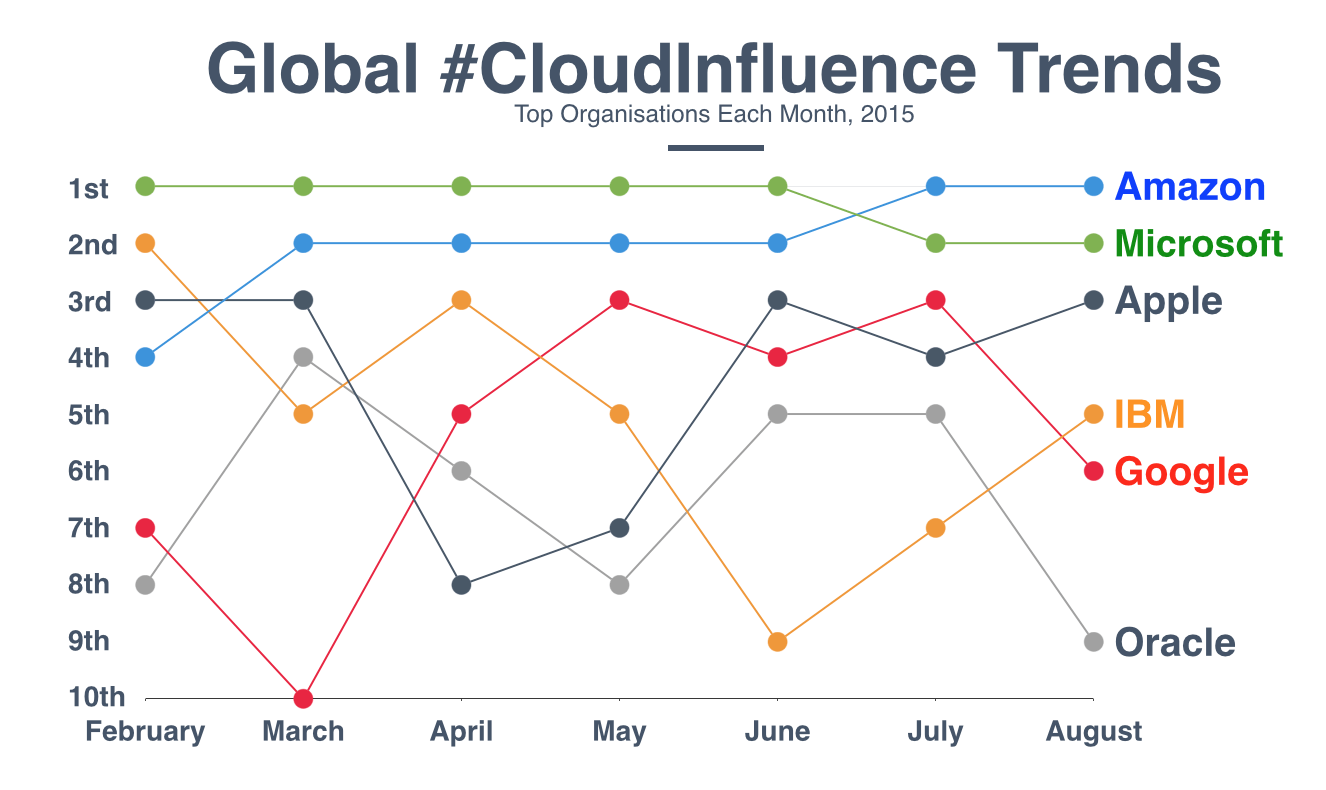 NOTE: the Compare the Cloud #CloudInfluence league tables, are based on a broad big data analysis of all major global news, blogs, forums, and social media interaction over the past 90 days. The league tables provide a snapshot taken at a particular point of time of the respective influence of both organisations and individuals over the last quarter. Companies that were particularly active in the given period will feature more prominently.