It has been a busy month. As we covered in our recent blog (HP Quits Public Cloud; Dell buys EMC; What's happening?) we had the $67 billion Dell EMC deal, followed by Symantec spinning out Veritas, Western Digital  buying SanDisk for $19 billion, EMC spinning out Virtustream and HP selling TippingPoint To Trend Micro For $300M. HP chose to exit the public cloud because it couldn't reach scale in order to compete with AWS, Azure and Google, but Oracle announced a set of new services to maintain a presence in public cloud – promising to compete directly with AWS on price rather than scale – although exactly how Oracle can continue to compete on price in the longer term without scale remains unclear.
October also saw re:Invent (the AWS fan fest) as well as Oracle World (the Ellison fan fest) and the Tokyo OpenStack Summit (the fan fest for the open cloud OS). There were plenty of major announcements, event and other opportunities this month for senior executives to shine therefore.
[easy-tweet tweet="October's #CloudInfluence individual rankings are out now on @ComparetheCloud" via="no" usehashtags="no"]
It is little surprise that Michael Dell topped the rankings – announcing the largest tech acquisition ever can have this kind of effect on your profile – even if much of the comment was questioning the amount of debt that Dell was taking on board in order to see the deal through.
Satya Nadella in second, was praised by Daniel Ives in third and other financial analysts like Bernstein's Mark Moerdler in 15th for the success that Microsoft is having in shifting the firm's focus to software and cloud services as demand for the Windows operating system slows in a weak PC market. Peggy Johnson in 5th, Microsoft's EVP for Business Development, was also quoted widely.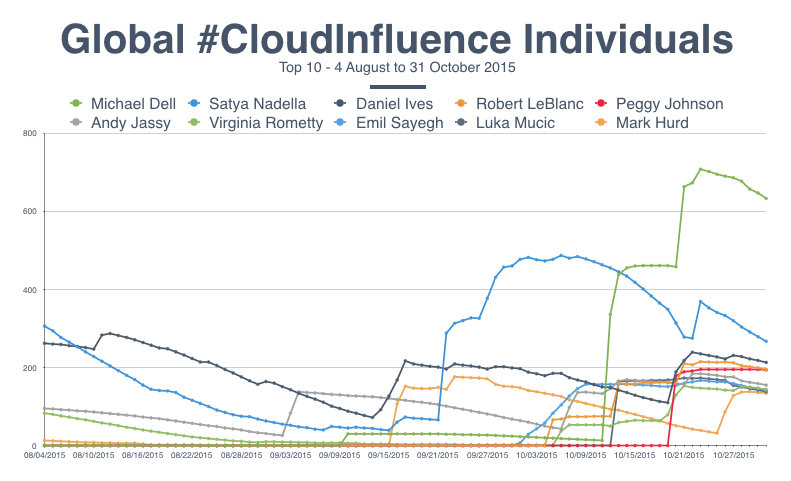 Robert Leblanc, IBM's cloud leader, in 4th and Ginni Rometty, the firm's CEO, in 7th were both commenting on yet further acquisitions as Big Blue turns a shade of sky blue – building out its cloud strategy with yet more strategic acquisitions. The purchase of The Weather Company being one of the largest amounts ever paid for a large data store – and with it a network of monitoring stations. Martin Jetter in 18th, John Kelly in 23rd and Martin Schroeter in 24th completed an impressive showing for IBM.
Andy Jassy in 6th and Mark Hurd in 10th took centre stage at their respective events – re:Invent and Oracle World.
Celebrating that Google's apps had been successfully scaled to over 1 billion users and its investment in 'transformative' machine learning, was Google Vice President Sundar Pichai. The firm itself was squeezed out of the top ten organisations for the first time
Ridiculed by some for suggesting that HP was not a public cloud player back in April before withdrawing his comments and then finally accepting reality six months later. was Bill Hilf, HP's SVP and GM Cloud in 12th.
And in 14th was Joe Tucci, Corporation Chairman of EMC – Micheal Dell's target as Dell makes a strategic move to gain scale, just as HP does the reverse – splitting into two.
[table id=57 /]
NOTE: the Compare the Cloud #CloudInfluence league tables, are based on a broad big data analysis of all major global news, blogs, forums, and social media interaction over the past 90 days. The league tables provide a snapshot taken at a particular point of time of the respective influence of both organisations and individuals over the last quarter. Companies that were particularly active in the given period will feature more prominently.