Overall the cloud attention index dropped gently in June as we approach the summer holiday season (in the northern hemisphere). This gives us a chance to reflect on where some of the key players stand.
Microsoft and Amazon have maintained a hold on the highest levels of attention, both now being described by analysts as the stand out players – certainly in public cloud. Looking back 90 days to early March shows the full extent of their lead at times.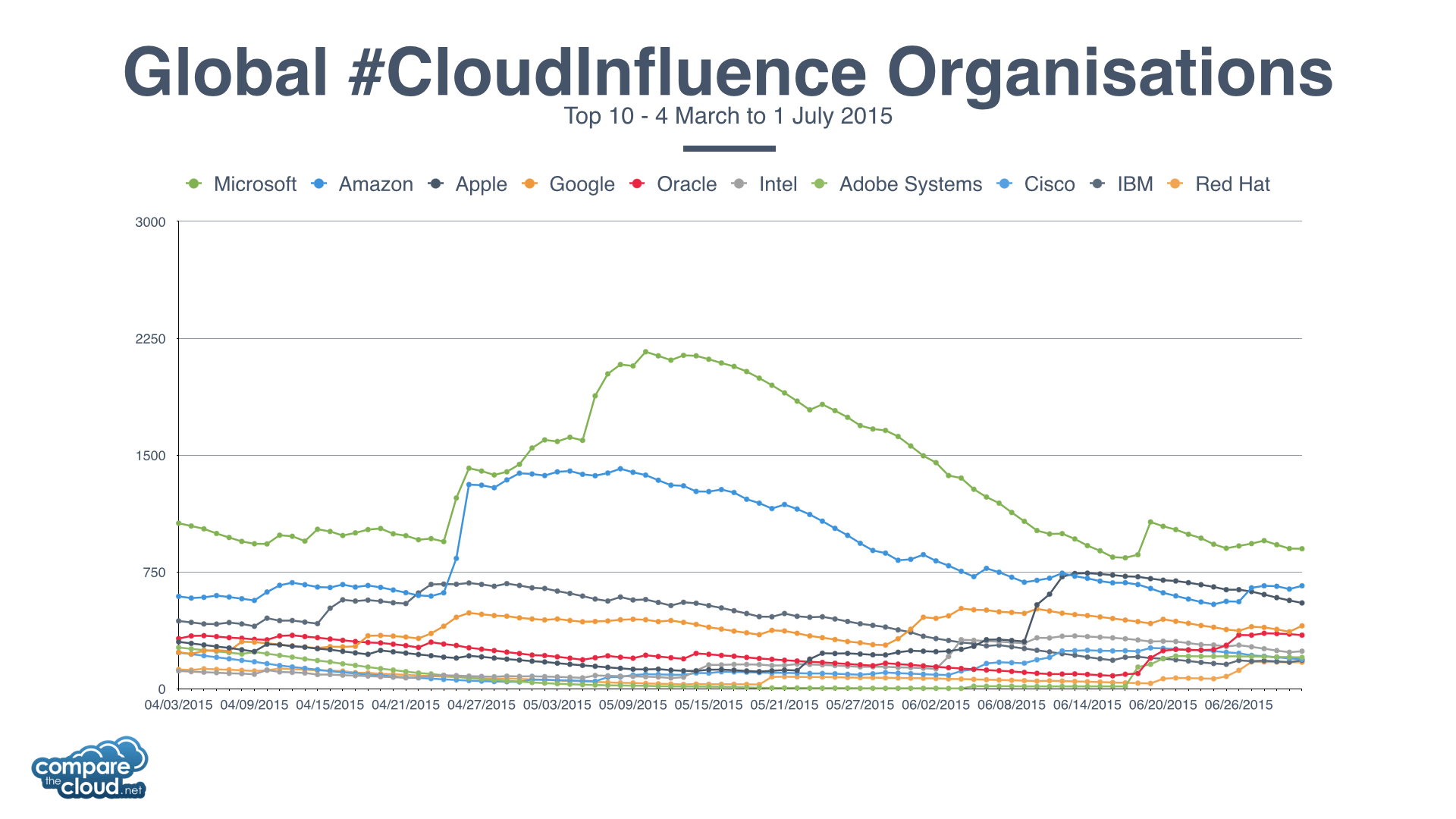 Apple leadership in the consumer/mobile space enables it to secure third spot, but beyond this we start to look at players that are struggling to maintain any real global prominence in cloud. Google appears to be losing ground to its two main rivals, but remains a somewhat unknown quantity – being one of the few major players yet to break out any financials for its cloud operations. 
Larry Ellison, who appears prominently in our forthcoming ranking for individuals, helped boost Oracle into fifth this month. In a live event at its headquarters in Redwood Shores, Oracle announced the addition of 24 new platform and infrastructure services to the Oracle Cloud, signifying the firm's all out strategic focus on cloud. 
Intel was a launch partner in the new Marketplace Alliance Program (MAP) from Aliyun, Alibaba Group's cloud computing arm, Intel also acquired Altera for $16.7 billion.
Announcing impressive results and an expanded Creative Cloud enterprise offering boosted Adobe Systems into sixth.
Cisco stepped up its cloud strategy with the expansion of its Intercloud alliance and had a further boost right at the end of the month with the $635 million acquisition of OpenDNS to boost its security business.
Acquiring Blue Box and partnering with Box helped keep IBM in the top ten, but longer term the critical issue for IBM is completing the SoftLayer data centre expansion and then generating some client and partner enthusiasm for the platform.
Red Hat in 10th announced the availability of Red Hat Enterprise Linux (RHEL) for SAP HANA to customers of Amazon Web Services.
The more detailed monthly chart shows how these players fared over the month.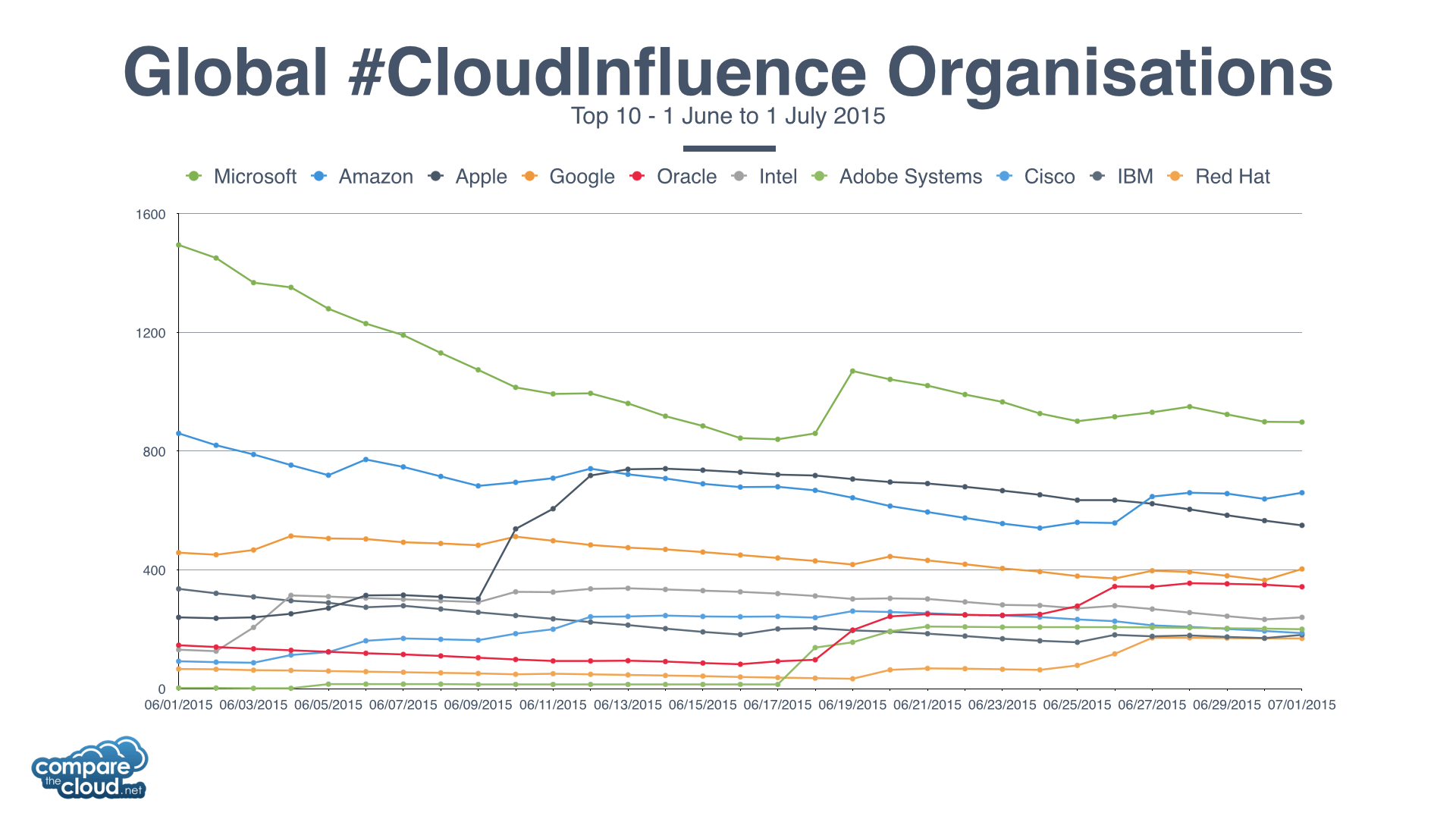 Other notable appearances in the top 50 included: 
Hewlett Packard achieved its highest #CloudInfluence ranking yet.  With the company splitting into two different companies on November 1, this month's Discover event in Las Vegas was an opportunity for the part that will become 'Hewlett-Packard Enterprise' to set out its vision which includes a major focus on Hybrid infrastructure – maximising performance and cost for the future.
Analysts Gartner and IDC ranked highly again – Gartner's latest Magic Quadrant for Public Cloud Storage Services put AWS, Google & Microsoft far ahead of all others in cloud storage. See our response to this in our recent special report on cloud storage.
And just outside the top 50 Aliyun, Alibaba Group's cloud computing arm, made a number of moves, including its Marketplace Alliance Program. The firm could well become a significant force in the future.
[table id=35 /]
NOTE: the Compare the Cloud #CloudInfluence league tables, are based on a broad big data analysis of all major global news, blogs, forums, and social media interaction over the past 90 days. The league tables provide a snapshot taken at a particular point of time of the respective influence of both organisations and individuals over the last quarter. Companies that were particularly active in the given period will feature more prominently.