Just when we thought it was safe to assume that we knew who the main cloud players were – guess what happened? 
It was results time again for most of the large cloud players and all boasted impressive revenue gains – well in a market growing at the rate it is they would. Hot on the heals of the results announcements Synergy Research issued a report saying that the "Big Four Cloud Providers" (Amazon Web Services (AWS), Microsoft, IBM and Google) are leaving the rest of the market behind. It found that in aggregate they now control well over half of the worldwide cloud infrastructure service market. Indeed their combined market share rose to 54% in the latest quarter compared with 46% in Q2 2014 and 41% in Q2 2013.
[easy-tweet tweet="The @Comparethecloud #CloudInfluence tables for July are out now, did your company make it? "]
So that's it then – it's all about the big four. Maybe not… 
The thing is, the big four are all very different, they play in different parts of the cloud market (IaaS, PaaS and SaaS) and count their cloud revenue in very different ways. IBM includes software and services in its numbers, Microsoft includes software like Office 365, while Google also includes Software as a Service. Only Amazon is reporting numbers heavily weighted toward pure infrastructure. So the "revenue run rate" reported by all the vendors is far from immediately comparable. 
However Synergy also reported that AWS had maintained its clear number one ranking with a 29% share of overall cloud infrastructure service market (including IaaS, PaaS and private & hybrid cloud). However given that its numbers are far more heavily focused on IaaS than the others, its share of IaaS is much greater than 29% making it the dominant player by far with the other three some distance behind.
So it's clear then – it's all about AWS, then the other three and no other real challengers. Well yet again, maybe not…
You see Chinese e-commerce giant Alibaba Group has announced that it is investing $1 billion into its Aliyun cloud computing arm and says that it will overtake AWS in the next few years. And this followed Larry Ellison's bold claims for Oracle cloud capability (reported in last month's ranking here).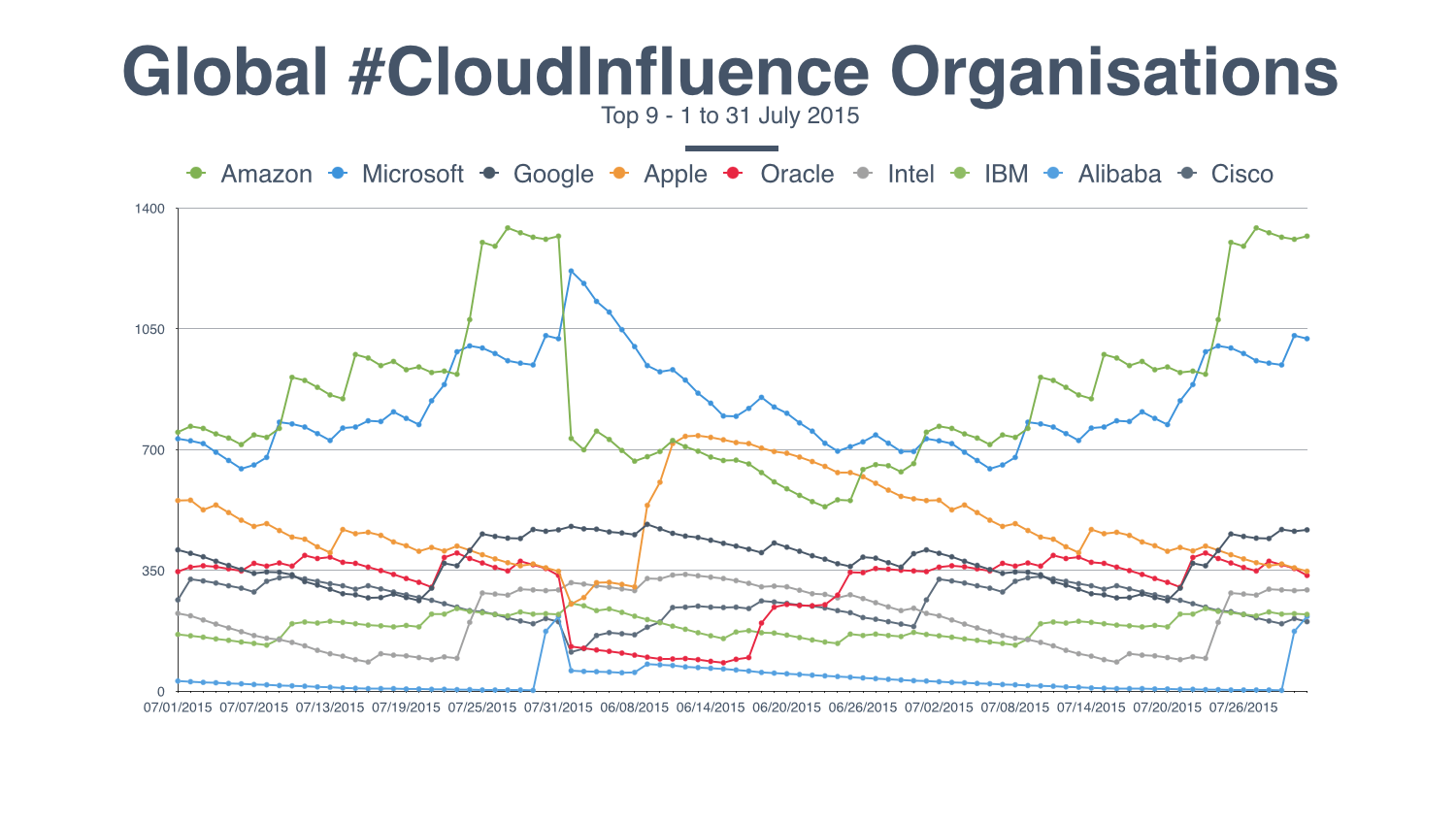 Understanding the Big Four's differing cloud reporting metrics (sorting the Apple from Oranges) and making sense of the claims of their rivals isn't easy, but at least we can make a clear assessment of the level of attention and influence each is having in the market – this is the extent to which each player is able to get its marketing machine and its ecosystem behind its opinions in order promote them and in doing so gin attention and share of voice.
[easy-tweet tweet="The Top 3 #CloudInfluence spots go to @Amazon, @Microsoft and @google" user="comparethecloud"]
The top spots go … surprise, surprise … to three of the big four – AWS, Microsoft and then Google. Amazon's impressive Q2 results gave it the lead, while Microsoft wrote down the value of its Nokia acquisition and Google remained more opaque about its exact cloud revenues. Next came Apple, the top consumer brand, followed by Oracle and Intel all ahead of the last of the big four IBM.
IBM faces possibly the largest transformational challenge of the big four, and as it reorients itself it is finding that revenue growth from its strategic imperatives of cloud, analytics and engagement is yet to offset the decline in its legacy businesses. Microsoft's write downs were more of a one-off hit that only briefly overshadowed its commercial cloud revenues growth of 88 per cent in the quarter, driven largely by Office 365, Azure and Dynamics CRM Online uptake. AWS and Google as born-in-the-cloud entities don't face the same legacy challenges.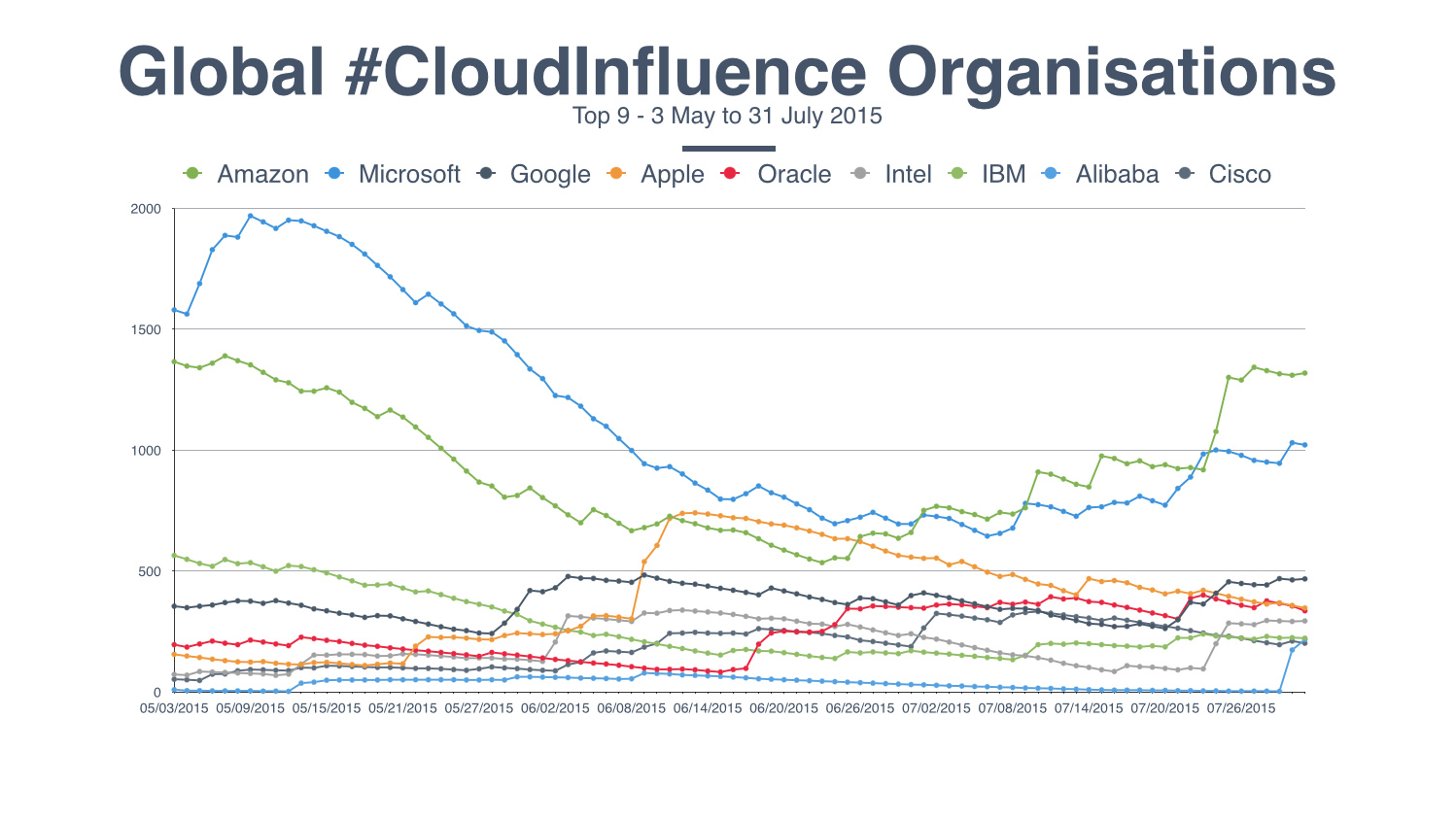 Alibaba, largely absent from previous rankings due to its relatively low profile in the West, made it into the top ten this month, and will no doubt it be seen more frequently in the rankings as continues its ambitious growth strategy in cloud.
Analyst firms put in a strong showing as usual, with IDC predicting that Public cloud spending will reach almost $70m in 2015 and with Gartner releasing reports including its 2015 "Magic Quadrant" for x86 server virtualisation infrastructure, which found that Microsoft and VMware are leading the pack in that market. 
Other notable appearances included: 
SAP posted impressive results with close to 130 per cent growth in cloud revenues and 13 per cent growth in overall revenue and Synergy Research (with their research mentioned above) in 38th.
[table id=43 /]
NOTE: the Compare the Cloud #CloudInfluence league tables, are based on a broad big data analysis of all major global news, blogs, forums, and social media interaction over the past 90 days. The league tables provide a snapshot taken at a particular point of time of the respective influence of both organisations and individuals over the last quarter. Companies that were particularly active in the given period will feature more prominently.