We are flattered with the level of interest that our monthly rankings receive, but some of our followers who find the rankings fascinating sometimes ask: "well, what do they actually mean?"
In pure statistical terms our ranking are based on a big data analysis of the leading opinions across the top international news articles, blogs and social media content to which we apply patented natural language processing algorithms. First we extract opinions that have been publicly shared relative to a specific topic (in this case Cloud), then we determine who held that opinion, and finally the algorithm calculates an influence score for the opinion, opinion holder, and the topic. This process is repeated every day, using the full-text articles from over 3 million sources including news, blogs, and social media. For Cloud we are currently tracking over 700,000 significant opinions. We are one of only three media companies to have access to this technology – the others being Forbes and the Economist (not too shabby, if we do say so ourselves). You can read more in depth on the meaning of influence here.
[easy-tweet tweet="For #Cloud @comparethecloud is tracking over 700,000 significant opinions from 3 million sources"]
What this actually means is that we track the level of "buzz" associated with each of the top organisations and individuals – the level of opinion each is generating, the extent to which this is resonating and the influence it is having on others. There are two main drivers for this "buzz":
Marketing and PR, where firms seek to generate and promote the opinions of their firms and executives
The ecosystem, where a firm's partners, clients and other advocates help spread such opinions and enable them to go viral.
In effect we have a market place where there are numerous vendors offering rival cloud solutions with some generating more of a buzz than others. This is important because it is those that can capture both market share and mind share that will prevail.
Cloud comes in many colours but some are brighter than others
The rankings for August illustrate this point well. Amazon and Google are the 'born-on-the-cloud' players that established an early lead in public cloud, but Amazon's cloud is shining brighter partly because it has a more active ecosystem, but also because it has started to break out its AWS financials, which leads to a lot of press coverage, whereas Google has yet to make the same disclosure. Hence Amazon is in 1st and Google is only 6th. Alibaba, which recently grabbed many headlines as it announced its intention to invest billions to challenge them both, is just behind Google in 7th.
[easy-tweet tweet="1st place in the August #CloudInfluence Rankings goes to @Amazon" user="comparethecloud" usehashtags="no"]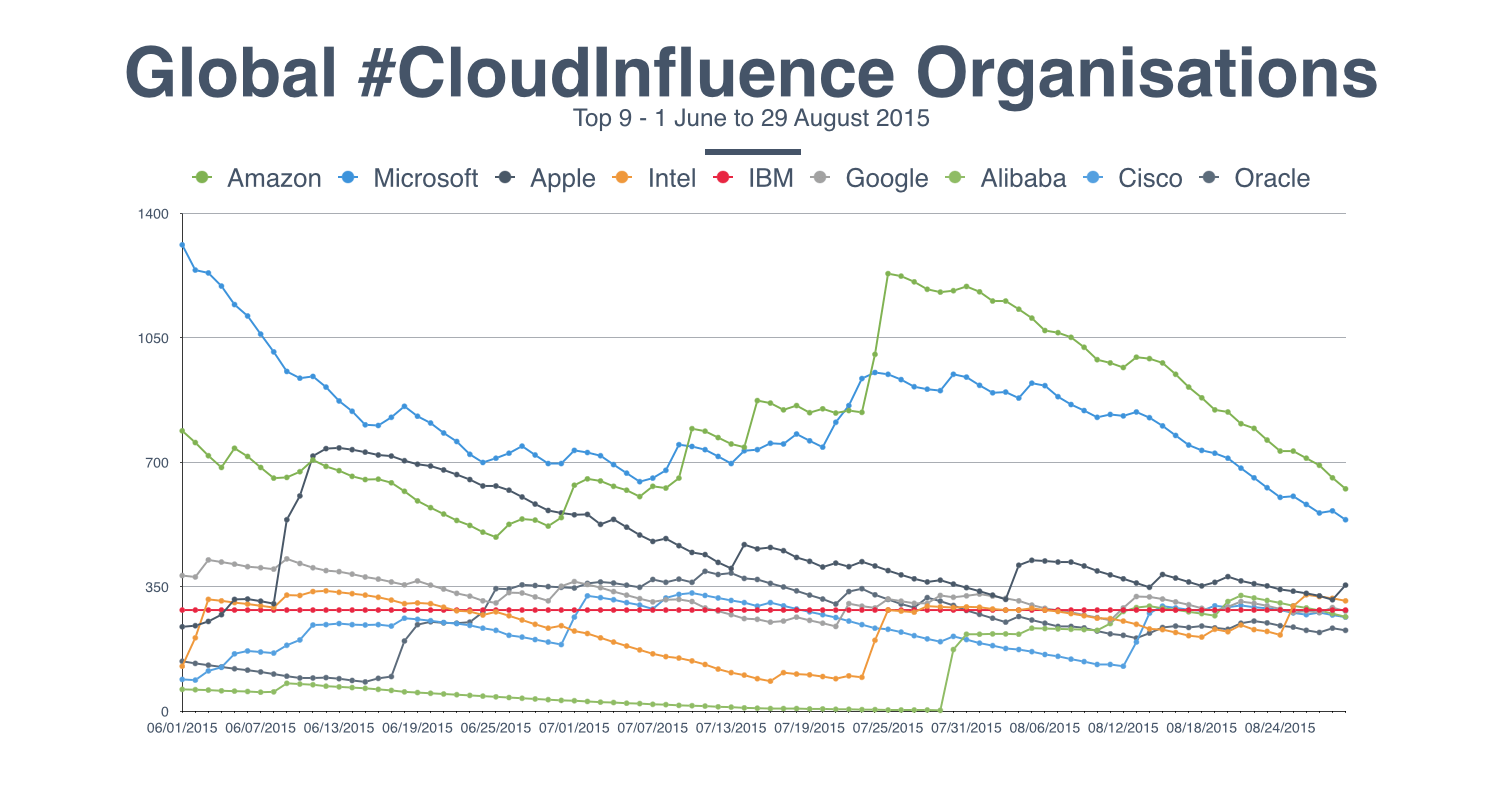 At the other end of the cloud colour spectrum are the corporate technology heavyweights, IBM and HP. Both have realised that they cannot take on the market leaders Amazon, Google and Microsoft head to head – especially in terms of scale and price. Indeed they are not actually seeking to take them head on or compete directly on price at all. Instead they are offering premium cloud services to the large corporate clients that they serve that require secure and reliable systems to serve their complex needs. The difference here is that IBM's marketing machine has been in overdrive with partnering announcements almost every other week with Twitter, Tencent, Microsoft, SAP, HootSuite and many others. While HP's output of headline grabbing announcements has been muted by comparison. IBM is therefore shining far more brightly – appearing in 5th in the August ranking while HP didn't even make the top 50. While IBM should be concerned that its buzz is almost all marketing-led with little or no ecosystem amplification, HP should be even more concerned that it is failing to generate any buzz at all outside of the OpenStack community.
Microsoft in 2nd of course shines brightly in a unique colour all of its own – with a massive marketing machine and considerable ecosystem to support its own proprietary cloud platform, as well as the Office apps that its rivals are seeking to emulate. Likewise Apple and Intel each stand relatively alone in their respective niches in 3rd and 4th overall this month.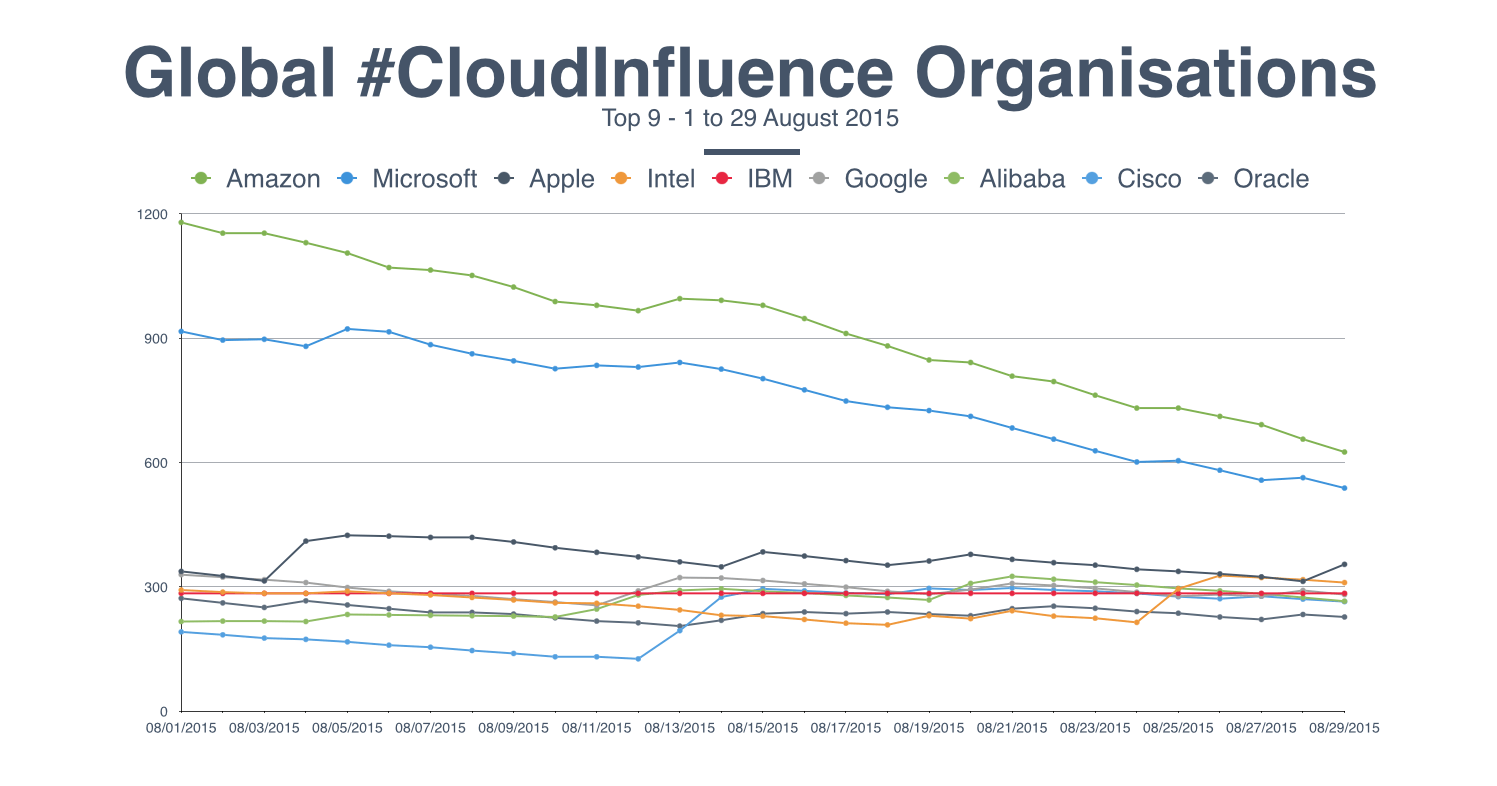 Further down the rankings, shining just that little bit less brightly were a few interesting names. 
General Electric launch Predix Cloud which it claims to be the world's first and only cloud solution designed specifically for industrial data and analytics. GE claims this platform-as-a-service (PaaS) will capture and analyse the volume, velocity and variety of machine data within a "highly secure," industrial-strength cloud environment. Adding that Predix Cloud will drive the next phase of growth for the Industrial Internet and enable developers to rapidly create, deploy and manage applications and services for industry. GE also announced that all its businesses will begin migrating their software and analytics to the cloud in the last quarter of 2015, and that the service will be commercially available to its customers and other industrial businesses by 2016.
[easy-tweet tweet="Appearing in August's #CloudInfluence rankings, @VMware and @Rackspace thanks to #OpenStack announcement" via="no" usehashtags="no"]
VMware and Rackspace both appeared in August's tables as the two firms announced a new interoperable OpenStack cloud architecture to help customers reduce the complexity associated with hybrid or multi-cloud environments.
Meanwhile PRS for Music (formerly the Performing Right Society) made an appearance in the rankings this month after the organisation responsible for collecting publishing royalties for musicians announced that it is suing Soundcloud for not paying songwriters for the use of their music. SoundCloud has consistently refused to acquire a PRS For Music licence.
[table id=47 /]
NOTE: the Compare the Cloud #CloudInfluence league tables, are based on a broad big data analysis of all major global news, blogs, forums, and social media interaction over the past 90 days. The league tables provide a snapshot taken at a particular point of time of the respective influence of both organisations and individuals over the last quarter. Companies that were particularly active in the given period will feature more prominently.