An effective multicloud strategy can improve quality of service while enhancing security and strengthening partner connections – the keys to value lie in how organisations manage their multicloud infrastructure, says Jerome Dilouya, CEO, InterCloud 
As businesses negotiate a period of economic uncertainty, changing working habits and heightened cyber threats, adopting and refining multicloud capabilities will support efforts to scale sustainably and meet strategic objectives.

However, the benefits of a multicloud approach can quickly diminish if the environment is not managed effectively. Multicloud and hybrid infrastructures present an array of challenges including varied skillset requirements, siloed teams, security issues and ensuring visibility across all environments.
For businesses to avoid these pitfalls and fully unlock the potential of a multicloud strategy, they need to address five key trends impacting the market today.
Bolstering cyber security is a business imperative.
The desire to enhance cybersecurity is a common trend across businesses, and with good reason. It is driven by rapid increases in attacks such as ransomware, with Microsoft's Digital Defense Report 2022 recording a 40% year-on-year growth in attacks between June 2021 and July 2022. Global spending on security and risk management is already rising dramatically, forecast to increase by 11.3% in 2023, with cloud security expected to have the strongest growth.

Furthermore, with hybrid and remote working now ubiquitous, organisations are adding operational layers and security teams are implementing point solutions to address specific security needs, all of which adds to management complexities. 
Hybrid cloud deployments experience security breaches because there are too many moving parts and variations in security configurations, challenging organisations' ability to implement consistent security across hybrid environments.
Securing networks with an agnostic multicloud platform is an effective filter against harmful traffic, while Application Programmable Interfaces (API) and telemetry reduce risk through real-time monitoring, event correlation and automation.

A multicloud approach also secures interconnection with multiple cloud service providers (CSPs), while ensuring data confidentiality via a private data backbone. As a result, network operations and data movement are secure, smooth, and seamless – all governed by enterprise-grade service level agreements (SLAs) with just one provider.
Economic uncertainty requires better cost management.
60% of infrastructure and operations leaders report significant public cloud cost overruns that negatively impact their budgets, outlining the importance of choosing a service that aligns with business needs.
The attractive economics of cloud are sometimes diluted by the cost of migration, modernisation and platform construction, with the cloud's hidden costs capable of throwing IT budgets into disarray. CSPs also have different pricing structures, which is why multicloud must be supported with visibility and observability to unlock its true value.
With a global reach from a single mutlicloud connectivity platform, enterprises can lower costs by increasing efficiencies and removing the need to manage connectivity to multiple CSPs at the same time. Businesses should also look for a multicloud connectivity platform with in-built SLAs that integrate into all clouds, eliminating the costly need to maintain multiple cloud network agreements.
Scale at speed with digitisation.
Digitisation has torn up and pieced back together the corporate rule book, with disruptive business models forcing traditional organisations to embrace digital in order to remain competitive.
Digitally enabled businesses are equipped to scale quickly, with services that can be consumed by customers anywhere in the world. Providing exceptional customer service is crucial to global enterprises and if managed correctly using the right platform, a multicloud strategy helps to deliver transformational experiences, ensuring a consistent level of service no matter where customers are located or how they move around.

An agnostic multicloud platform also gives businesses full visibility of all cloud operation data, across all cloud environments, allowing for better forecasting and planning.
Analytics at edge is driving need for distributed data management.
Recent estimates showed that the world could generate more data in the next three years than over the past 30, so businesses must be equipped to handle this torrent of information.
Additionally, the demand for local data analysis and data exchange to support digital workflows is outpacing organisations' ability to classify, secure, transport and process data across regions.
Multicloud connectivity platforms enable businesses to implement a data architecture that captures data at the edge and transports it securely to the nearest locations for processing to deliver real-time insights.

Edge devices also capture sensitive information that must be encrypted and secured with a security system that has layered access to data. A multicloud connectivity platform can help facilitate, monitor and orchestrate these capabilities from a single access point.

Expansion of value chain creates disruptive digital ecosystems.
Digital business ecosystems thrive in shared platforms as the curated environments allow companies to join forces, cocreate, and innovate with partners.
They also encompass a network of partners, developers, and customers, and the cloud is increasing interconnectivity across these different stakeholders. This has led to the need for an open environment for modelling and building interoperable system integration. Cloud integration offers a cost-effective business model to implement and leverage an interoperable digital supply chain with disruptive capabilities.
Enterprises seeking to harness the benefits of digital ecosystems must implement a cloud network infrastructure that supports a globally distributed network, facilitating partnerships with smart interconnection within a secure environment.

A multicloud connectivity platform also allows organisations to plug into any application, as orchestrating cloud interconnections becomes hardware. Cloud-agnostic plug-ins allow enterprise systems to directly embed a platform without complex modifications to create a network mesh connectivity.

It's time to embrace change
Managing individual cloud systems separately creates a dispersed cloud management system that leads to operational silos, blind spots, inefficiencies, and cloud sprawl. It exposes the organisation to security vulnerability, challenges in performance management and cost inefficiencies.

A multicloud strategy is an exciting proposition to help organisations reap the benefits of digital transformation at speed and scale, while eliminating the risks mentioned above. However, operational complexities persist as multicloud requires integrating differing technologies, controls, and systems all of which can weigh down the ITOps team.

This outlines the importance of balancing adoption with a thoughtful approach to how different clouds are interconnected. If businesses rush their approach, the cost of mismanagement may far outweigh the benefits. Instead, leaders should take their time to ensure things are done well, while not losing sight of the urgent need to make changes.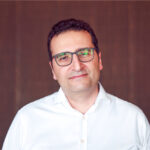 CEO of InterCloud, Jerome is in charge of the company's line operations and strategic decisions. A graduate of Polytechnique, he successively managed the marketing and sales team at Easynet France, a pan-European IP Network Provider, later worked as Senior Consultant at McKinsey & Co. and then held the position of Chief Infrastructure Officer at a leading healthcare software development company.