Building business agility is high on most board level agendas today. That's largely because technology has developed rapidly in recent years and enterprises increasingly can digitalise their operations and evolve them to deliver faster, and more personalised, services to customers. In line with this, C-Level directors and decision-makers are placing a growing emphasis on making use of this new technology to drive more rapid time to value as they seek to differentiate their business offering from that of the competition.
As such, complex multi-year implementations of the latest enterprise resource planning (ERP) suites are no longer a viable or sustainable option for enterprises. By failing to deliver business value quickly, they leave those businesses unfortunate enough to invest in them trailing behind competitors.
Unfortunately, protracted ERP deployments are still prevalent. In fact, many get so bogged down that they consistently fall short of all their targets. Underlining the point, Gartner estimates that 55% to 75% of all ERP implementation projects fail to meet their goals and objectives.
Given that many are complicated undertakings lasting many months and even years, these kinds of project failures may significantly impact the profitability, and long-term viability, of businesses. That's unsustainable. Organisations have a clear need for greater clarity of execution and faster time to insight.
Delivering value across the broader business
In a recent BearingPoint survey, 82% of businesses polled said fast reactions to new conditions or changing customer requirements was an advantage that agile organisations have in a time of crisis, while 55% referenced fast approval and decision-making processes through already-reduced bureaucracy and waste.
Businesses above all need to be agile because they need to deliver more, and faster, as competition increases and customer expectations grow. As a result, they are no longer looking for technologies like ERP, enterprise asset management (EAM), or field service management (FSM) operating in isolation. Such technologies typically solve functional problems specific to departments, like HR or sales, but serve to reinforce silos and rarely deliver value quickly to the broader business.
Organisations are now moving away from products designed to address a specific function or issue. Instead, they are searching for a precise solution to their problems that can give them the capability they require at the point of need, rather than months down the line.
What works in such an environment is not a traditional technology software implementation. It is a composable approach that allows the customer to rapidly configure the solution in a way that meets its precise needs across those traditional software categories.
Looking for a single platform approach
Enterprises are increasingly coming to the realisation that a single platform that delivers class-leading capability across all these areas: from CRM to EAM, represents the way forward because it enables them to bring in the functionality they need when they need it. That, in turn, will help them optimise the use of their assets. Regardless of what industry they are in, assets will be a key component.
For example, a washing machine manufacturer will need to orchestrate its operational equipment assets in the most efficient way possible to streamline the production of finished products. A property maintenance business with field service engineers must harness its people assets. That entails assembling the right crew with the right set of skills for each individual job and then ensuring they getting the most out of them.
The final piece of the jigsaw is for businesses to ensure they are harnessing all this capability to deliver what the customers wants when they want it at the moment of service'. That way they can ensure that the customer buys from them again. To deliver this, technology vendors need to be completely open in the way they develop and use technology. Platforms must be native and open application programming interface (API)–enabled at the core to empower businesses to be successful and allow them to make use of the latest tools to help achieve their strategic goals.
How enterprises can change it up and succeed
Making a shift of approach like that outlined above requires board level endorsement. Senior decision-makers need to take the reins here and initiate change throughout the organisation as well as carefully manage the switch in approach needed from employees.
To fully support agility, the solutions chosen will need to enshrine all the latest innovations in areas like artificial intelligence, machine learning or prescriptive analytics. That way, the provider can continuously update them and make them available to the customer to drive agility, rather than having to integrate IoT or virtual projects that the customer has carried out itself, for example.
This capability enables the business to focus on driving operational efficiencies and delivering the best possible moment of service for its customers instead of getting bogged down by long, protracted IT implementations. As a result, the board will be better placed to register a rapid return on its original investment and more broadly see the benefits of its approach in the bottom line.
New model gathers pace
Senior decision-makers and business leaders within many enterprises are increasingly moving away from point products and complex system installation that address specific challenges in isolation. Today, they want broader capability that can be tapped into quickly and efficiently. This will enable them to attain fast time to insight to achieve the outcomes they are looking for, orchestrate their assets, both equipment and people-based, and harness them to efficiently deliver the moment of service to customers. This kind of functionality will ultimately be key in allowing organisations to achieve the agility, optimum levels of customer service and competitive edge they crave.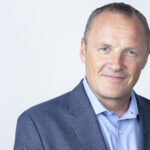 As Chief Product Officer at IFS, Christian Pedersen is responsible for its entire research and development (R&D) organisation and product portfolio. Previously, he spent time as SAP's Global Chief Product Officer as well as 14 years in other key positions with Microsoft and as General Manager of Enterprise ERP. Outside of work, his passions include motor racing and sailing.